The French are a proud people. They tend to be hesitant about speaking any language other than French. But what about English? "Do people speak English in France?"
Many people who live in the country prefer not to speak English at all. So why is this? Well, there are many reasons. We have discussed a few of them below:
Do People Speak English In France?
People do speak English in France but not as much as you may think. On average, only about 38% of French people can speak some English. Out of this, only 20% are fluent in English.
It's slightly less than two-fifths of the population that are able to be at least somewhat fluent in English.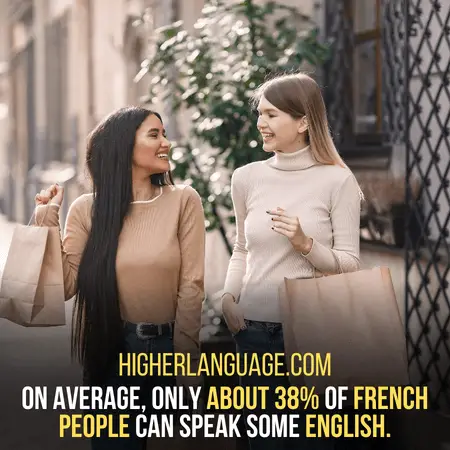 Many of this percentage can only communicate in the most rudimentary form of English. As per the 2020 EF English Proficiency Index, France ranks 28th out of 100 countries.
Official Language Of France
French is the official language of France, and it's also one of the world's most popular languages.
It's spoken by over 220 million people around the globe. It is second only to English in terms of the number of speakers.
French is a Romance language with roots in Latin. It evolved from medieval forms of Latin called Vulgar Latin.
You'll find a lot of French speakers in France. But you'll also meet many other people who speak the language.
French is one of the world's great linguistic melting pots. People come from all over Europe and beyond speaking it—and speaking it well!
Do People Speak English In France – Generation Impact?
Younger people have more exposure to English than older people. They are more likely to travel and study abroad. This helps them learn the language faster.
Some might also choose to learn English because their jobs require it. For example, tourism or hospitality businesses. In these businesses, customer service is important for a successful business model.
Some might choose to learn English because they're interested in traveling. They may also want to work abroad. Many jobs are available in countries where English is widely spoken.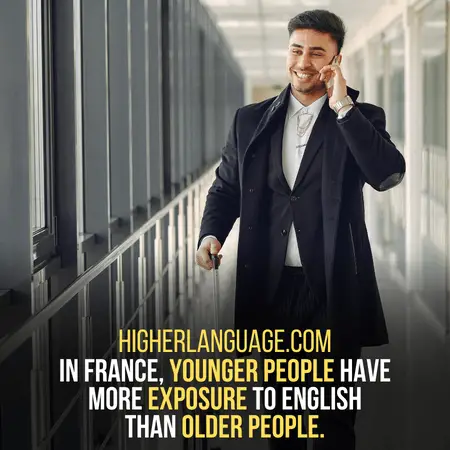 This means that if you can speak the language, you'll be able to get a job there (and make more money).
The French Are Reluctant To Speak English
There are a number of reasons why French people don't speak English. The most common reason is that they simply don't want to.
Some believe that it's rude and disrespectful for a foreigner to speak their language. Others think learning the language will make them seem ignorant. They find themselves uninterested in learning about the culture.
There are also other reasons why people might not feel comfortable speaking English:
– Too hard (for example, how many different ways can you say "hello"?)
– Not useful! For example, what would be the point of learning this language if you're already fluent in another one?
Here are some reasons why the French people are reluctant to speak English:
1. Out Of Fear:
French people don't speak English because they are afraid of making mistakes. The French are very proud of their language. They would rather avoid speaking it than risk saying something wrong.
In addition, the French are afraid of being corrected by an American who speaks some English.
However, there are also some who choose not to learn another language intentionally. They believe learning one will interfere with their ability to communicate with other cultures!
2. Out Of Pride:
The French people may not want to speak English because they are proud of their language. They think it is an inferior language and don't want to be seen as American.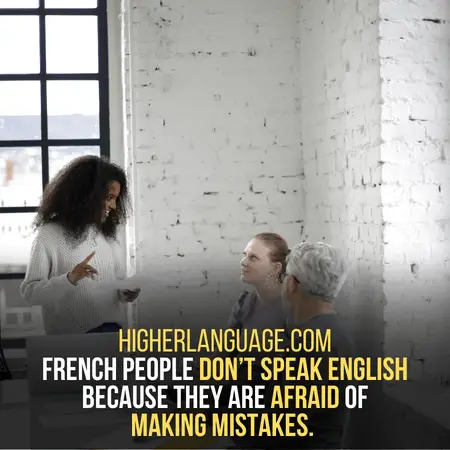 This is why some people may choose not to speak English when they interact with other cultures. This is especially true if the culture has a higher status than theirs.
There is another reason why French people may not want to speak English. They think it's stupid language.
They think it sounds stupid and doesn't flow well, so they don't want to speak it.
Can You Get By In France Without Speaking English?
You can get by in France without speaking English. Even if you don't know how to speak French, you'll understand if someone wants to help out with translation.
You also have a few other options: use gestures and ask for help from others (like hotel staff or locals). You can visit an online translator for instant results.
If you're looking for something more comprehensive, dictionaries are available online. They offer translations into any language (not just English).
And if all else fails, take some time out of your vacation by going out into the streets and speaking with locals!
English Use In Major Cities In France
There are some major tourist spots in France where English is commonly spoken:
– Bordeaux
– Lyon
– Marseille
1. Bordeaux:
Bordeaux is a major city in southwestern France with a population of over 500,000 people. It's known as the garden city of France because of its green spaces and parks.
You'll find English spoken here by many residents who grew up speaking it. They might be speaking it at home or studying abroad during their youth.
There are also many expats living here who speak English fluently. They might have lived abroad for many years and picked up the language along the way!
2. Lyon:
Lyon is located in eastern France near Switzerland on the Rhone River. Here it flows into Lake Geneva through a narrow gorge called "Le Rhone."
Lyon has been nicknamed La Ville des Lumières (City Of Lights). The reason is that it was home to many artists during this time period before WWII.
Today its citizens enjoy beautiful architecture like Notre Dame Cathedral, which dates back over 1000 years!
3. Marseille:
Marseille was founded around 450 BC by Greek settlers. However, most people think about this city when hearing about vacation destinations. For example, Barcelona, Spain.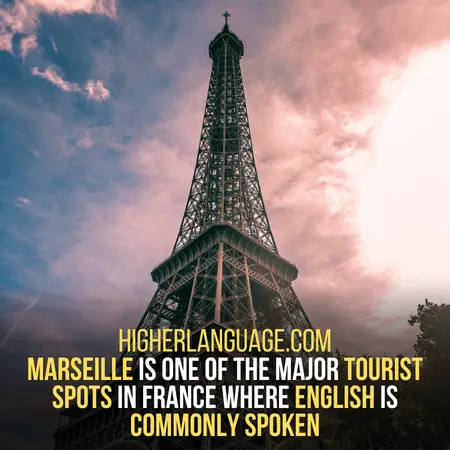 This Mediterranean port town has become known worldwide for its vibrant nightlife scene. These include clubs, bars, restaurants, etc.
People come from all over Europe to experience living life differently than usual. They can party hard late into the night hours or meet new friends.
Language Barriers To English Usage In France
The French are proud of their language and don't want to be seen as second-class people. This is why they have a reputation for being snooty. This can make it difficult for visitors trying to speak English.
However, there are also many people in France who do speak English fluently. Many of them live in Paris, where they work or study at university.
These areas tend not just because they're more cosmopolitan. It is also because there's more opportunity here than elsewhere in France.
1. Cultural Barriers To English Usage In France:
French culture is very different from American culture. French people have a variety of customs in their everyday life.
But they do not speak English well as they think it's not important to learn foreign languages.
They believe that their own language and country will help them to get better jobs. So they prefer using their own local dialect when communicating.
2. Entertainment As Language Barriers For English Usage In France:
When you are out with friends and family, you will probably speak English. However, the case is different when you go to a restaurant with your colleagues or at work on a Friday afternoon.
Most people would prefer to speak French as they do not want to be considered rude or ignorant (even if it is true).
French people feel embarrassed by their inability to communicate well in English. So prefer to stick with locals who have no problem understanding other's languages.
Challenges For The French In Learning English
As already mentioned, French people are reluctant to speak English. So, they come across several challenges out of their fears of learning English.
Here are some of these challenges:
1. Vocabulary As A Challenge In Learning Spoken English:
The challenge of vocabulary is one that the French face when learning spoken English. It doesn't matter what your level of fluency is.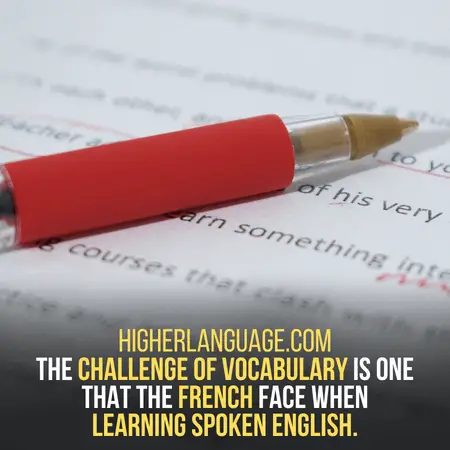 It's true for adults as well as children who are studying the language. It does matter if you are learning for the first time or struggling with it after years of practice.
This happens because each language has its own unique way of expressing things. These ways are often different from other languages' expressions.
2. Pronunciation As A Challenge In Learning Spoken English:
Pronunciation isn't something you can learn from books or from listening to others. It's something that needs to be practiced in order for you to sound like a native speaker.
While you can learn the basics from a tutor, you must practice speaking aloud to sound like a native speaker.
3. Grammar As A Challenge In Learning Spoken English:
Grammar is a challenge in learning spoken English. It's more important to learn grammar when you're learning written English.
But even then, it can be challenging. The reason is that the rules of French grammar are very different from those of English.
French students tend to have more trouble with grammar than their British counterparts.
– French grammar has fewer rules than English does. There are 14 tenses, while there are only six.
– No doubt, this makes it easier for an inexperienced learner to understand how words work. But it also makes it harder for someone who knows what they're doing—like me!
Conclusion:
French people are rather shy by nature and prefer to keep their heads down. They also have a well-honed sense of self-preservation.
This makes them hesitant about sharing personal information with strangers. However, there are many exceptions to these rules!
If you're French, there's a good chance that when speaking English with Americans, they may just be curious or want to practice the language.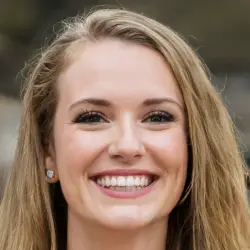 Latest posts by Sylvia Simpson
(see all)