French is among the world's most spoken languages. It has always been a top choice for people who want to learn any foreign language. This can lead many people to think, "What are the languages similar to French?"
Many of those languages the Roman Empire ruled about 2 thousand years ago are similar to French. The most common ones are Catalan, Spanish, Portuguese, Italian, and Romanian.
This article discusses these languages one by one and some other less common ones. Follow to the end to have detailed information.
Top 4 Languages Similar To French
The languages most similar and related to French are Catalan, Italian, Spanish etc.
These languages share some characteristics with French. Most common are a significant lexical count, which means shared grammar and vocabulary.
1. Catalan – One Of The Languages Similar To French:
Catalan belongs to the Gallo-Romance language group in the Romance language family. The Romance language family encompasses all languages descended from Latin.
French is part of the Gallo-Romance branch. This is vital information for all of us to understand.
This demonstrates that they could share features intrinsically. It shows that they have been more connected than other languages.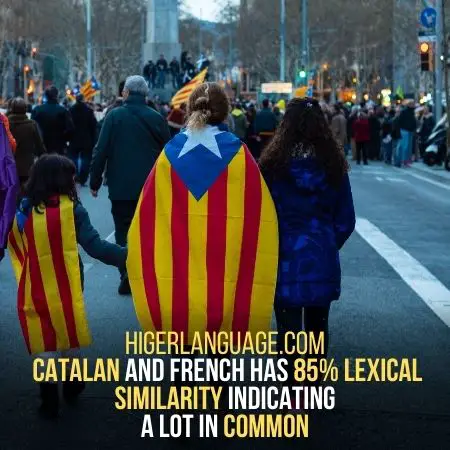 Although they are similar, they are still not completely interchangeable. A French speaker may understand little Catalan sometimes in brief discussions and texts.
This is owing to context clues more than anything. Though both languages are identical, this doesn't make sure that they'll understand each other.
Most Romance languages are still not completely interchangeable with one another. This is rare even between lesser-known Latin languages.
a. Grammar:
French and Catalan aren't that close when it comes to lexical similarities (which we'll get to in a minute).
Catalan is unusual in that it has characteristics similar to various languages. Most similar are Italian, Spanish, and French.
It doesn't have an extraordinary grammatical relationship with the French language. Most of the languages vary to some extent.
The similarities with the French language are roughly identical to those with Spanish.
As a result, Catalan grammar might be simple to study for French speakers. But this does not guarantee that it'd be simple in general.
b. Vocabulary:
Catalan and French have more in common with a large lexical count in terms of vocabulary.
Italian has more in similarity with Catalan in terms of grammar. But, French has more in connection with Catalan lexical similarity.
What precisely does lexical mean?
This is usually assessed in percentages and pertains to a language's vocabulary. It refers to the words people use on a regular basis.
A lexical similarity ratio of 85% between Catalan and French indicates that they have a lot in common.
c. Pronunciation:
French has a very distinct sound and style of pronouncing words. It makes it sound very different from many other languages.
Catalan is no exception, yet it may sound much like French when compared to Asian or Slavic languages. But, as both languages are from Latin, this isn't particularly noteworthy for Catalan.
2. Italian – Top On The List Of Languages Similar To French:
Italian isn't a member of the Gallo-Romance subgroup, which includes French. It is instead part of the Italo-Dalmatian subgroup. It's also similar to Catalan.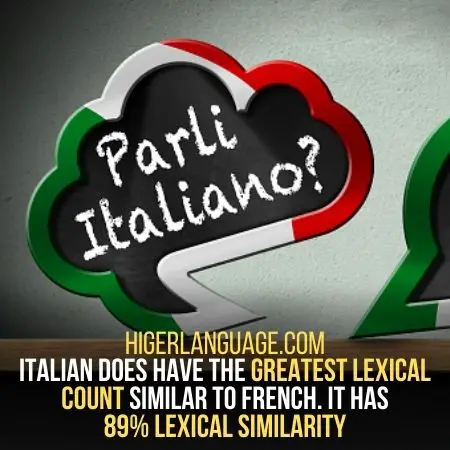 It is not interchangeable with French. Despite these differences, Italian is among languages to French.
a. Grammar:
In contrast to Catalan, Italian and French have more in common in the text form, which relates to grammar.
As far as writing is concerned, they are usually more understandable than others. They are still different languages.
This means that a French speaker can understand Italian better than any other. However, they can't completely understand it.
b. Vocabulary:
The lexical resemblance between French and Italian is very high. That's a technical phrase, remember.
It is way more than the rest when you compare it with French, with roughly 89 percent lexical similarity.
With some exceptions, Italian does have the greatest lexical count compared to French. Furthermore, none of those exceptions is currently in use.
A large lexical count isn't the only need for two languages to be comparable, but it is a must.
We should not overlook this high percentage. Most of the other languages similar to French have a percentage of 75%.
This demonstrates that the Italians have a much stronger affinity with the French. This also demonstrates how the 85 percent lexical similarity between French and Catalan is fairly high.
c. Pronunciation:
There are many similarities between French and Italian. But they are somewhat different in pronunciation and 'sound.'
For us, it shows that if both of the languages are being spoken at a time, we are unlikely to hear very much in common. Many people thought French was different from other languages because of this.
3. Spanish – Similar To French:
No doubt, French and Spanish are closely related; they have more parallels with other languages.
This similarity with other languages is more than what they have than with each other. Yet, here are some common Similarities:
a. Grammar:
The grammar of Spanish is not completely different from that of French. But it's also not that much identical.
It's more accurate to claim that French grammar is more similar to that of Italian. At the same time, Catalan than it is to than of Spanish.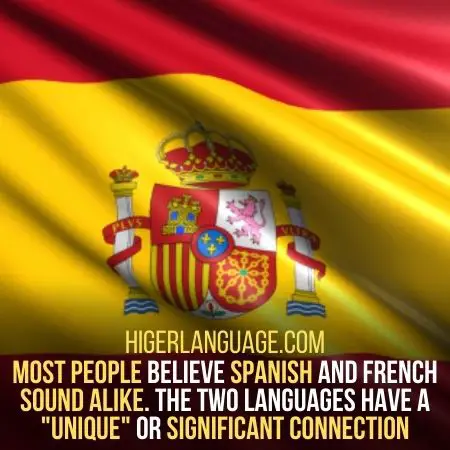 This includes written speech as well. No doubt, there are some similarities between Spanish and French. They are still far less than there are between Catalan and Italian.
b. Vocabulary:
The linguistic similarities between Spanish and French are approximately 75%. When we compare this to the 89% of Italians and the 85% of Catalans who speak French, it is significantly lower.
It's all a matter of perception. French and Spanish have a lot in common, even if they're not the most closely related languages.
c. Pronunciation:
Most people believe Spanish and French sound alike. That's where the two languages get a "unique" or significant connection.
It is not just that. They claim that French speakers understand Spanish in small talks better than others.
This doesn't really imply that they're mutually understandable. Their similar vocabulary permits French speakers to comprehend what Spanish speakers are saying.
4. Portuguese – Most Similar Pronunciation:
Portuguese and Spanish have more in common with one another than with French. Their connection with the French is almost identical.
Portuguese share some Grammar, vocabulary, and pronunciation with French. They are discussed as below:
a. Grammar:
Portuguese and French have little in common in terms of grammar. This is understandable given how little they have in common in written speech.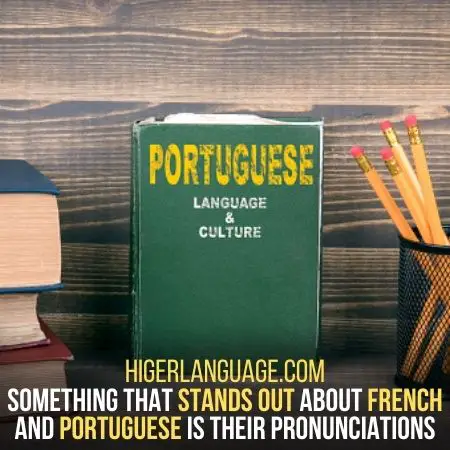 All this is like how French and Spanish interact in language and written content.
b. Vocabulary:
Portuguese, like Spanish, has a lexical similarity of 75% with French. This is significant but not exceptional.
As a result, they share a lot of terminologies. But Portuguese isn't the closest language to French in vocabulary.
c. Pronunciation:
Something that stands out about French and Portuguese is their pronunciations. In comparison to many of the other languages, French is more so.
That's something that distinguishes Portuguese from other languages. It is similar to Spanish in terms of pronunciation.
The French language is noted for having a distinct sound. As a result, the fact that Portuguese and French have more in common is no little feat. No matter how small these similarities may be.
Is French More Similar To Spanish Or Italian?
Italian resembles French more than Spanish. Italian is much more like French than French is to Italian in terms of formal writing.
They share 89 percent, lexical count, compared to 75 percent for Spanish and 75 percent for French. On the other hand, Spanish sounds a little more like the French language than Italian.
Conclusion:
French is actually a unique language that shares parallels with many other languages.
Ever since French has already had an impact on a variety of languages. But, it has left an indelible mark on the language. This signifies that French contains a large number of foreign languages.
With that said, there is a significant amount of French in a variety of other languages. Yet, the most similar languages are, no doubt, Italian, Catalan, Spanish, and Portuguese.
And even though it is not the most common, there is a slew of other languages that are somewhat similar. Examples are Romanian, Occitan, Quebecois, Romansh, Dutch, and Sardinian.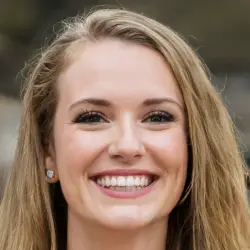 Latest posts by Sylvia Simpson
(see all)