It's a question that comes up for people traveling to the Czech Republic – do people speak English in Czechia? The short answer is yes. Most people do speak English in the region.
However, knowing and learning a few key phrases in Czech is always good. Today, we'll give you a brief overview of English in Czechia.
Do People Speak English In Czechia?
In Czechia, English is not the primary language spoken by most people. However, it is becoming increasingly popular among younger generations. Further, many speak it as a second or third language.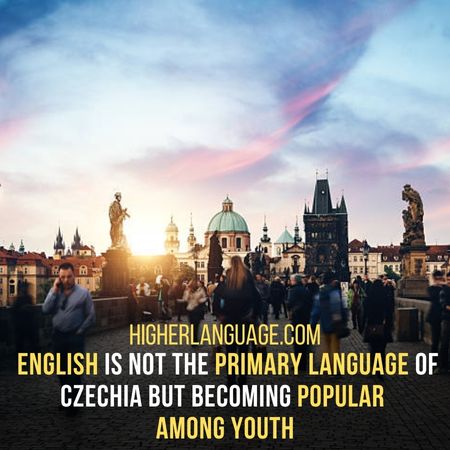 The official language is Czech, with Slovak being a regional language in some areas.
English has a strong presence in cities and tourist areas such as Prague. There, you can expect to find signs and menus in both languages.
Many businesses also tend to have at least one person who can communicate in English. So don't be shy about trying your skills!
Even if they are unable to understand you fully, they will do their best to help however they can.
So do people speak English in Czechia? The answer is yeah, to some extent! So don't be afraid to explore the country and its culture.
You can do so confidently, knowing you can have a basic conversation in English if needed.
How Widely Spoken Is English In Czechia?
You may find fewer people speaking English than you would in, say, the United Kingdom or the United States. Still, it's possible to get by speaking English in Czechia.
According to the Czech Statistical Office, approximately 45% of the population can speak English at some level. Here, 14% at a basic level, 10% sufficient, 15% intermediate, and 7% very advanced.
It means that a major portion of the people in Czechia will be able to understand and respond to you in English.
In addition, out of the 112 countries compared, the Czech Republic appears as a 'high proficiency' country. It falls into 27th place with 563 points out of 663 maximum points.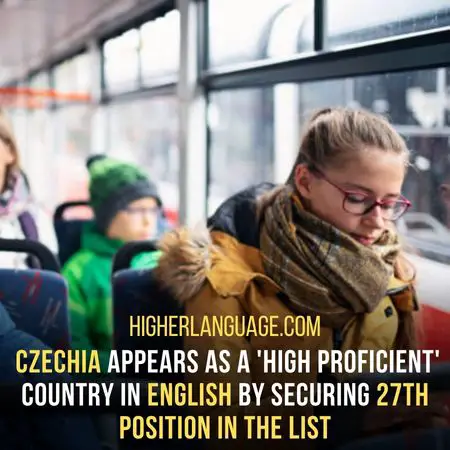 However, this number varies widely depending on age and education level. For example, younger Czechs are more likely to have learned English in school.
Therefore, they become more proficient in the language.
In contrast, older Czechs are less likely to have had the opportunity to learn English. Thus, they may only be able to hold a basic conversation.
Younger generations are more proficient in English due to formal education. It allows foreigners to make it easier to hold conversations in English. Also, English is widely used in business and tourism contexts.
So if you're planning on visiting Czechia or doing business here, don't worry. You'll be able to find plenty of ordinary citizens who can converse in English!
6 Major Factors Supporting English In Czechia
Do people speak English in Czechia? This is a common question people ask these days. The answer is, Yes! This is because more and more Czechs are learning English.
In fact, English is one of the most popular foreign languages to learn in the Czech Republic. Moreover, new generations are particularly inclined toward English.
There are several contributing factors to support this trend.
1. English Is A Global Language:
English is the dominant language and one of the primary sources for global communities.
Czechs recognize the fact that English is an important language in international communication. So, they do not show any reluctance in making an effort to learn the language.
2. Education Supports English In Czechia:
The Czech education system supports the English language. Therefore, English is a required subject in the majority of schools and universities. So, many people do have some knowledge.
Moreover, plenty of private institutions offer classes to teach English. This is very helpful for those who want to learn more.
This has contributed to an increase in the number of people who speak English in the Czech Republic.
3. Media Is A Reason:
English's popularity in the Czech media (TV, radio, magazines, and newspapers) is a big factor. The media has played an important role in spreading the language.
For example, movies and TV shows are often shown in English with Czech subtitles. This encourages people to learn the language and better understand its usage.
4. Abroad Living Trend In Czechs:
The Czech Republic is small, and its citizens often need to travel or work abroad. As a result, the general population has a high level of English proficiency. 
In addition, many Czechs have family members or friends who live abroad. So they use the language to communicate with them. This helps a lot in making English common among people.
5. European Union Plays A Role:
Czechia is an EU member country where English is one of the official working languages.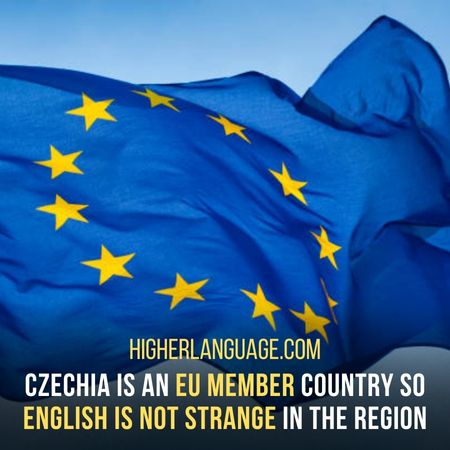 Thus, English is a common language among people in different countries. This encourages people to learn the language, making it more familiar and commonplace.
Consequently, most people in Czechia have some knowledge of English and can talk in it.
6. Tourism Also Contributes Here:
Finally, Prague, the capital of the Czech Republic, is a popular tourist destination. As a result, many businesses cater to English-speaking visitors.
As a result, many locals speak at least a few words of English. Further, staff who can speak English is in demand in the tourism industry.
This motivates people to learn and improve their English in order to do well in the job market. All of these factors make it easy to find people who speak English in Czechia.
Some Major Languages In Czechia
Do people speak English in Czechia? Well, that depends on where you go. In larger cities like Prague, you'll find that many people speak English quite well.
However, your options for finding an English speaker in rural areas or towns may be more limited. That being said, here are five languages spoken in Czechia:
1. Czech:
This is the official language of the Czech Republic. Approximately 96% of the population uses it as a first language.
If you're looking to explore Czech culture or do business, it's worth picking up a few basics in Czech.
For example, it's always useful to know basic phrases like dobrý den (good day), děkuji (thank you), and prosím (please).
2. Slovak:
While not as widely spoken as Czech, Slovak is still used by a significant minority of Czechia. Particularly in the eastern regions of the country.
Approximately 5% of the population speaks Slovak. Therefore, when traveling, it always comes in handy to know how to say a few key phrases in the local language.
If you're hoping to talk with people during your travels, learning Slovak is worth your while.
3. German:
Thanks to its history as part of the Austro-Hungarian Empire. German is still widely spoken in Czechia (particularly among older generations).
Almost 6% of the population speaks German as a native language, and another 7% can communicate in it. That's 13% of the total population!
Even if you only know a few basic phrases, you'll likely be able to communicate with some people using German.
4. Rusyn:
This is a minority language spoken in the Carpathian Mountains region of Czechia.
Only 0.2% of the population speaks Rusyn as their native language. This shows that Czechia is diverse in terms of language and culture.
Rusyn may not be widely spoken, but it can still benefit those traveling in this region. So, if you know even a little bit of Rusyn, it could do you good!
5. Polish:
Last but not least, Polish is spoken by a significant minority of people living in Czechia. Particularly in the southwest of the country.
About 1.9% of the population speaks Polish as their native language in the region. Therefore, knowing only a few key phrases in Polish can help you communicate with many people.
Thus, knowing one or more of the above languages is a plus when traveling in Czechia.
Can You Get By Just English In Czechia?
People have several concerns before going to Czechia. The Internet is full of questions like" do people speak English in Czechia?" Or "can you get by just English in Czechia?"
Yes, you can get by on English in the Czech Republic, especially in Prague.
While not everyone speaks English, most people understand it and are willing to help if they need help. In general, younger people speak better English than the older generation.
Yet, there are still plenty of people who only speak Czech, so it is always good to learn at least a few basic phrases. This will go a long way.
People appreciate it when visitors to their country try to learn a few words of the local language. Also, it can often lead to better service and more enjoyable interactions.
Plus, knowing a few key phrases will help you navigate common situations like ordering food or asking for directions.
So while you won't be stranded if you only speak English in the Czech Republic, learning a bit of Czech will enhance your experience.
Conclusion:
English is not an official language in Czechia. However, it is widely spoken among the younger generations. With time, it is becoming more and more popular in Czechia.
English is also used in business and tourism contexts. In addition, the education system, media, and the public's attitude toward English are quite positive.
Some other options include Czech, German, Polish, Rusyn, and Slovak. If you know an of these, you will have an easy time there.
All in all, do people speak English in Czechia? Yes, they do! With the right people, you'll be able to converse in English easily.
So feel free to get lost in translation when traveling to or doing business in Czechia!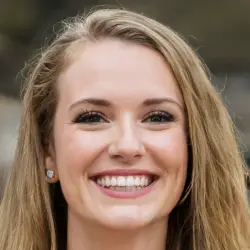 Latest posts by Sylvia Simpson
(see all)