If you're a fan of vintage pop culture, chances are you've heard some groovy 60s slang words and phrases. From "far out" to "hang loose," they defined a generation of hippies and free spirits.
These terms remind us of a time when it was okay to be different. So the next time you feel "cool" or "hip," remember that the 1960s gave us some popular words to use whenever we want.
60s Slang Words And Phrases – 12 Terms Of All Times!
The 1960s were a time of change and revolution, reflected in the era's slang.
From "groovy" to "far out," the vernacular of the time was about expressing rebellion, individuality, and a rejection of the status quo.
In the 1960s, if you were a "flower child" who liked peace and love, or a "mod" who liked British rock music and stylish clothes, the words people used were important to you.
It was a time when language was used to challenge authority and question social norms and the slang words of the era still hold a special place in our cultural lexicon today.
So let's take a trip back in time and explore the wild and wonderful world of 60s slang!
1. Groovy – Cool Or Awesome:
Have you ever heard the word "groovy" before? If not, you must be living under a rock!
Groovy is a word that was popular back in the 60s and 70s, but it still manages to make an appearance in modern times.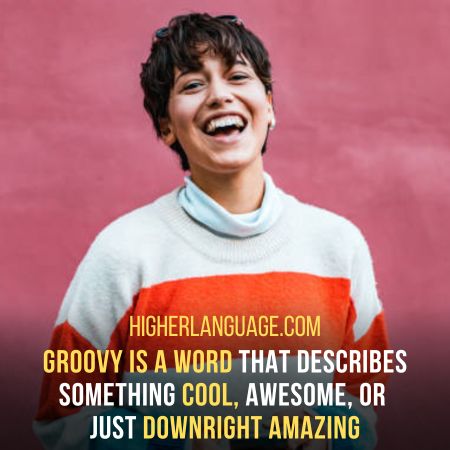 It's a word that describes something cool, awesome, or just downright amazing. When you say something groovy, you're letting everyone know it's something special.
Whether it's a groovy song, groovy clothing, or just a groovy place, it's something that you can't help but love.
So, if you're looking for a new word to add to your vocabulary, why not try Groovy for size? Trust us; it's a word that will never go out of style!
2. Boogaloo– A Dance Move Popular In The 60s:
Get ready to boogie! The Boogaloo dance move burst onto the scene in the 1960s, captivating dancers with its funky, hip-shaking groove.
Unsurprisingly, the dance quickly became a sensation with its lively beats and catchy rhythms.
With its playful footwork and sassy style, the Boogaloo encapsulates the fun-loving spirit of the era. Plus, it's a great way to shake off stress and put some pep in your step.
So, whether you're an established dancer or a newcomer looking for fun, grab your dancing shoes and get ready to hit the dance floor with the Boogaloo!
3. Ginchy – Awesome And Attractive:
Ginchy – the word itself has a certain ring that makes you want to know more. And trust me, once you do, you won't be disappointed.
Ginchy is not only awesome, but it's also downright attractive. This place has everything from its charming small-town vibe to stunning natural landscapes.
But what sets Ginchy apart is the people. Friendly faces and warm smiles abound, making you feel right at home. And let's not forget about the food.
Ginchy is a foodie's paradise with top-notch cuisine for every palate. So whether you're looking for a relaxing weekend getaway or a thrilling adventure, Ginchy is the place to be.
4. Bag Your Face! – An Expression Of Disbelief Or Shock:
Have you ever heard someone say, "Bag your face" when completely taken aback by something?
This expression of disbelief or shock has been around for years, and it's definitely one you won't find in any textbooks.
It's more of an everyday way of saying, "I can't believe what I'm hearing/seeing!"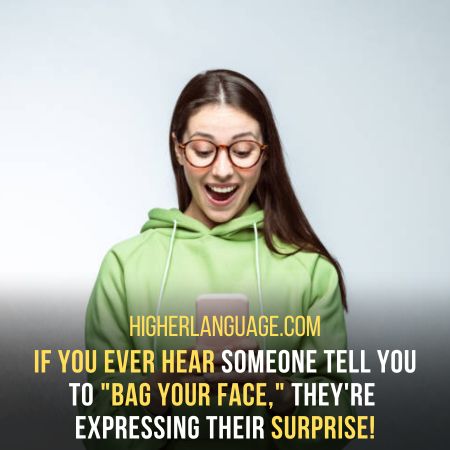 So, if you ever hear someone tell you to "bag your face," don't take it to heart – they're just unconventionally expressing their surprise!
5. Bogart Something – To Take Something That Isn't Yours:
Have you ever felt like you just have to bogart something? Like that last slice of pizza or the TV remote during a heated argument? Well, you may want to think twice before seizing control.
Bogarting may seem harmless, but it can quickly escalate into a full-blown ownership battle. And let's be real, who wants that kind of drama?
So next time you feel the urge to bogart, remember that sharing is caring. Plus, you never know what kind of good karma you might accumulate by giving someone else a chance to shine.
6. Outta Sight – A Phrase To Express Great Pleasure:
Are you ready to take your language game to the next level? Look no further than the hip, tongue-in-cheek phrase "Outta sight!"
This expression made popular in the 1960s, is the perfect way to express your profound pleasure and excitement.
You can use it for anything giving you good vibes, whether it's a great party, a satisfying meal, or your favorite tune on the radio.
It sounds cool, but "outta sight" reflects the joy of being alive and experiencing life's simple pleasures. So the next time you feel jazzed and enthusiastic, don't hold back—let the world know you're "outta sight!"
7. Scuzzy – Something Dirty Or Unpleasant-Looking:
Ready for a vocab lesson that's anything but boring? Enter "scuzzy": the word you never knew you needed until now.
This delightful adjective packs a punch when describing anything that's grimy, grimy, or generally unpleasant to the eye.
The word "scuzzy" stands out from other words used to describe something dirty because it has a more playful and unique sound.
Plus, it sounds like the kind of word your grandparents might've used to scold you for playing in mud puddles as a kid.
So whether you're describing a run-down dive bar or your obnoxiously dirty roommate's side of the apartment, let Scuzzy be your new go-to.
8. Hang Loose – To Show Someone That You Are Relaxed:
Hang loose is a phrase we've all heard at some point or another, but do you know where it comes from? Well, let me fill you in.
In the 1960s, surf culture was at its peak, and a specific way of life came with that. Surfers value staying calm and relaxed, both on and off the board.
When the waves were high, they had to be ready to navigate them without getting too uptight or nervous. That's where "hang loose" comes in.
It indicates that you're chill and not worry about anything, similar to the surfer's mindset on the waves.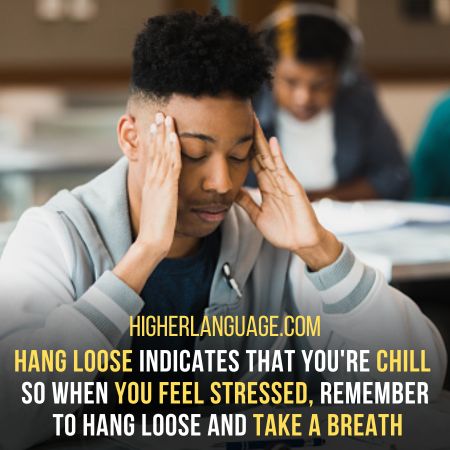 So next time you feel stressed, just remember to hang loose and take a deep breath.
9. Cats And Kittens– A Term Of Endearment For Close Ones:
If you're a cat lover, you know how full of personality these felines can be. So it's no wonder that "cat" has become a term of endearment for many people.
But why stop there? Why not take it a step further and use "kitten" instead? After all, who can resist the charm of a little ball of fluff, ready to pounce and play at a moment's notice?
Using "kitten" as a term of endearment shows just how precious and beloved someone is to you and also gives the nod to the playful spirit we could use a little more of in our lives.
So call your loved ones "kittens," and watch their faces light up with joy. Just be prepared for some playful swipes and plenty of purring in return!
10. Far Out– An Exclamation Of Approval:
Far out! An exclamation of approval has existed since the hippie era of the 1960s.
While it may sound outdated to some, it still holds the power to convey excitement and enthusiasm in a way that few other words can.
It's a phrase that can be used in various situations, from expressing admiration for a piece of artwork to celebrating a successful project at work.
It's a fun and quirky phrase that adds personality to any conversation. So go ahead and embrace your inner hippie and let out a "far out" the next time something impresses you!
11. Gnarly – Extremely Difficult Or Challenging:
Gnarly is a slang that can be used to describe something incredibly tough or challenging. It's often used to describe extreme sports, like surfing or snowboarding, but it can describe any difficult task.
When someone says, "Man, that was gnarly," it indicates that whatever they did was not easy.
It takes a special person to tackle something gnarly, whether hitting a massive wave or completing a difficult project at work.
But if you're up for the challenge, the accomplishment you get from conquering something gnarly is worth it!
So don't be afraid to push yourself and take on something gnarly – just be ready for a ride!
12. Bummer – Something That Is Disappointing Or Unpleasant:
Bummer, isn't it? That sinking feeling in your stomach when things don't go your way. Maybe you were counting on sunshine for your beach day, but it's pouring rain instead.
Or perhaps the restaurant you were excited to try had terrible reviews, and now you're stuck with a bad meal.
Whatever the case, a bummer is a universal experience that can make even the most positive person feel down.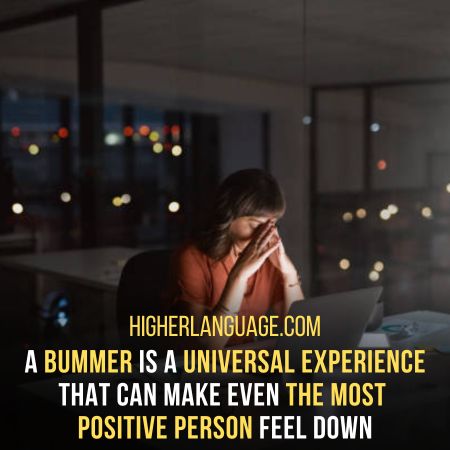 But fear not, my friend! As much as a bummer can really… well, bum us out, it's also an opportunity to practice resilience and find the silver lining in a less-than-desirable situation.
After all, life isn't always rainbows and butterflies, and learning to deal with disappointments is just part of the journey.
Conclusion:
The 60s is easily one of modern history's funniest and most unique eras, and its slang is no different!
From 'groovy' to 'boogaloo' and even 'bag your face!' the sixties were full of catchphrases that have left an indelible mark on our culture and language.
For anyone looking to shake up their everyday vocabulary, these quirky expressions can be a great way to add some classic charm – be sure to 'bogart' them before they are gone!
Of course, if you don't like them, you can always 'tone down' or even ignore them entirely, but why do so when they bring such undeniable 'outta sight' or 'ginchy' vibes?
So go ahead, feel free to use these amazing 60s slang words and phrases; if it's not 'scuzzy', it ain't groovy.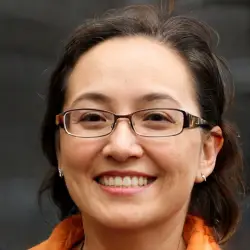 Latest posts by Elizabeth Williams
(see all)