How long does it take to learn Greek? Learning the language can take anywhere from a few weeks to a few years, depending on your effort.
If you study for a couple of hours each week and practice regularly, you can learn the basics within several months. However, it may take up to two or three years of practicing to be proficient.
How Long Does It Take To Learn Greek?
Learning Greek is an exciting adventure that can open up a world of possibilities.
How long it takes to get to proficiency in Greek depends on several factors, such as the learner's dedication and frequency of practice.
Also, motivation and interest are two key factors that will determine how quickly one will learn Greek. 
The best way to approach learning Greek is gradual—learning the basics first and then gradually expanding knowledge.
On average, most people take about 1-2 years of study to achieve basic proficiency, while 3-4 years is sufficient for more advanced mastery.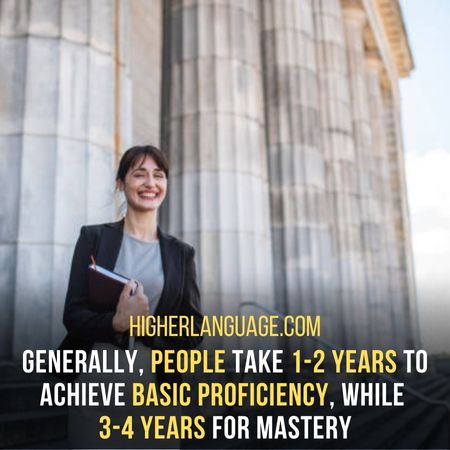 However, some learners have become fluent in Greek within a year or less with consistent practice, while others may opt for even longer periods of study and practice.
No matter what, it's important to set realistic goals when learning a new language, so taking your time and learning at your own pace is key.
It all comes down to how much you want to learn and how hard you are willing to work. If you keep learning and working hard, you will be able to master Greek!
Is Greek Difficult To Master?
Many people who speak the language fluently have studied it for years, with some studying for over a decade before fully grasping its nuances.
For example, its extensive grammar rules, which build off one another like a map of interconnecting roads, require careful practice and observation to master.
Moreover, due to its unique vocabulary not always shared with other languages, it's considered by many to be particularly tricky compared to other languages such as Spanish or French.
In addition, learning Greek can be quite difficult for those completely unfamiliar with conjugations and declensions.
Those well-versed in Romance languages might find navigating through modern Greek far easier than others starting from scratch.
All in all, mastering Greek does take time and effort – but it is possible!
Why Do People Take Much Longer To Learn Greek?
Learning Greek is an endeavor that requires dedication and hard work, making it difficult for the average person to develop fluency within a matter of months.
Many factors can slow a person down in this process, such as the complicated grammar structure and understanding of the intricacies of the language's orthography.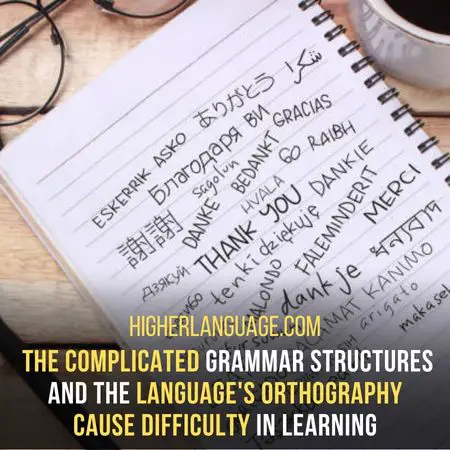 Additionally, learning Greek by relying solely on memorization rather than applying it in context will prolong the Language Learning Process.
Anyone looking to become fluent in Greek must have patience and dedication while studying, as they will likely be in progress for some time.
Factors Helping Your Greek Learning Process
How long does it take to learn Greek? It depends on how much time and effort you're willing to put into it.
But don't feel like you have to go it alone; a variety of internal and external factors can help the learning process along.
Finding the right environment, materials, and resources can be a major aid in helping one pick up the language quickly.
Support from people who speak the language, whether online or in person, can make a real difference.
If you set up proper studying habits and keep track of your progress as you learn Greek, you will be able to gauge where your skill level is at and what improvements should be made.
Remember that learning takes time, but with careful consideration of all these factors and dedication to do better each day, success will eventually come.
Youth's Aptitude Towards Learning Greek
Youth today have differing attitudes toward learning the Greek language, culture, and heritage. In this way, learning Greek can be intimidating for younger generations.
After all, its ancient alphabet and language seem like something from another world—too far off to ever reach for many of us.
While there is some reluctance from a portion of the younger generation, many are highly motivated to take on the challenge.
Youth view it as an opportunity to connect with their history, foster connection among members of the Greek diaspora, and gain valuable skills for personal or professional development.
As a result, More and more young people recognize how important it is to speak Greek fluently.
This motivates them to step out of their comfort zone and work hard to learn this foreign language.
It might take a while before you see the benefits of learning this language, but it will be worth it in the end. You will get better at speaking this language over time.
Thus, for those looking for a meaningful addition to their education, Youth's aptitude toward learning Greek continues to remain strong.
What's Interesting About The Greek Language?
How interesting would it be to learn a language that lasted more than 3,000 years?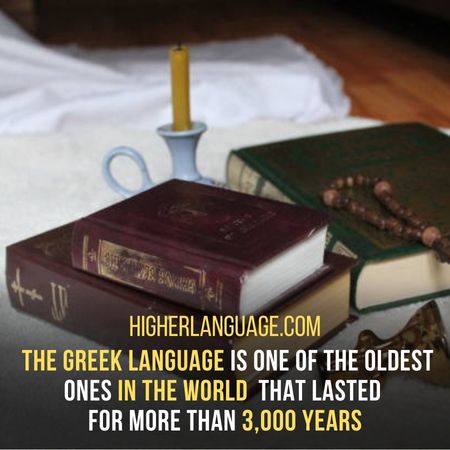 The Greek language is one of the oldest in the world and remains popular in many European countries.
Are you questioning how difficult it is to learn the Greek language, which has been used for centuries?
It all boils down to your commitment and hard work.
One benefit of learning Greek is understanding ancient Greek philosophy and literature, which is hugely influential in shaping our modern society.
So why not challenge your mind and add another language to your knowledge? For example, how cool will it be to say "Efharisto" instead of "thank you"?
Languages Similar To Greek
How long does it take to learn Greek? Well, the answer to that is different for everyone. However, if you speak something similar to Greek, it may be easier for you.
Languages such as Ancient Greek and Latin are used as a base for learning Modern Greek, so having basic knowledge of one of these languages can help you learn Greek more quickly.
Other language families that share similarities with Greek include Albanian, Armenian and Phrygian.
Having a grasp on these nearby tongues could also help speed up learning Greek. So why not see if there's anything else you can pick up along the way?
Benefits Of Knowing Greek
Knowing Greek has its advantages, especially if you're into language learning.
Learning Greek allows for more complex philosophical conversations and being able to converse freely with native speakers when traveling abroad.
Also, it can help you understand classic literature and world history. Further, it can help you build lasting relationships.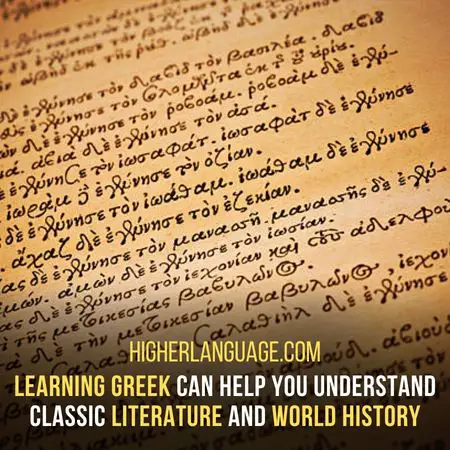 Moreover, speaking Greek fluently can help you get a job because companies need people who can translate the language or help with the business.
If you are new to this language, you may feel comfortable after a few months of practice. But if you want to be fluent in the language, you may need to study it for many years.
Ultimately, your effort will determine how long it takes you to learn Greek and reap its many rewards.
What Makes Greek Desirable?
Greek is a desirable language to study because it has an incredibly rich history, offers insight into its culture, and provides access to great literature and philosophy.
It is a Romance language packed with more than 8,000 years of stories about gods, goddesses, heroes, and villains.
Knowing Ancient Greek lets us see how people thought in the past. We can read books from ancient authors like Plato and Euripides in their original language.
When we learn Greek, not only do we gain knowledge about the culture but also about the current trends and dialects that are found today across Greece.
Learning the language opens us up to one of the most diverse cultures in the world – from gorgeous islands to cities bathed in sunlight – with amazing food and rolling hillsides.
Learning this ancient yet innovative language is highly rewarding – so take your time to learn it right!
Conclusion:
Learning Greek is certainly not a snap; it can take weeks to years, depending on your goals.
With dedication, consistency, and persistence, you will soon find yourself able to communicate with native speakers and perhaps even think in the language!
How long does it take to learn Greek? The faster you commit to learning, the faster you'll gain fluency.
But no matter how long it takes, the experience and reward of mastering this beautiful language will follow you for a lifetime.
So don't be discouraged – learning Greek is an incredibly rewarding journey!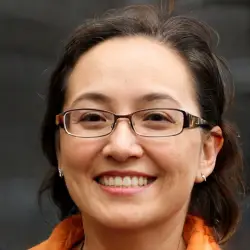 Latest posts by Elizabeth Williams
(see all)