The Linguistic Society of America mentions 6,909 distinct languages in the world. Have you ever wondered which language has the most words in it out of all these languages?
This is quite a difficult question to answer, even for some linguistics. You start learning any new language; you may have this question in mind how many words this language has?
Even though it seems a pretty simple question, it has various complexities. By the end of this article, you will be able to find the answer to your question; "which language has the most words?"
Which Language Has The Most Words? – 6 Richest Languages
It is still controversial how many words a language has. This is because there are some words that dictionaries do not include.
However, there are certain languages that many linguistics consider as the richest languages. Here are a few of them:
1. English – Does It Have The Most Words?
According to some linguists, English is one of the largest languages in terms of word count. Only a limited amount of dictionary entries support this assertion.
The Oxford English Dictionary contains almost 200,000 words. It includes 47,156 obsolete words and 171,476 active words.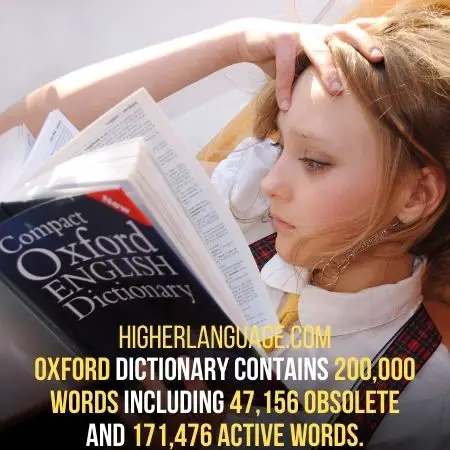 Many countries in the world speak English as a second language. English is a language that has also taken hundreds of words from other languages.
It has incorporated these words into its own. It enables native English speakers to choose a broader range of vocabulary.
This is mainly because of the Viking invasions in England. Then, the Normans, colonization, and exploration waves added some to the English lexicon.
Due to this reason, the English dictionary got several new foreign terms. Every day, new words are being added to the English language. It has become the global lingua franca.
2. Korean – Is It The Richest Language?
Korean is at the very top of the list. There are 1,100,373 terms in the largest dictionary of the Korean language. This information comes from a government-approved official source.
This is the only most extensive collection of words in any language's dictionary. It has around double the number of words in English, having 505,000 in its most extensive dictionary.
Even that appears to be a huge sum. But, this number includes both the South Korean and North Korean vocabulary.
And I assume it covers all the dialects in both locations. It clarifies some of the complications.
3. Arabic – Does It Have The Most Words:
Its strong impact on other languages is undeniable. But is Arabic the richest language in terms of words? Arabic might be the richest language due to its complexity based on its intricacy.
Arabic words use about three, four, or five letter roots to make a word. These roots create a wide range of meanings.
You might end up with a large number of words if you counted each variant as a different word. However, native speakers are not using all these words.
There are hundreds of terms used for camel in Arabic. It also has different love words, including unique words for every stage of love. That demonstrates the Arabic language's incredible versatility and depth.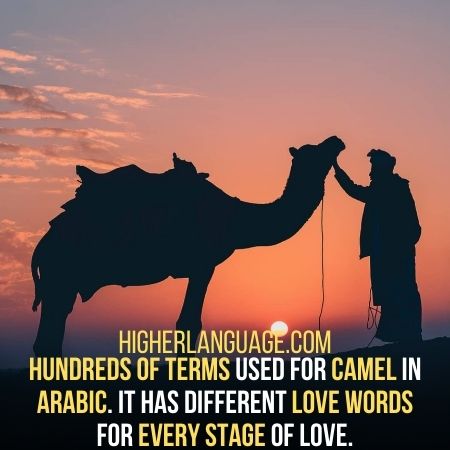 Many individuals might don't know that a large number of words originate from Arabic.
Spanish, Latin, Italian, German, Greek, and other languages frequently use these words. Most people don't know this fact before they make their way into the English Language.
4. German – Extensive Vocabulary:
If we count compound words, German contains over 300,000 words. So, German language speakers can theoretically make as many terms as they want.
German has some words that are some of the longest words in existence. German uses compound words and makes them super long.
For instance, the German word "Unabhängigkeitserklärung" means "declaration of independence." Do you think it is a single word?
Given the compounding possibilities, German would soon surpass English.
This can happen with the continuous addition of different legitimate German "words." Germans would accept these words without hesitation.
5. Japanese – With Massive Word Count:
Another popular competitor is Japanese, which contains a massive 500,00 words. Half of them, however, are written in Kanji (Chinese characters).
You may write a daily newspaper with roughly 1200 Kanji words on a daily basis.
This can give you an idea that how massive word count Japanese has. Even though it relates to Chinese, but it still is one the languages with most words.
6. Finnish – Has The Most Words:
Finnish is an agglutinative language. It has the ability to produce an unlimited number of characters. You will not, however, discover such an extensive vocabulary.
Agglutinative languages can make new words by the combination of prefixes and suffixes. Finnish is one of these languages.
Are Dictionaries A Reliable Source To Estimate Which Language Has The Most Words?
Based on the facts, the answer would be no. Have you ever heard any language expert saying that English contains the most words?
They state this claim but verifying it is nearly impossible. Moreover, dictionaries do not contain all of the words of a language. Most of the dictionaries exclude slang words.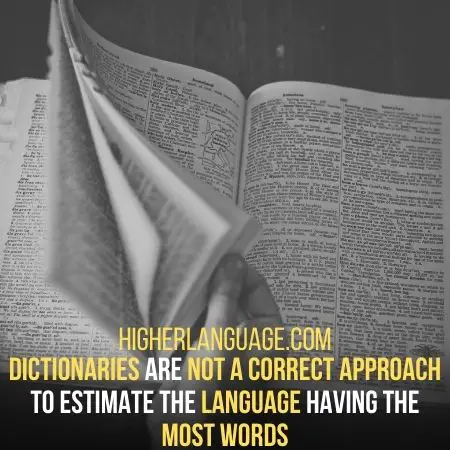 Many Linguistics refer that the English language has the most words. But, what if we search for Korean? Dictionary says that it's 1,100,373 words.
This word count is about twice the number of words in English. So, the claim goes wrong here.
The Duden contains almost 145,000 German words. The Diccionario de la Real Academia Española documents almost 88,000 words.
In a nutshell, dictionaries are not a correct approach. We can't estimate the language having the most words based on dictionary entries. But there is an exception in some European languages.
Facts: Dictionaries Cannot Estimate Which Language Has The Most Words
Several examples show that dictionaries are not the ultimate approach. It is impossible to estimate the language having the most words in this way.
Steven Frank is the author of The Pen Commandments. He says that English comprises 500,000 words.
While the Oxford English Dictionary estimates a different figure. It states that the English language contains about 200,000 terms. It includes 47,156 obsolete words and 171,476 active words.
Other examples are:
According to Steven Frank, the German language has around 135,000 people. At the same time, the word count in authoritative dictionaries is 330,000.
Steven Frank claims that the French language has less than 100,000 words. The dictionary Littré, on the other hand, contains 132,000 active terms.
At the same time, according to the dictionary Larousse, French has 59,000 words.
These dictionaries have limitations to the terms of a single country. This is despite the people speaking the French language well beyond France's boundaries.
Bottom Line:
By Now, you must have an idea that which language has the most words. Many linguistics say that the English language has the most words of any language on the planet. However, proving this is not easy.
It's difficult to estimate the total number of words in non-alphabetic languages. For example, Chinese.
One approach for determining which language has the most words is the dictionaries. But it mainly works for all of Europe's major languages.
Furthermore, dictionaries would not be able to include all the terms in a language. Most of the time, dictionaries do not have compounded words in many ways.
So, in the end, it really doesn't matter. You'll be dealing with a large vocabulary.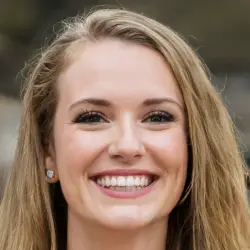 Latest posts by Sylvia Simpson
(see all)