Slang words for a boyfriend are constantly changing and evolving, as language and culture are always in flux. From "bae" and "boo" to "mister" and "my man," there are numerous terms.
If you want to give someone a nickname, that is funny, or just pick one from many options. Think of something creative; maybe other people will also start using it!
11 Slang Words For A Boyfriend To Make Him Feel Special!
Relationships are unique, as are the words used to express love and affection.
In modern times, slang has become prevalent amongst couples to familiarize themselves and perhaps differentiate from the conventional English language standards.
Depending on the geographical location, age group, and the couple's personality traits, there are several slang words for a boyfriend.
Some popular words are bae, boo, honey, sweetie, and love, to mention a few. These terms add a fun and playful element to relationships, making texting more exciting and adorable.
So next time you have a special someone, try out some slang words for a boyfriend and make them feel extra loved and appreciated.
1. Bae – An Acronym Meaning "Before Anyone Else":
Bae is one of the most commonly used slang words for a boyfriend that has been around popular culture lately.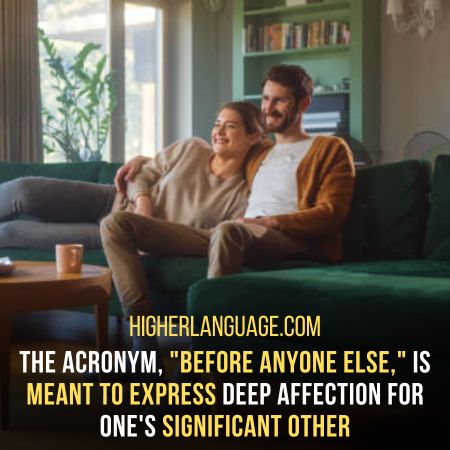 The acronym, "before anyone else," is meant to express deep affection for one's significant other.
Bae has quickly become one of the most popular words used by young people, and it's easy to understand why.
Bae is a simple and catchy way to refer to a loved one, and it's a great example of how slang words can capture the essence of a feeling or a relationship.
You'll understand the meaning if you hear someone referring to their bae again.
2. My Man – Classic And Timeless:
The term "my man" has been a classic and timeless slang for a boyfriend. It conveys a sense of ownership and endearment all at once.
In today's society, where new slang words and acronyms emerge every other week, "my man" has remained a steadfast term that has stood the test of time.
It refers to a simpler time when relationships were more straightforward and less complicated.
So, when you want to refer to your significant other with a term that is both classic and timeless, "my man" is an excellent choice.
3. Man Candy – Another Term For Boyfriend:
When discussing romantic relationships, there's always a new slang term to learn.
"Man candy" is one of the more recent additions to the lexicon and has quickly gained popularity.
When people say "hot boyfriend", they mean a nice, helpful, and good-looking boyfriend. However, some people do not like this phrase because it seems only looks matter.
But some people think it is fun to say their partner is attractive.
Regardless of your feelings, "man candy" has become a common slang term for a certain type of partner. So, if you hear someone using this phrase, you now know what they mean.
4. Mister – Formal Way Of Referring To One's Partner:
In some social circles, referring to one's boyfriend as "babe" or "boo" may be too casual or slangy for some occasions.
This is where "Mister" comes in as a more formal but affectionate way to address your significant other.
It conveys a sense of respect and admiration while still showing love and affection.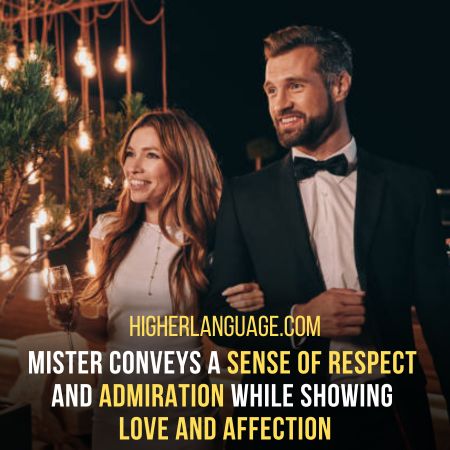 While many slang words exist for a boyfriend, "Mister" stands out as a unique option for those who want to express their love in a more sophisticated and formal manner.
It's a term reserved for our dear fathers and our special someone who deserves to be addressed with affection, respect, and dignity.
5. Booski – Referring To Someone You're Dating:
If you're dating someone looking for a sweet and affectionate nickname, look no further than "booski."
This slang term for a boyfriend combines "boo" and "sneaky," giving it a playful and endearing vibe.
It's a great way to show your significant other how much you care while adding fun and humor to your relationship.
Whether you're using it as a term of endearment in private or shouting it out on social media, "booski" is a catchy and beloved nickname to call your special someone.
6. King – Often Refers To Their Significant Other As Royalty:
Have you ever heard someone refer to their significant other as "king"?
This slang term for a boyfriend has become quite popular in recent years, with many young couples using it to express affection and admiration.
While it may seem like a strange choice of nickname, "king" is often used to convey a sense of respect and honor towards one's partner.
The message implies that the individual is showing their significant other very high regard and treating them with great importance.
Although some may not approve of this term, it is commonly used in contemporary dating.
7. Main Squeeze – A Term That Means "The One I Love":
People use various slang words to refer to their significant other, but perhaps one of the most charming is "main squeeze."
This term is an affectionate way to refer to "the one I love." While its origin is unclear, it has been used for several decades.
The phrase may have come from the concept of a citrus fruit squeezed to release its juice, suggesting that one's partner is the source of happiness and vitality.
Whatever its origins, "main squeeze" remains a popular slang term for a boyfriend, conveying both fondness and a bit of playfulness.
8. Hubby – A Term Of Endearment For Your Significant Other:
In the world of relationships, there are countless ways to refer to your significant other. One such term that has become increasingly popular is "hubby."
Although it may sound like a more formal title, "hubby" is actually a term of endearment used by many couples to refer to their boyfriend or husband.
It falls under the category of slang words for a boyfriend, along with terms like "bae" and "boo." While some might find the term a bit cringey, others see it as a sweet way to show affection for their partner.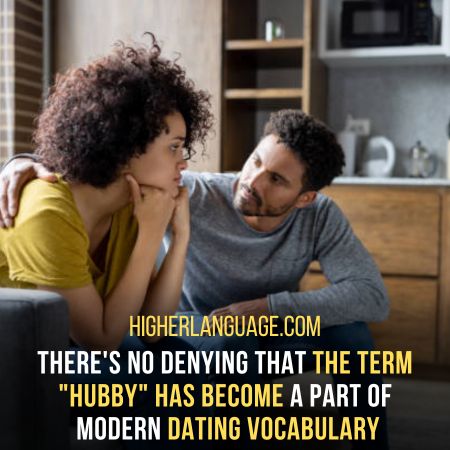 Whether you're a fan of "hubby" or not, there's no denying that it's become a part of modern dating vocabulary.
9. Boo – An Affectionate Nickname For Your Significant Other:
Regarding pet names for your significant other, "boo" is a popular choice. This slang word for a boyfriend is an affectionate way to show your love and appreciation.
It's a term that's been around for years but has recently seen a surge in popularity, particularly among younger generations.
"Boo" is a playful and informal way to refer to your partner, and it can be used in a variety of settings – from a casual night into a more formal event.
While it might not be for everyone, "boo" is definitely a fun and lighthearted way to show your affection.
10. Snuggle Bunny – It Suggests How Close The Couple Is:
Using slang words to show affection towards a partner can bring lightheartedness and charisma to a relationship.
One such phrase that has become popular is "snuggle bunny", a cute name for a boyfriend that implies intimacy and closeness.
This term has its roots in the idea of snuggling, or cuddling, with someone you care about, and adding "bunny" adds a playful and endearing touch.
Using slang words for a boyfriend is a personal choice and may vary depending on the nature of the relationship.
However, including a cute nickname, such as "snuggle bunny," can bring delight and contentment to both partners.
11. Stud Muffin – Referring To Your Boyfriend As Being Attractive:
If you're looking for a fun and playful way to refer to your attractive boyfriend, you might consider calling him a "stud muffin".
This slang term is a creative and affectionate way to let your beau know just how appealing you find him.
While some may find the term a bit cheesy or outdated, it's hard to argue with the fact that referring to your partner as a baked good is a pretty cute way to express your love.
Plus, having a few playful nicknames to use when you're feeling flirty with your special someone is always fun.
So go ahead and give "stud muffin" a try – who knows, it just might become your go-to pet name for your sweetie.
Conclusion:
There are many fun, flirty, and cheeky slang words for a boyfriend. It all boils down to your personal preference.
Whether you prefer bae or dudeo, mister or man candy – it's up to you!
No nickname is "better" than another; it's simply whatever makes you (and your partner) feel the most loved and appreciated. After all, that's what a relationship is all about.
Open communication and finding ways to express the love one has for another – in big and small ways – is truly the only way a relationship can thrive in the long run.
So choose whichever phrase best fits your relationship and make it yours!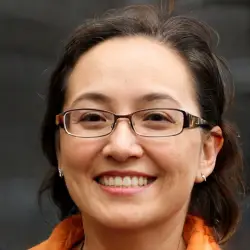 Latest posts by Elizabeth Williams
(see all)