Suppose you are thinking of traveling to Turkey. The first question that might come to your head is. Do people speak English in Turkey?
English is not commonly spoken in Turkey. So, keep reading this article to learn how useful English would be for you in Turkey.
Do People Speak English In Turkey?
Language is the key to communication. But, unfortunately, it can also be a barrier to your good experience in another country.
English is an international language. Most countries have English speakers. The biggest reason for that is the media and globalization.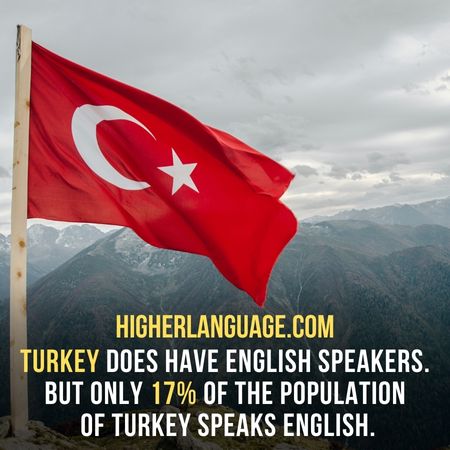 Turkey, like any other country, does have English speakers. But unlike general thinking. Only 17% of the population of Turkey speaks English.
According to English Proficiency Index 2022. Turkey was the 70th country out of the top 100 English-speaking countries.
English is most commonly spoken in tourist spots in Turkey. Those tourist spots include coastal regions.
The businesses around the coast are well spoken in English to be hospitable to the tourists.
So, to answer the question, do people speak English in Turkey? Overall, the people of Turkey don't speak English. Unless they are part of the tourism business or academic circle.
Official Language Of Turkey
Turkish is the official language of Turkey. Its history dates back to the 13th Century, the Ottoman Era.
Here's a chart to show the percentage of native languages spoken around Turkey.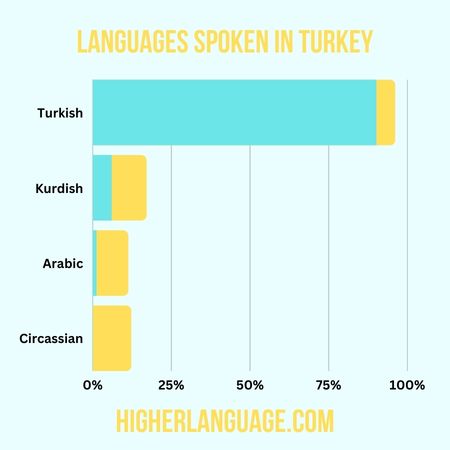 90% of the 1.7 Million population speaks Turkish. Other minority languages include Kurdish, spoken by 6% of the population.
1.2% of the population speaks Arabic. But most of these Arabic speakers are bilingual. Circassian is another minority language. Spoken by 0.09% of people throughout the country.
Learning English In Schools In Turkey

English is now commonly taught in the schools and colleges of Turkey. Most universities even have an English medium of instruction.
But even then, most students are not fluent in English. The first reason for that would be because English is being taught in a textbook way. Not the way of communicating.
Schools focus on memorizing grammar rules and vocabulary. Instead of focusing on the communicative aspect of language.
Another big reason is communication itself. Understandably, you cannot be fluent in any language unless you use it often. Fluency comes from using the language.
All the other subjects in schools get taught in Turkish. The reason for that is because Turkish people prefer their language over another.
They are proud of their heritage. And the conservatives even promote lesser English-medium schools.
Since English is not part of their history, they prefer not to add an alien tongue to their education system.
So the natives might be able to understand you since they have a basic understanding of the language.
How Common Is Spoken English In Turkey?
Many people might mistakenly think that people in Turkey can speak English. But it isn't the case.
Most people don't communicate in English, aside from tourist spots.
Turkish people are very proud of their language. That is due to its heritage. Also, they don't have any colonial impact.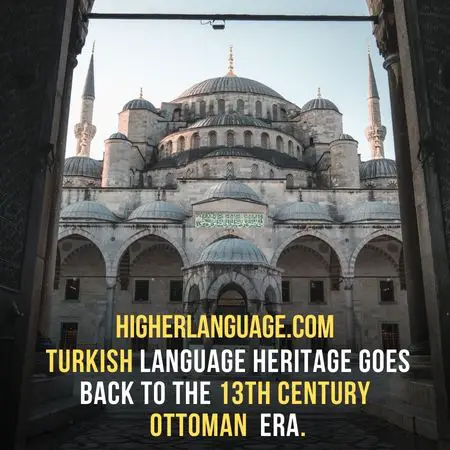 The Turkish language goes back to the 13th Century Ottoman era. Due to that, the Conservative people of the country are keen on protecting that heritage.
Although the government does understand the international value of English. For that, more English-medium schools are opening around the country.
But even then, it is not common in Turkey to speak English.
How Many People Speak English In Turkey?
It would be surprising to most that even being close to Europe. The ratio of English speakers in turkey is very low.
Only 17% of the population can speak English. That makes it 14,337,641 English speakers out of the 84,339,067 total population (according to the UN).
English Speakers In Turkey Compared To The Whole World:
Compared to the whole world. Turkey spots the 69th position among the 100 countries with English speakers.
That is surprising to most since Turkey is on the Southeast border of Europe. It is like a bridge between Europe and the Middle East.
Turkey is the bridge for trade between Europe and the Middle East. Yet they prefer their language over any other.
Turkey is proud of its history and language. And, like in Japan and Italy. The Turkish people believe. Learning another language isn't the main goal of progress.
English Speakers In Turkey Compared To Europe:
Suppose we narrow it down to Europe. The results are even poor out of 34 countries in Europe. Turkey ranks 33rd in the list of 100 countries with English speakers.
Being a part of Europe, this is quite surprising. But again, Turkish people are more concerned about protecting their heritage.
Moreover, now the government acknowledges English's value for international affairs. That is why they are introducing English to students in schools.
Are Turkish and English Similar?
English is a Germanic language. In contrast, Turkish is part of the Turkic language family. Turkish is related to Gagauz, Qashqai, Turkmen, and Azerbaijani.
The one similarity is the grammatical rules. Both languages do have somewhat similar grammatical rules.
Although the sentence structure is quite different. The standard sentence structure in English is SVO (subject-verb-object). While in Turkish, it is SOV (subject-object-verb).
For example, in English, if we say, "Jack threw a ball." It would get translated in Turkish as "Jack bir top attı."
In this sentence, "Jack" is the subject, "bir top" means "a ball," which is an object. And "attı" means "threw," which is a verb.
So, English and Turkish might be somewhat similar in their grammatical structure. But not in a way that you can understand a Turkish word by a guess.
Where Can You Find Fluent English Speakers In Turkey?
Some cities get a lot of tourists each year in Turkey. Due to that, you can find English speakers often. The rural areas are where there are lesser English speakers. 
Here is a list of a few cities that have English speakers in turkey.
1. Istanbul:
Istanbul is the hub of Tourism in Turkey. With its attractions like the Grand Bazaar, Sultanahmet Mosque, and Spice Bazar, most tourists visit Istanbul.
Another attractive point of Istanbul is its beautiful scenery. Most hotels, markets, and restaurants have English-speaking staff in Istanbul.
Aside from English, French and German speakers are also found. You cannot get lost in Istanbul because you don't know Turkish. Since the natives can easily guide you in English.
2. Ankara:
Ankara is the capital of Turkey. With lots of universities and student populations (including foreign exchange students).
You can find English speakers mostly around the universities. However, Ankara isn't as open to tourism. So you have to know some Turkish phrases to move around the city.
3. Antalya:
Antalya is a beautiful coastal city in Turkey. For that reason, it has quite a tourist attraction.
The staff in hotels and around the beach can communicate in English. Some restaurants even have menus in English.
But aside from the tourist spots, you will not find many English speakers around the city.
4. Marmaris:
Marmaris is in southwest Turkey. It is a port city and tourist spot. And for that reason, you might find some English speakers around the city.
In big hotels and restaurants especially you can easily communicate in English.
5. Izmir:
Izmir is the 3rd most populous city in Turkey. It is also the largest port in Turkey. With beautiful scenery and huge tourist attraction.
It is one of the oldest cities. That is rich with history. Many tourists visit Izmir while traveling in Turkey.
There are also big universities in Izmir with foreign exchange students. A lot of these students communicate in English. 
With this amount of students, it's easy to find English speakers. Especially around the colleges.
English Language Shortfall In Turkey
It is surprising to know how few English speakers exist in Turkey. Considering Turkey is so close to Europe.
The government does understand the overall value of English in the world. For that reason, it is making English compulsory to learn in schools.
Turkey is also moving to become part of the UNO. For that reason, the value of English has increased for them.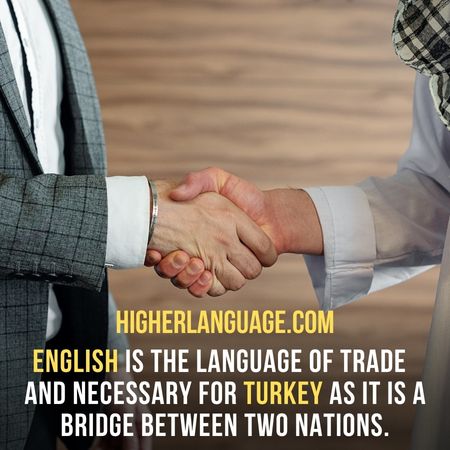 English is the language of trade, and since Turkey is a bridge between Europe and the Middle East, it is more needed.
Valuing their language to secure their heritage is respectable. But it can be a hindrance to communicating with the whole world.
Do You Need To Learn Turkish For Staying In Turkey?
Suppose you are staying in Turkey for a shorter period. Then, learning Turkish would be useless. It can also be hard. 
Natives in Turkey are hospitable. Even with the language barrier. They can guide you easily and happily.
You would mostly be visiting tourist locations. While being there for a short period.
In that case, you will not have trouble going around. Since hotels and famous places have English speakers.
But if you are planning on staying in Turkey for a longer period. Then, it is inevitable for you to learn Turkish. Otherwise, it would be hard for you to go about it.
So, learn Turkish for your visit to Turkey. But, of course, it depends on the extent of your visit and the places you visit.
Even just for travel, learning a few Turkish phrases could be easier. And it would help you explore the cities.
Final Thoughts:
Finally, the answer to the question, do people speak English in Turkey? No, most people don't. They value their language more than any other.
For that reason, most people don't understand or speak English well.
Learning a little Turkish before visiting Turkey can be helpful. Since most people speak Turkish.
But if you are going to stay for a little while. You can go around easily with just English.
The language barrier doesn't stop the Turkish people from their hospitality. So you will have a good experience while traveling to Turkey.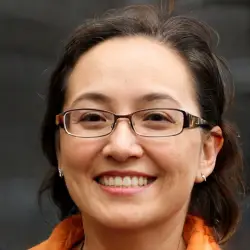 Latest posts by Elizabeth Williams
(see all)