Hebrew belongs to the Semitic language family. Most people treat Hebrew as a Holy Language of the Bible. "The languages similar to Hebrew" is a thoughtful concern while discussing Semitic languages.
Hebrew has a higher percentage of similarities with languages of the same family. Arabic is the closest one leading Aramaic from the same family.
Other languages similar to Hebrew include Yiddish, Aramaic, and French. In this article, you will know more about the similarities of these languages with Hebrew.
Languages Similar To Hebrew – Top 4
Hebrew is most similar to the languages that belong to its family, i.e. Semitic Language Family. Arabic is one of them.
But, it does have similarities with other languages as well. Let's proceed to find out what exactly they have in common.
1. Arabic – First On List Of Languages Similar To Hebrew:
Hebrew and Arabic both belong to the Semitic language family. It is a branch of the Afro-Asiatic family of languages.
They both are the liturgical languages of two major cultures of the world. They are the most spoken languages of the Middle East.
The roots of Arabic and Hebrew are the same. They evolved and became distinct from the common predecessor "Proto-Semitic." This happened thousand years ago.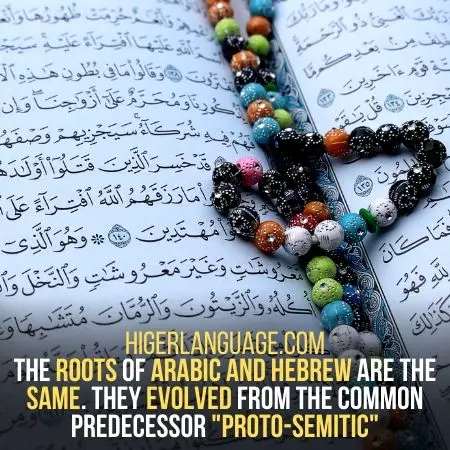 The scripts of Arabic relates to that of Hebrew. Both developed from the Aramaic script. This is an ancient alphabet from 2800 years ago.
However, the written look of Arabic and Hebrew is pretty different now. The Arabic script is wavy and cursive, but the Hebrew font appears to be more geometric.
This can be due to the fact that the Arabic alphabet did not develop straight from Aramaic.
It detoured by first evolving into the Nabataean script. This script appears to be an astringent version of Arabic.
Similarities Between Hebrew And Arabic:
There are some fundamental similarities between Hebrew and Arabic. Some of the comparable factors are:
a. Alphabet And Writing Style:
The Arabic and Hebrew alphabets have much in common despite differences in appearance. The 22 letters of Hebrew roughly correspond to 22 letters out of 28 letters of Arabic.
They both are "abjads," and are both written from right to left. Unlike an alphabet, an abjad does not have definite vowel letters.
Diacritics express the vowel tones in Hebrew and Arabic. It usually happens in religious and historical writings.
b. Lexical Similarity:
Hebrew is as similar to Arabic in lexical intelligibility as German to English.
Approximately 60% of daily Hebrew terms have a clear Arabic connection. For German and English, this is nearly the same ratio.
When considering the spelling of the terms in both languages, this becomes clearer. It is slightly less obvious when you listen to how the languages are being spoken.
c. Triliteral Root System:
Both languages have the basis of the triliteral root system. The reason is they both belong to Semitic languages.
This shows that the majority of words have a three-consonant root. These can be changed and declined in particular ways to create a long list of similar words.
d. Sentence Structure:
Among other parallels, none of the languages uses the present tense of the verb "to be." You'd say "the flower the pretty" instead of "the flower is pretty."
Personal pronouns are also quite similar and easy to compare between these languages.
Is Modern Hebrew Easy To Learn For Arabic Speakers?
So, how difficult is it for someone to learn Hebrew who speaks Arabic? This is intriguing because Hebrew is Arabic have a lot in common.
In fact, they both are Semitic languages. Also, Modern Standard Arabic (MSA) and Hebrew have a certain vocabulary in common.
To begin with, none has vowels in its written form. You must memorize each word (it is not as difficult as you may think). Hebrew uses Niqqud (Niqqudot) system, while Arabic uses Harakat.
The majority of the terms in both languages are trilateral root words. These three-letter combinations use Suffixes and Prefixes to create diverse meanings.
For an Arabic speaker, getting acclimated to the three basic letters may be a common sight. It's even easier if you can understand the Arabic script.
2. Aramaic – From The Family Of Languages Similar To Hebrew:
Hebrew originated in Canaan/Israel, whereas Aramaic developed in Syria. Hebrew and Aramaic are strongly linked. These are Northwest Semitic languages with very similar vocabulary.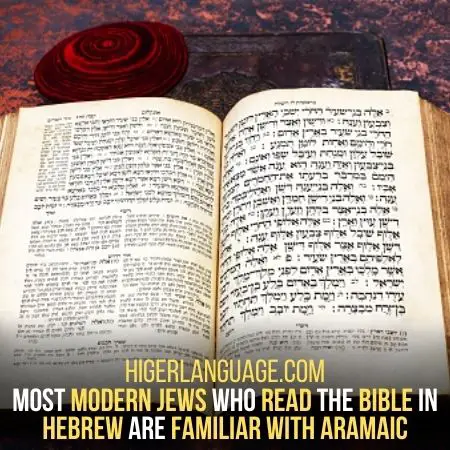 There are still many lexical and grammatical differences between these languages.
Similarities Between Hebrew And Aramaic:
The following are some quick similarities between both languages:
– Due to their use in the Bible, both languages are holy languages
– Jewish communities speak both languages
– They are part of the Afro-Asian language family's Northwest Semitic subfamily
– We also use the Aramaic square script to write both Hebrew and Aramaic
The written scripts have a lot in common. If you only know Biblical Hebrew and try to read Aramaic with no previous knowledge, you may recognize 70% of the roots.
However, the grammar may hinder you from recognizing them, and you may have a hard time reading them.
If you understand Hebrew, though, learning Aramaic is a breeze. Most modern Jews who read the Bible in Hebrew are familiar with Aramaic.
This allows students to study the Bible's Aramaic portions as well. In fact, referring to the Aramaic translation of the Bible is popular in Biblical studies. This is for better understanding.
In short, without exposure, they aren't very mutually understandable. But, if you understand one, picking up the other is a breeze.
3. Yiddish:
Many people misunderstand Hebrew and Yiddish as the same language. At first look, they appear to be the same when written.
Yiddish is more closely related to normal German than Hebrew. So, Many Hebrew speakers may struggle to grasp Yiddish at first.
The majority of Yiddish speakers are Haredim (Orthodox). Thus, they are likely to grasp Modern Hebrew fairly well. This is because Modern Hebrew is based on Biblical Hebrew.
Similarities Between Hebrew And Yiddish:
Both use the same script and are Jewish languages; thus, they are relatively similar. In fact, Yiddish contains a large number of Hebrew words.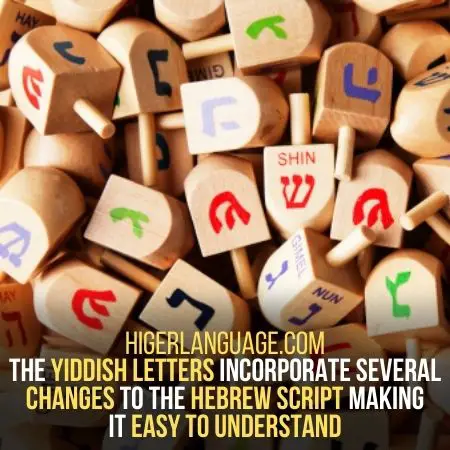 In fact, Yiddish contains a large number of Hebrew words. So yes, there are some similarities between the two.
The Jews adapted the native dialect and mixed that with some Aramaic and Hebrew. This was the same practice as they did with each Judeo-X language.
Some basic similarities are:
– They both use the same Hebrew alphabet
– Both contain words with similar pronunciation
– In modern literature, both languages are experiencing a renaissance
– Jewish communities speak both languages
– In Israel, both languages are widely spoken
Hebrew Vs. Yiddish Alphabet:
Usually, they write Yiddish phonetically, making it easier to understand than Hebrew.
Modern Hebrew uses no vowels in everyday language. You'll have to memories the word's pronunciation much more than you would in Yiddish.
The Yiddish letters incorporate several changes to the Hebrew script to make it simple to use. Examples include "ay," which has pronunciation similar to "ay" in "fly." Another one is "ey," which has a pronunciation similar to "ey" in "clay."
Yiddish And Hebrew words:
Let's have a look at a few of the terminologies. Many Yiddish terms are closely connected to Hebrew. This is a common thread that runs through all the Jewish languages.
Apart from Hebreish, Hebrew is also known as "loshn koydish," which means "holy language."
As a result, many words are interchangeable between both languages. But, as previously said, both are still using their own terminologies. Just as we may discover some French words in English, such as "déjà vu" or "cliché."
4. French – Is It One Of The Languages Similar To Hebrew?
The sounds of Hebrew vowel are similar to the French. Examples are:
| | |
| --- | --- |
| Hebrew | French |
| Qamatz | a |
| Ségol | è |
| Tzéréi | é |
| Iriq | i |
| Olam | ô |
| Shuruq | ou |
These, paired with native Israelis' guttural /r/, make Hebrew sound like French. On the other hand, French has extra vowel sounds (like u and EU), which Hebrew does not.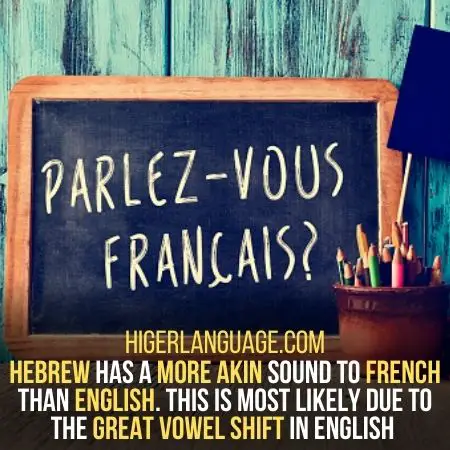 Of course, Hebrew possesses the guttural sounds khaf, het, and ayin. These are absent in French. It's also true that many if not all, Israelis now pronounce the ayin in the same way.
With that said, Hebrew has a more akin sound to French than English. This is most likely due to the Great Vowel Shift in English (14th-17th century).
How Hard Is It To Learn Hebrew?
Learning to read Hebrew is not as difficult as reading Japanese Kanji. It isn't yet, a stroll in the park.
In the Hebrew alphabet, there exist 22 letters and five versions of each. If you adopt the appropriate technique, you can master the letters in less than a week.
The issue is that this language does not have vowels in it. As stated above, Hebrew uses the Niqqud vowel system.
They are just little dots inserted around vowels to give them sound. The niqqudot is not used in written form.
Children learning Hebrew in Israel have to memorize the meanings of words. This may seem tough at first, but it becomes very easy with time.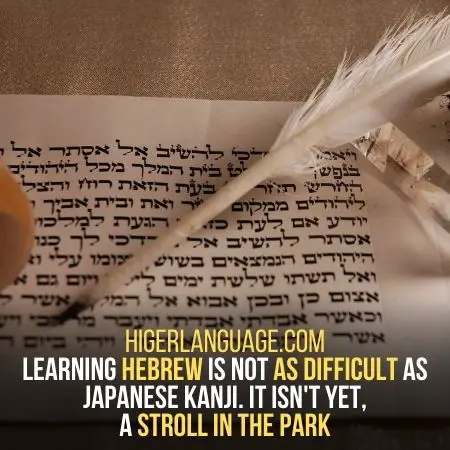 If you want to speak a few words with your family or friends, you can likely say it will be pretty simple to learn.
The second thing you need to ask yourself is, "Which languages do I already know, or I'm familiarized with?"
Compared to monolinguals, bilinguals find it easy to learn a new language. So, if you have ever had the experience of any other language, it will likely come easier to you.
With that said, even if it is your first language, you can still get a high degree of skill. It depends on the hours and your effort that you put in.
Conclusion:
It's a common observation that languages from the same family are similar to each other. The same is the case with Hebrew.
But, there is a possibility of languages of different families being similar. Hebrew, a holy language, is most similar to Arabic.
Aramaic, Yiddish, and French also have some shared factors with Hebrew. I have already discussed the basic similarities of these languages above.
If you know any of these languages, it would be easy to learn Hebrew and vice versa. Learning these languages also help you engage your mind in productive activity.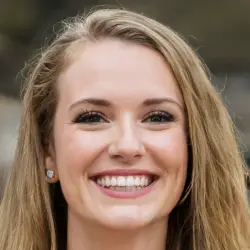 Latest posts by Sylvia Simpson
(see all)