Whenever you decide to learn a new language, you first consider similar languages. The same is the case with Arabic. You may want to know about the languages similar to Arabic.
If you are an Arabic speaker and want to learn any other language, you likely have this question in mind.
In other cases, you may want to learn Arabic. And you are then wondering if your first language has any similarities with Arabic. Stick to the end of the article to find the answers.
Top 4 Languages Similar To Arabic
Arabic is the 4th most spoken language in the world. Many individuals might not know that a large number of words originate from Arabic.
Many languages have their origin in Arabic. These languages are quite similar to Arabic. Let's have a look at some of them.
1. Persian – One Of The Languages Similar To Arabic:
The alphabets of Persian and Arabic are very much the same. They have similar vocabularies.
Almost all the vocabulary, from Persian to Arabic, relates to Islam. The closeness is comparable to that which exists between French and English.
A speaker of Persian without any knowledge of Arabic may see important words from a magazine.
They can have a rough idea of what the topic was. But, they will have no idea what it is about. They will be unable to comprehend the details.
Similarities Between Arabic And Persian:
Following are some of the basic similarities between Arabic and Persian languages:
a. Alphabet:
Someone unfamiliar with Arabic and Persian scripts will believe they are the same.
This is correct. Modern Persian uses the Perso-Arabic alphabet. Both Afghanistan and Iran use this.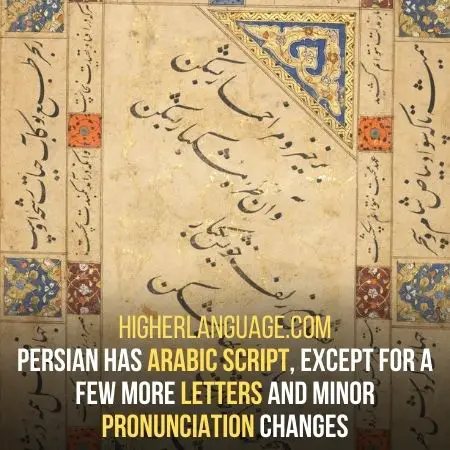 It's the Arabic script, except for a few more letters and minor pronunciation changes. Each letter in Arabic is also present in Persian. But, there are four additional letters in Persian.
b. Vocabulary Overlap:
Persian has a large number of Arabic vocabulary. It changes a lot depending on the format and style. Yet, it can be as high as 40%.
In other words, 40% of all letters in a complete Persian dictionary come from Arabic origin. There isn't much — maybe 10%-20% — in regular conversation.
Can Arabic Speakers Learn Persian Easily?
The following are the key ways that knowing Arabic or Persian helps in learning the other:
a. Learning The Alphabet:
The alphabet is the first barrier to learning Persian or Arabic. It's a brand-new set of characters with unique rules (no shorter vowels!). Its writing style is in the right-to-left direction.
If you already understand one of these languages, it's easy to learn the difference in pronunciation. You will find it easy if you understand the extra letters of Persian.
b. Learning Vocabulary:
Knowledge of Persian or Arabic gives you a head start in vocabulary. This is because of the shared words.
Due to the shared terminology, knowing any of both offers an advantage in vocabulary. These might range from common words like greetings to professional terms.
The terms are different. But a word in Arabic or Persian will recall the phrase in the other one.
In short, you will receive a bundle of unique mnemonics. It's similar to the French word "souvenir," which usually means "to recall."
c. Pronunciation:
If you speak Persian or Arabic and are learning the other, you will have an edge in pronunciation.
Despite the differences in pronunciation, both languages have similar sounds. When switching from Arabic to Persian, this is a significant advantage.
Switching from Persian needs to understand how to produce distinctive Arabic lip shapes.
2. Spanish – Similar To Arabic:
One of those languages similar to Arabic is Spanish. South America and the Arabian Kingdom regions are pretty far away. Yet, Arabic has a strong influence on Spanish.
Arabs invaded and dominated the Iberian Peninsula over eight centuries. Around 8% of Spanish comes straight from Arabic due to historical causes.
Spanish and Arabic both place nouns before adjectives when delivering descriptions.
Feminine words in Arabic finish in an "a" sound, like Spanish. Arabic also had an impact on Spanish music, cuisine, and architecture.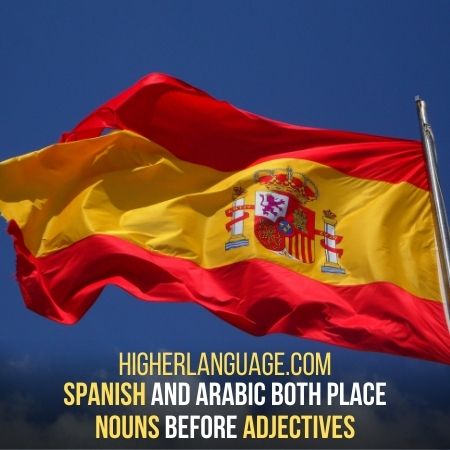 What if I tell you that Aljamiado is a Spanish writing style that employs Arabic letters? As a result, if you can speak Spanish, you already know some Arabic.
3. Hebrew – Language Similar To Arabic:
Because Hebrew and Arabic have links, it's easy to assume they're similar. Many people believe they are very similar.
They share some concepts as they're both Semitic. There are many parallels between Spoken Arabic and Hebrew.
They have exchanged words (and some words with only similar sounds, e.g., numbers).
They also have several grammatical structures, alphabets, and vocalizations in common.
We usually talk in Egyptian Arabic. There are many different accents of Arabic. The most spoken is Egyptian Arabic.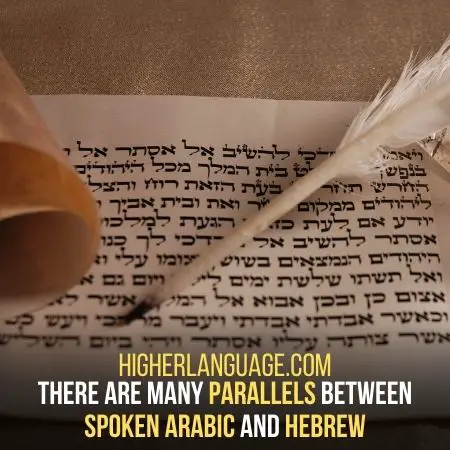 Its syntax is also identical to almost all other Arabic dialects in terms of intricacy.
The spoken grammar of Egyptian Arabic is identical to that of Palestinian Arabic.
The people from occupied Palestinian and Israel speak this language. Mainly the people of West Bank/Gaza use this language.
Similarities Between Arabic And Hebrew:
Let's discuss some basic similarities between spoken Arabic and spoken Hebrew:
a. Semitic Languages:
Both are Semitic languages. Only Aramaic and some Ethiopian languages are members of this limited group.
It is, of course, shared by all Arabic dialects and Modern Standard Arabic.
b. Patterns Of Conjugation:
Certain conjugation patterns in both Arabic and Hebrew are similar. In Arabic and Hebrew, the future and past tenses are very similar. But, the present tense is different.
c. Alphabet:
Some letters from the alphabet are present in both Arabic and Hebrew. Most of the letters have similar appearances or names.
For example, س (sin) and ש (also sin). Several share the same name, such as א (alef) and ا (also alef).
d. No Vowels Written:
Both Arabic and Hebrew do not write vowels (in non-religious, everyday language).
This makes learning difficult for the beginner. You must memorize where the vowel letter should go in word patterns.
e. Classical Form:
There is a "classical" pattern in both Arabic and Hebrew. In comparison to spoken Arabic and Hebrew, this is far more formal.
It is also more formal than Modern Standard Arabic. The traditional version has all vowel letters. These versions are usually used in religious contexts.
f. Writing Style:
The writing styles of both Arabic and Hebrew are similar. This is one of the most common things in both languages.
Arabic and Hebrew both have the writing style of "right to left." Due to the similar alphabet and writing style, they are pretty similar.
g. Three-Letter Roots:
Both Arabic and Hebrew use the three-letter roots system. Nouns and verb forms have the basis of three-letter groups called "triliteral roots."
This means that you'll find the very same letter groupings in sets of words with similar meanings.
Can Arabic Speakers Learn Hebrew Easily?
There are some other things that can make the process easier. These can help an Arabic speaker learn Hebrew and vice versa.
a. Sentence Structure:
The "the" particle is much used in Arabic and Hebrew. Both use "the" particle to signify ownership and form basic phrases in a similar manner.
For example, Hebrew and Arabic do not have an alternative for "is."
In both languages, you say "the-house big" to signify "the home is big." Likewise, for "the big house," one says "the-house the-big."
b. Same Roots:
Many words come from the same letters collection by Arabic and Hebrew speakers.
Many terms relevant to writing (such as desk, book, and office) in Arabic come from the characters "k-t-b" (كتب). Similar words in Hebrew come straight from root letters "k-t-v" (כתב).
c. Words With Similar Sounds:
There isn't much in common in terms of vocabulary. Yet, the words may make you think of words from another language.
This is because many words in both languages sound very similar. This also makes it easier to study any of both languages when you're already fluent in the other.
4. Urdu – From The List Of Languages Similar To Arabic:
Arabic and Urdu appear to be very similar to inexperienced eyes. They both use the same alphabet and write from left to right.
The font may be different because Nastaliq has been the primary Urdu font. Alphabets of Urdu belong to Persian alphabets, which came from Arabic alphabets.
Urdu has its origin in Arabic. The primary difference is that they belong to different linguistic families.
Urdu is from an Indo-European family. In contrast, Arabic is from the Afro-Asiatic family of languages.
Urdu is the primary language of six Indian states. It is the native language of the Islamic Republic of Pakistan.
Urdu is mainly composed of Arabic, Sanskrit, and Persian vocabulary. Urdu is a 38-letter language. It is the 20th most famous native language that is being spoken across the world.
The Nastaliq font, derived from Naskh, plays its role in writing Urdu. It's the Arabic writing system of today. Another system of writing is Taliq.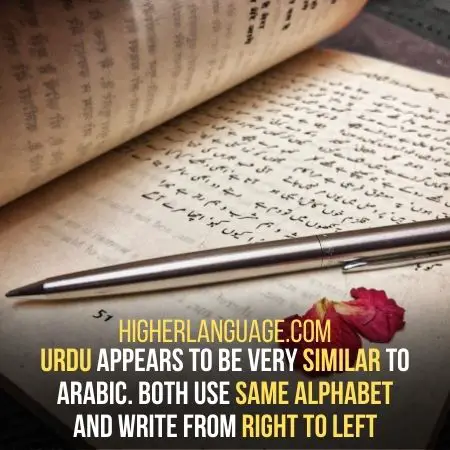 You can ask an Urdu native (who does not speak Arabic) to recite something in Arabic.
They'd read it because it's written in the same style as Urdu but without the accent indicators.
They would only be capable of making out small bits of what's written in terms of comprehension.
Urdu belongs to a modified Arabic script. We use the same style to write the other languages.
Pashto, Punjabi, and Kashmiri are among these languages. Though, you can write Punjabi in the Gurumukhi script.
Conclusion:
By now, we hope you have got the answers to your questions about the similarities.
Arabic being a widely spoken language, have its users across the world. You can find many languages similar to Arabic.
Most of the languages similar to Arabic are Semitic Languages. If you are a native speaker of any of these languages, you can Arabic easily and vice versa.
Even if you have a little knowledge of these languages, it can help you learn Arabic. It also helps to know other Semitic languages.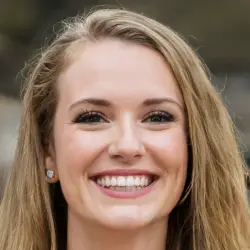 Latest posts by Sylvia Simpson
(see all)