The Albanian language has absorbed many terms from Greek, Italian, and Turkish. Based on these similarities, there are some languages similar to Albanian.
These languages are not completely similar to Albanian, but they share some basics. Let's look into these languages one by one.
Languages Similar To Albanian; 7 Similar Languages
Albanian seems to be the only extant member of a unique branch of the Indo-European family. However, below are some languages with some basic similarities with Albanian:
1. Romanian – Among The Languages Similar To Albanian:
Many works have been written about the similarities between Romanian and Albanian. The resemblance didn't emerge from any other language, nor did it develop over time.
It's possible that it was sought in the beginnings of these languages. Many Romanian researchers also studied the relationship between these two languages.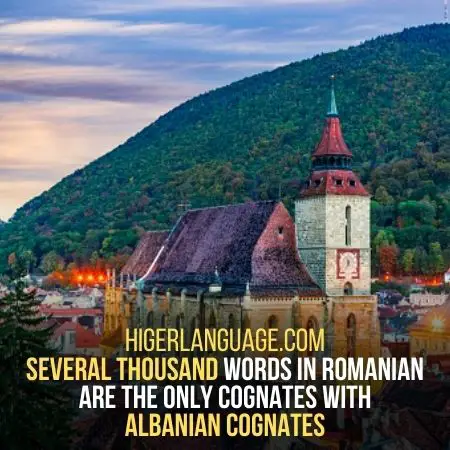 These include Philippide (1927), Capidan (1921), Rosetti (1930), Coteanu (1981), and others. They also acknowledged other Albanian linguists. For example, Abej (1975), Domi (1988), and Demiraj (1986).
Similarities In Phonology:
The Tosk dialect, spoken in Southern Albania, developed similarly to early Romanian. Two examples are the phonation of intervocalic /n/ and the centralized/a/ before nasals.
Some words from the Albanian–Romanian vocabulary correspond to the Tosk. They don't correspond to Gheg (northern) Albanian form in Romanian. For example, vatra/vatră.
These impacts are minor. So, if they exist on Slavic loans, they most likely occurred prior to contact with Slavs.
The merging of short /i/ and long /e/ is another trait shared by Romanian and Albanian. However, it is not for short /u/ and long /o/.
Most of the Romance languages have either combined both or neither. Another frequent trait is the replacement of /k/ with a labial in clusters /ks/ and /kt/ (f in Albanian, p in Romanian).
Albanian luftoj, for instance, is Romanian lupta, while Albanian kofsh is Romanian coapsă. Diversity in Albanian, however, is the result of loans into Albanian at various times.
Similarities In Morphology & Lexicon:
The morphological components of the dialects of the Balkan language area are comparable. Scholars found that both Romanian and Albanian have a lot in common, from this comparison.
Several thousand words in Romanian are the only cognate with Albanian cognates. However, these are the lower estimates.
There are 70 to 90 substrate terms with Albanian cognates. Also, there are 29 phrases that are most likely Albanian loanwords.
2. Arabic Language:
Albanian has a large Arabic vocabulary compared to surrounding European languages. This is the result of historical circumstances.
These tied Albania to the East and Ottoman dominance for six centuries. Albanian has a vocabulary of roughly 1460 Arabic terms and 433 Arabic-Turkish terms.
3. Latin – Similar To Albanian:
Albanian does not belong to the Romance language family. But, it does have a significant Latin vocabulary. However, it belongs to the Indo-European Illyric Branch.
This branch includes just Albanian (also known as Shqip by its speakers). Since 1909, it's been written in the Latin alphabet.
It also supplanted several writing systems, including Arabic and Greek scripts. Albanian possesses a Latin vocab. This isn't only equivalent to Romanian in number but is common to the Romanian language too.
4. Italian – One Of The Languages Similar To Albanian:
It's not a surprise that both Italians and Albanians share cultural and historical parallels. These have aided in the establishment of cultural bonds.
In the south, they speak Tosk, whereas, in the north, they speak Gheg. Many Albanians can speak Italian as a result of the enormous Albanian migration.
This also happened due to the Albanian populations all across the Balkans. Almost 20,000 Italians are living in Albania. However, the country's indigenous population includes 5,000 Italians.
The Arbëresh is an Albanian dialect spoken in parts of Southern Italy. These regions include Calabria, Basilicata, Sicily, and Puglia.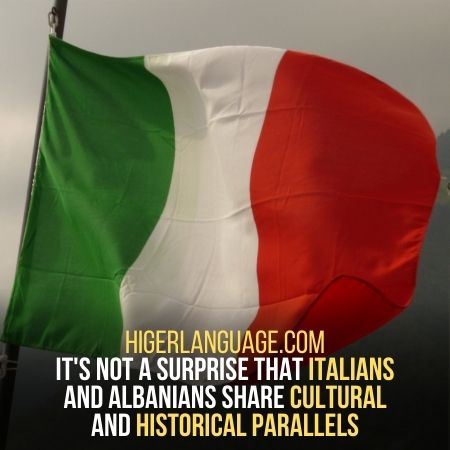 On a lexical level, the following are a few parallels between them. Some of these terms are also used by Romanians and Greeks. For example, Porta, Shpata, Ora, etc.
| | | |
| --- | --- | --- |
| ALBANIAN | ITALIAN | ENGLISH |
| Libër/Libra | Libro | Book |
| Fortë | Forte | Strong |
| Dobët | Debole | Weak |
| Portë/Porta | Porta | Gate/Door |
| Rrotë/Rrota | Ruota | Wheel |
5. English – Is It Similar To Albanian?
English is commonly taught in Albanian schools. It is, so far, the most widely spoken international language among Albanian youngsters. About 65 percent of the country's children are able to speak and understand English.
Albanian has a distinct origin. It is abundant in affixes. These play an important role in the formation of new words. It has around 170 suffixes and 80 prefixes.
Even English has a plethora of affixes that are frequently used to create new words nowadays. Both languages share several affixes with Greek or Latin roots.
English sentences' structure and word order are quite similar to that of Albanian.
The combination subject + predicate is common in both languages. This is not just in simple phrases. It is also in compound words as part of complex phrases.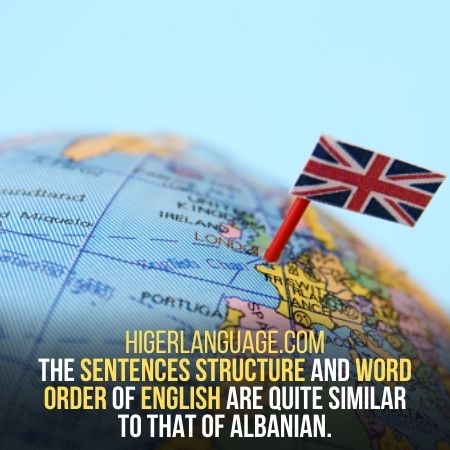 The Albanian language's grammatical division of nouns is also pretty identical to English. Nouns are conjugated for syntactic numbers, whether singular or plural, in both languages.
Nouns have an irregular and regular plural in both languages. We have the following in Albanian:
| | |
| --- | --- |
| Regular Plural | Irregular Plural |
| mendim- mendime | dhëndër- dhëndurë |
| plazh-plazhe | njeri-njërës |
| ka- qe | kalë- kuaj |
We also note the following in English;
| | |
| --- | --- |
| Regular Plural | Irregular Plural |
| Book – books | Child – children |
| Student – students | Mouse – mice |
| Glass – glasses | Man – men |
6. Turkish Language:
Turkish is a Turkic language, while Albanian belongs to the Indo-European language family. There exist some parallels in terms of shared sounds and vocabulary, but that's it.
Turkish has had a significant influence on Albanian, particularly in vocabulary. But, it left the phonetic structure and system of Albanian intact.
The exception is the infiltration of certain Turkish suffixes. Despite this, Albanian has managed to keep its authenticity.
In Albanian, there are several Turkish loanwords. A tiny subset of these loanwords is also borrowed words in Modern Greek.
They are Balkanoversals. It is because most of them are also colloquial expressions in South Slavic.
Moreover, Albanian has got these loanwords from Turkish. This resulted from Albania's five centuries as member of the Ottoman Empire.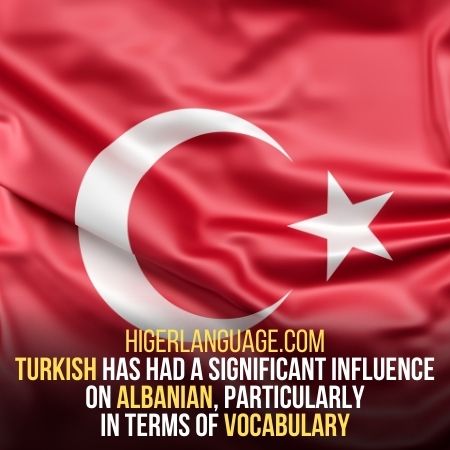 Many words that sound similar to Turkish are words that have to do with technology. There are also numerous words that were in Turkish at the time but were from Arabic or Persian.
Then they went to the Balkans. Scholars also estimate that there are 200–300 loanwords in Albanian from Turkish. This is remarkable given the Turkish rule of Albania for 500 years.
7. Greek:
Albanian is a member of the Indo-European language family. But, it has its unique characteristics, akin to Armenian or Greek.
This means it bears no direct resemblance to other languages of the same family. Albanian also has a variety of loans from its neighbors. But, it still displays very few signs of association with the Ancient Greek.
One such example is the Tosk mokër (Gheg mokën) 'millstone,' derived from Greek "mēkhanē."
Many archaic features of the verb system are present. For example, the survival of active and passive personal endings, like in Greek.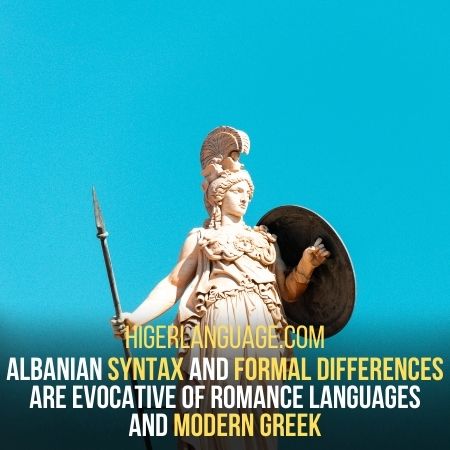 Albanian's syntax and formal differences are evocative of both Romance languages and Modern Greek. The sounds are similar to Greek or Hungarian, but Gheg stands out due to its nasal vowels.
Is Learning Albanian Hard?
Yes. Albanian is widely regarded as among the most challenging languages to master. This is particularly true for native English speakers.
Albanian also looks and sounds little like some of the Romance languages or English. The only exception is a few new words recently introduced to the vocabulary.
Albanian verbs, like Spanish verbs, are conjugated. However, it is a wholly unique language, with no ancestor languages preceding it.
Aside from dialects, the tone is particularly significant in the Albanian language. It's just like it is in many East Asian languages like Japanese and Mandarin.
Conclusion:
Albanian is an Indo-European language spoken by Albanians in the Balkans. Albanian diaspora in the United States, Europe, and Oceania also speak this language.
Moreover, it is the official language of Albania, according to the Albanian Constitution. 98.76 percent of the population of this fascinating country speaks this language.
Many Greek, Turkish, and Italian words have found their way into the Albanian lexicon. Compared to other European languages, we can notice that it has many Arabic words.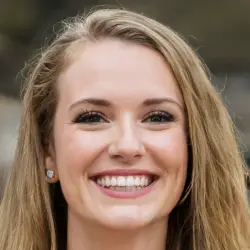 Latest posts by Sylvia Simpson
(see all)