Chinese is considered one of the hardest languages to learn. Even so, learning Chinese can be a great experience. But how long does it take to learn Chinese?
The answer to that question depends on various factors, mainly on the learner himself. So let us look at factors that contribute to learning Chinese!
How Long Does It Take To Learn Chinese?
Chinese is spoken by about one-fifth of the world's population, making it the most popular language.
It belongs to the Sino-Tibetan language family and is written with characters from ancient hieroglyphs.
Its modern form has evolved through centuries of linguistic change and is known as Mandarin Chinese. Japanese and Korean are two languages similar to Chinese.
How long does it take to learn Chinese? That is a question that many people ask when considering learning a language.
The answer depends on factors such as your language knowledge, dedication to self-study, and outside resources you use.
Starting from scratch may take up to three years of regular study before you become conversational in the language.
That would include two hours of studying, which can be done through courses, tutoring, reading, and other study methods.
Suppose you already have some knowledge of Mandarin Chinese or another related language like Cantonese.
In that case, it may take less time as you will have a head start on understanding many of the fundamentals, such as pronunciation and basic grammar.
No matter your goal, the most important factor for success is persistence — keep exploring new material and engaging with Chinese speakers to ensure steady progress.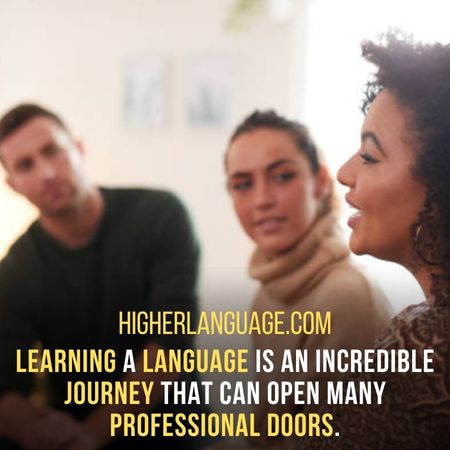 And don't forget to have fun! Learning a language is an incredible journey that can open many personal and professional doors.
How long does it take to learn Chinese is ultimately up to you.
How Hard Is the Chinese Language To Learn?
Chinese is a difficult language to learn, mainly because of how different it is from English.
For example, Chinese uses characters instead of an alphabet, and its tones change the meaning of words.
That said, learning Chinese isn't impossible — with dedication and persistence, you can become conversational.
It's helpful to break down your Chinese language learning into manageable chunks. Set realistic goals and establish a timeline for yourself.
How long it takes to become proficient in the language depends on how much effort you put into the process.
Investing in quality textbooks, online courses, and tutors can help accelerate this process significantly.
Most importantly, don't expect to become fluent overnight. Learning Chinese is a long-term commitment that requires patience and consistency.
However, with continual practice, you can start to make progress relatively quickly.
How long it takes to become proficient depends on the individual — some may learn faster than others due to their background or language learning aptitude.
In general, it's estimated that it will take 1,200 hours for an English speaker to become comfortable with Chinese grammar and pronunciation.
This number is based on the idea that you would spend 4 hours a day studying and practicing the language. Of course, this timeline can change depending on your goals.
For example, if all you want to do is be able to communicate in basic conversations, then that may not require as much dedication and could be accomplished faster.
No matter your proficiency goals, immersing yourself in the language is the best way to learn Chinese.
7 Factors Contributing To Learning Chinese
Various factors will contribute to how long it takes you to learn Chinese.
How much time per day can you dedicate to studying, your previous experience with learning languages, and any extra resources you are using (like tutors or classes)
These all play a role in determining how quickly you can learn the language.
In addition, the dialect of Chinese that you are learning will also be a major factor.
For example, suppose you are learning a dialect that is not widely spoken in the area (like Cantonese).
In that case, it can take significantly longer to learn than if you are learning Mandarin, the most common dialect in China.
Ultimately, how long does it take to learn Chinese? It depends on the following factors:
1. How Much Time You Can Dedicate To Learning Chinese:
How long you can commit to studying Chinese each day and how often you can devote time to your studies will make a big difference in learning.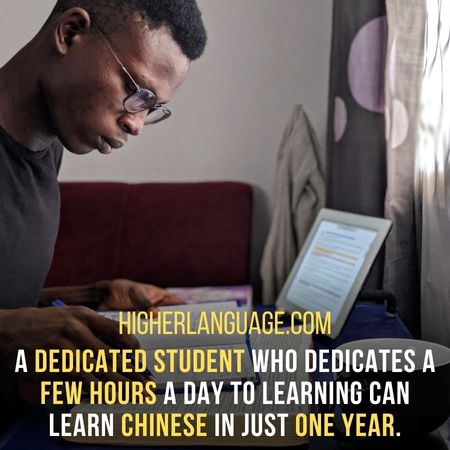 For example, a dedicated student who can dedicate a few hours a day to learning may be able to learn Chinese in just one year.
On the other hand, if you can spend little time on your Chinese studies, it may take two or three years to become proficient.
2. Your Level Of Commitment:
How much effort and dedication are you willing to put into learning Chinese? Can you motivate yourself and stay consistent with your study schedule?
How dedicated you are will greatly impact how quickly you can learn the language.
Chinese is a hard language to learn. You may get frustrated and give up if you need to be more dedicated. So, be committed to the learning process.
3. Your Learning Style:
Different people learn differently, so the amount of time it takes to learn Chinese will depend on your learning style.
Some may learn better through listening to audio recordings or watching videos.
For others reading and writing is more effective. Find out what works best for you, and stick with it. There are various sources on the internet to help you.
4. Your Personal Goals:
How long does it take to learn Chinese? It largely depends on how you define success for yourself.
How advanced do you want to become? Are you aiming for conversational fluency, or do you want to be able to read and write complex Chinese characters?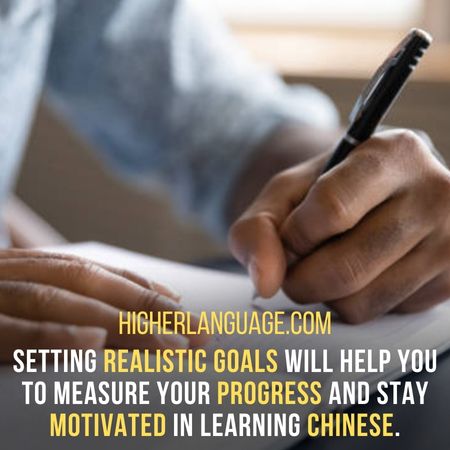 Setting realistic goals will help you to measure your progress and stay motivated. It will also help you to understand what steps you should take to improve.
5. Your Existing Language Skills:
If you already know any other languages, this could help speed up learning Chinese.
People with a good grasp of one language can often pick up another more quickly than those who are completely new to studying the language.
If you know any other languages, this could help you to learn Chinese more quickly.
6. The Type Of Resources You Use:
What type of resources you use to learn Chinese can also affect how quickly you pick it up.
If you're using apps or books specifically designed for beginners, this could help speed up the process.
However, if you want to become a highly proficient speaker of Chinese, then investing in more advanced resources and lessons could be beneficial in the long run.
Having a tutor or joining language classes is also a great way to speed up your learning process.
7. What Your Goals Are:
How long it takes to learn Chinese can also depend on what level of fluency you want to reach.
It could take as little as a few days or weeks to pick up some basic phrases for traveling.
But if you want to be able to read and write Chinese, understand abstract concepts and carry on a conversation, then it can take months or even years.
How fast you pick up the language also depends on how much time and effort you're willing to put in.
7 Tips For Learning Chinese
If you're trying to learn Chinese, there are a few strategies you can use to help speed up your progress.
From immersing yourself in the language by listening to Chinese television and radio and reading Chinese literature to finding a conversation partner.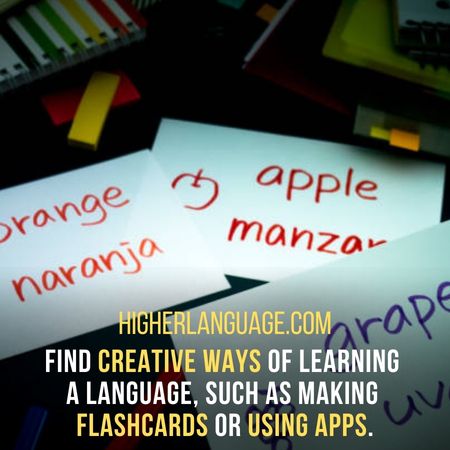 Find creative ways of learning, such as making flashcards or using apps and websites that help with memorization.
If you consistently put in the effort and remain consistent, you'll be able to learn Chinese relatively quickly. Here are some tips for learning Chinese faster.
1. Tackle The Language Basics First:
Once you're comfortable with the basics of speaking, make sure to focus on grammar and syntax.
Chinese has a very different structure than English, so learning the rules of how sentences work will help you become more proficient.
Once you grasp these concepts, it's time to start practicing your reading, writing, and listening skills.
2. Join Chinese Language Groups:
Joining a Chinese language group is another way to stay motivated and learn the language faster.
Make friends with other learners, practice speaking together, and get advice from native speakers.
Nothing helps you learn faster than having regular conversations with a native speaker.
Find someone to help you practice your conversational skills and give you feedback on your pronunciation. This support system can help you stay focused and make learning fun.
3. Practice Everday:
Daily practice is the key to learning Chinese. Try setting aside 20-30 minutes daily to study and speak Chinese.
Use this time to review your notes, look up new words, and practice pronunciation. With enough repetition and focus, you'll start understanding basic conversations quickly.
Practicing every day will also help you remember words, phrases, and grammar points more easily.
4. Take Classes:
Taking classes is one of the best ways to learn a language quickly.
You'll get personalized feedback from your teacher and have plenty of opportunities to practice.
Plus, having an instructor will keep you accountable and motivated. To save time, look into online classes or language exchange groups.
5. Immerse Yourself:
Immersing yourself in the Chinese language and culture is key to mastering it quickly.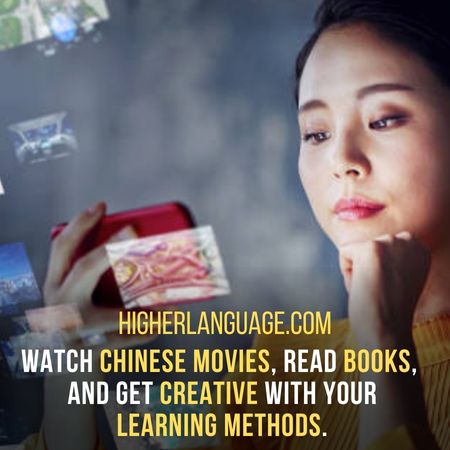 Watch Chinese movies, read books, listen to podcasts, and get creative with your learning methods.
With enough exposure, you'll start picking up on words faster and understanding more when you practice.
6. Watch Chinese Movies:
Another useful tip is to watch Chinese films and television shows with English subtitles.
That will help you understand how the language works in context and learn more vocabulary.
Listening to Chinese music can also be beneficial, as it will help you get used to the sounds of the language and learn how it flows.
7. Don't Give Up:
Learning a foreign language is no easy feat. It will require dedication and perseverance to become fluent in Chinese.
But don't give up! There are lots of resources available online to help guide your learning journey.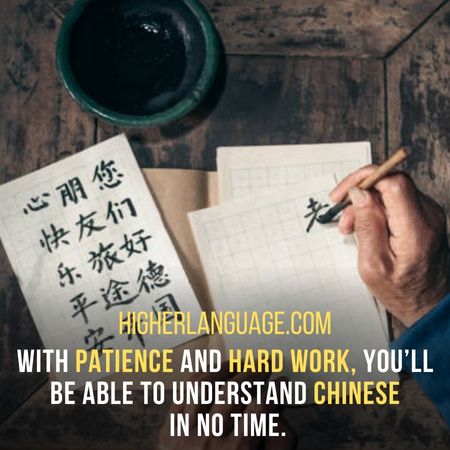 Take advantage of these tools and practice as often as you can. With patience and hard work, you'll be able to understand Chinese in no time.
Final Thoughts:
If you're wondering how long does it take to learn Chinese, the answer is that it depends.
How much time and effort you put into your language-learning journey will determine how long it takes to become proficient.
But with dedication and an understanding of how the language works in context, as well as learning more vocabulary, you can progress over time.
Chinese is a hard language to learn but with determination and hard work, anyone can learn it. So don't give up, and soon you will be able to understand Chinese.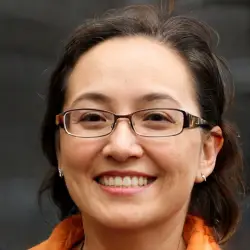 Latest posts by Elizabeth Williams
(see all)