Traveling to Ukraine, you must wonder: do people speak English in Ukraine? Since language is a great means of communication.
If you've ever been to Ukraine, you know that the answer to this question is a resounding "Yes!" English is one of the most widely spoken languages in the country.
Do People Speak English In Ukraine?
Many Ukrainians learn English in school and can hold conversations in the language.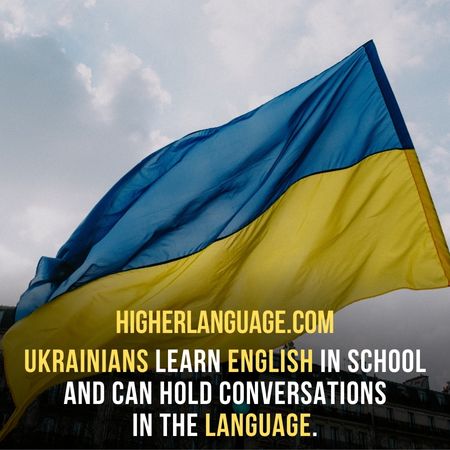 However, there are parts of the country where English is not as commonly spoken.
So, you might have difficulty communicating with locals. That is, if you do not speak Ukrainian or Russian.
What Is The Official Language Of Ukraine?
The official language of Ukraine is Ukrainian. However, Russian is also widely spoken. Especially in the eastern and southern parts of the country.
In addition, there are several minority languages spoken in Ukraine. Including Polish, Romanian, Hungarian, and Crimean Tatar. (table)
Languages Spoken In Ukraine
Ukraine is a country located in Eastern Europe. The country's official language is Ukrainian. Spoken by about 67% of the population.
However, many other languages get spoken in Ukraine. Including Russian, Hungarian, Romanian, Polish, and more.
Ukraine is a multilingual country. The Constitution of Ukraine recognizes Ukrainian as the official state language.
It grants the regional languages official status in the areas where they get spoken.
According to the 2001 census. 67.5 percent of the population declared Ukrainian as their native language. While 29.6 percent declared Russian.
There are also smaller numbers of Romani, Hungarian, Slovak, and Crimean Tatar. And even Romanian speakers.
Yiddish was once widely spoken by Ukraine's large Jewish population. But it has declined since the Holocaust and Soviet rule.
What Percentage Of Ukrainians Speaks English?
In recent years, the number of English speakers in Ukraine has been increasing.
According to a report by the British Council. The percentage of Ukrainians who speak English has increased from 15% in 2015 to 22% in 2019.
Admittedly, that is still a relatively low number compared to other European countries. But it is an improvement nonetheless.
There are several reasons why. The number of English speakers in Ukraine is increasing.
One reason is that more and more young people are learning English in school.
English is now a mandatory subject in most schools. And many students also choose to take extra classes outside of school.
Another reason is that there are more opportunities to practice English in Ukraine. Compared to the past.
For example, there are now many English-language TV channels and newspapers available.
Finally, more and more Ukrainians are traveling abroad. So, they need to be able to communicate in English while they are abroad.
Even though the number of English speakers in Ukraine is increasing.
It is still true that most Ukrainians do not speak English. This can make it difficult for foreigners to communicate with people in Ukraine.
Therefore, if you plan to travel to Ukraine or live there for an extended period. It would be a good idea to learn at least some basic Ukrainian.
How

Widely

Is English Spoken In Ukraine?
Although English is not an official language in Ukraine. It is widely spoken throughout the country.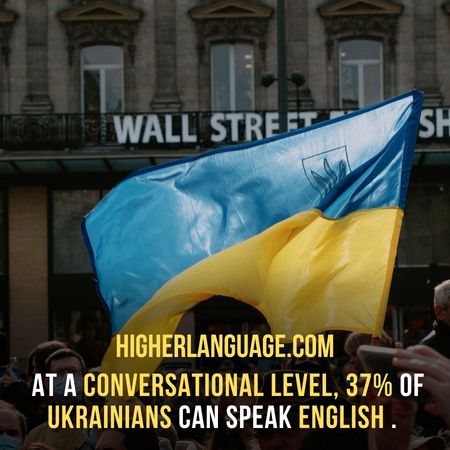 Approximately 37% of Ukrainians spoke English at a conversational level.
This number has likely grown as English has become important in the global economy.
English levels are generally highest in urban areas and among younger Ukrainians.
However, even in rural areas and among older generations. Many Ukrainians have some knowledge of English.
That can be mostly attributed to the fact that. English is mandatory in Ukrainian schools, starting from the third grade.
As a result, most Ukrainians have at least a basic level of English proficiency.
Cities Of Ukraine With The Most English Speakers
You can encounter English speakers in most big cities of Ukraine.
For example, the rate of English-speaking Ukrainians is the highest in Kyiv. That is the capital of Ukraine.
It makes sense as the capital is where many international businesses are. And many Ukrainians who work there need to know English.
There are other sizable cities. Where your chances of meeting an English speaker are also high. Including Lviv, Odesa, and Kharkiv.
The smaller the city is. The lower the likelihood of finding someone who speaks English fluently. There are, however, exceptions to this rule.
For instance, Yaremche is a town located in Ivano-Frankivsk Oblast. It's one of the top tourist destinations in Ukraine among foreigners.
As a result, this place has many English speakers. Although its population is less than 10 thousand.
All in all, you shouldn't worry about not being able to find English speakers in Ukraine. Traveling to big cities will give you plenty of opportunities to do so.
Role Of English In The Education System Of Ukraine
In present-day Ukraine, the role of English has been steadily growing. That is especially in the education system.
According to the Ministry of Education and Science of Ukraine:
In higher education institutions, students must be proficient in two foreign languages.
Most universities offer their programs in Ukrainian, Russian, and English.
The status of English as an international language obliges educational establishments.
Consequently, it is important to start learning it early to get a good command of English.
Currently, English is in the education system of Ukraine at different levels. These levels are primary, secondary, and tertiary.
The content and amount of time devoted to teaching the language vary depending on the level.
By the end of their studies. Students can understand and use basic grammatical constructions.
Read and write short texts on familiar topics. Discuss their hobbies and interests and exchange opinions on current issues.
In recent years, much attention has been given to developing communicative competence. Which is the ability to use language successfully for communication.
The focus is on developing students' abilities. To understand and produce spoken and written language for various purposes.
Such as participating in discussions or giving presentations. Consequently, communicative approaches are widely used in teaching foreign languages in Ukraine today.
How To Get Past The Language Barrier In Ukraine?
Ukraine is a country located in Eastern Europe. The official language of Ukraine is Ukrainian.
However, Russian and Crimean Tatar is also widely spoken throughout the country.
English is not as commonly spoken as Ukrainian or Russian.
However, you will still find people who can communicate with you in English. Especially in larger cities such as Kyiv or Lviv.
Here are a few tips for getting past the language barrier in Ukraine:
– Try to learn some basic Ukrainian or Russian phrases before your trip. For example, knowing how to say hello, thank you, and goodbye will go a long way.
– Carry a pocket dictionary with you to look up words when needed.
– Use hand gestures and body language to help communicate your meaning if words fail you.
– Write down what you need to say before approaching someone. That will help minimize any communication mishaps.
– Smile often! A friendly smile goes a long way, even if you don't speak the same language.
Tips To Help English Speakers Traveling To Ukraine
Although English is not the official language of Ukraine. An estimated one-third of Ukrainians have some proficiency in the language.
That number jumps to 50% in the capital city of Kyiv. Making it one of the most English-friendly cities in Eastern Europe.
If you're planning to travel to Ukraine and don't speak Ukrainian or Russian, don't worry. You'll still be able to get by with English in most places.
Here are a few tips to help you make the most of your trip:
1. Pack A Phrasebook Or Dictionary:
While many people in Ukraine speak some English. You will have to communicate in the local language sometimes.
Having a phrasebook or dictionary on hand will help you out in a pinch.
2. Learn Some Basic Phrases:
Learning some basic phrases in Ukrainian before you go would help you a lot.
For example, knowing how to say "hello," "please," and "thank you" in Ukrainian or Russian.
It will go a long way toward making locals more receptive to helping you out.
3. Look For English Signs And Menus:
Many businesses are in Ukraine, especially in larger cities. They will have signs and menus in Ukrainian/Russian, and English.
Aside from that, there are hotels for foreigners that have English-speaking staff. They are open to helping you in any regard.
These hotels have signs and pamphlets in English to help you go around.
4. Ask For Help From English Speakers:
If you struggle to communicate. Try asking another traveler or hotel staff member for help. Chances are they'll be more than happy to assist you.
Moreover, you can find someone around universities or schools. The youngsters are more open to helping foreigners.
The youngsters are also better at speaking English than the elderly.
Final Thoughts:
Traveling is a great way of expanding your perspective. And being in touch with new cultures and languages.
Language can be a big hurdle though. So, since English is a lingua franca all around the world. People prefer to use just English while traveling.
If you are planning on traveling to Ukraine. You must be wondering the same. That is do people in Ukraine speak English?
Based on the research that has been conducted. It appears that the answer to that is yes, they do.
However, the level of English proficiency among Ukrainians varies greatly. While some people are fluent speakers, others may only be able to hold a basic conversation.
The younger generation is likelier to be proficient in English than older Ukrainians.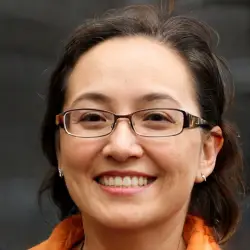 Latest posts by Elizabeth Williams
(see all)