Are you a general knowledge seeker and the question, "do people speak English in Finland?"? If yes, then you are in the right place.
The answer to this question is yes. Yes, because a significant proportion of people speak English in Finland. 
Do People Speak English In Finland? – 4 Lingual Facts Of Fins
We did full-fledged research. And then, we gathered factual information about the percentage of English speakers. So, without any further delay, let's get into the post.
It is a general trend that sensible nations prefer to speak their languages. Economic strength also plays a significant role in the linguistic basis of a country.
We have prominent examples of China and Japan. The national languages of both countries are their languages; Mandarin in China and Japanese in Japan.
It is not that Fins do not speak English at all, but they speak it as EFL and ESL. We refer to EFL as "English as a foreign language" and ESL as English as a second language.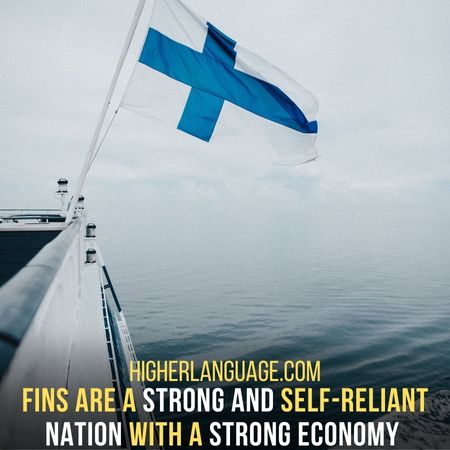 The same goes for Finland. Fins are a strong and self-reliant nation with a strong economy. The people in Finland speak Finnish and Swedish as their official languages. 
At this point, you might be wondering about the main question again. Do people speak English in Finland? The answer from our side is a big yes.
The people of Finland do speak English and a good English. So let's get into the lingual facts for authentic information. 
1. Here Comes The Statistical Analysis
A survey in Finland shows that the percentage of English speakers has grown in the last century.
The studies reveal that English came to Finland in the 1920s as a foreign language. 
After world war two, the English language spread speeded. The stats say that in 1990, the English language became popular in the country. The purpose of this was international communication. 
According to a survey in 2012, 70% of Fins speak the English language as their second language. Out of this proportion, the majority are quite fluent in English.
So, the stats are quite comparable to other Scandinavian countries. For example, we can compare Finland with Sweden, Norway, and other neighboring countries. 
The point which you should notice is that people speak English in Finland. But not as their mother language. No matter what, the mother language of Fins is still Finnish. 
Certain policies also contribute to this significant percentage of English speakers in Finland. 
2. The Policy Of Language Education In Finland Supports The English Language
Generally, Fins speak two languages only, Finnish and Swedish. But, these two languages are not enough to fulfill linguistic needs.
Fins focus on the globally spoken language to communicate within and out of the country. English right? Yes.
So, Finland's education department pays attention to citizens' language education. Today, Finland is a multilingual country with so many foreign languages.
Yet the main and most commonly spoken is the English language. The language policy of the European Union is a significant step for many countries.
It played the main role in making Finland an English Speaking country. Though as a second or foreign language but good English is there. 
Finland's education and language departments follow this language policy by the EU. The policy says that the country's citizens should speak at least three languages.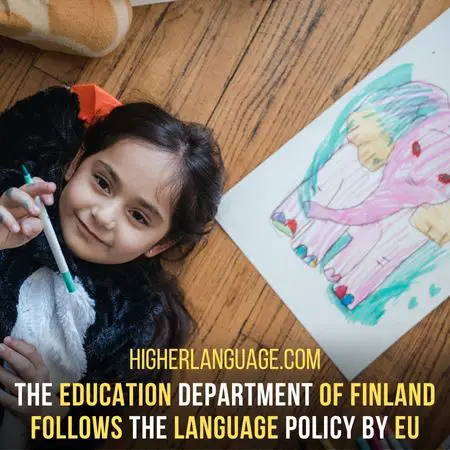 One should be their native or mother language, and the rest two should be foreign languages. Here comes the English language. It is a global language used for international business and trading.
The ministry of Finland has worked for the growth of other foreign languages. But from the 1960s, the citizens study the English language in schools all over the country.
Let's check which languages Fins speak in Finland as Foreign languages. 
3. The Foreign Languages In Finland
A rough estimate says that over 150+ languages are present in Finland. The mastery levels of the speakers vary from language to language.
We have ranked the different foreign languages based on the number of speakers. Here are the results. 
1. English Stands First As A Foreign Language In Finland: 
As we said earlier, a lot of people speak English in Finland. It is the most common foreign language in the country.
Thus, you can judge the top rank of English as a non-native language in Finland from many facts. 
The top one is that more than 20,000 people now speak English as a native language. Around 70% of Fins are quite fluent in English. 
Apart from this, Fins study English language courses as a second language in schools. As a result, they get better work opportunities later. 
2. The Swedish Language Is The Second Most Spoken Language In Finland:
The people of Finland also speak Swedish as a foreign language. According to a rough estimate, almost 6% of Fins speak Swedish as their main language. 
The statistics from 2012 say that 44% of citizens can conversate in Swedish. However, Swedish is not the primary language of Fins.
Moreover, the dialect of Swedish, which Fins speak in Main Finland, is Finland-Swedish. The Swedish language is the official language of Finland, like Finnish.
The main reason behind this is the popularity of Finnish among citizens. Moreover, the speakers' fluency is also an important reason. 
3. Russian Comes Third:
On the third number comes the Russian language. 1.5% of total Fins speak the Russian language as their first or mother language.
It differs if we compare the Russian and Swedish language status in Finland. 
The prime difference is the number of speakers. For example, the Swedish language has more speakers than the Russian language.
Another point of contrast is that Russian is not an official language of Finland. From 1900 to 1915, Russian is Finland's third most spoken native language. 
All these facts, figures, and information answer our question, "do people speak English in Finland?".
Still, there are other factors that we should look into to consider to have a good overview. 
4. Important Factors To Consider For – Do people speak English In Finland
Here are some key points contributing to Finland's English speakers percentage. 
1. The Geographical Presence Of Finland: 
Finland falls in the category of Northern European countries. It shares borders with Sweden, Norway, and Russia. Besides these countries, the border of Finland also meets the Baltic sea. 
Finland possesses a crucial geographical position. The neighboring countries are also not English natives. But, they practice the English language as a foreign or international language.
2. The Societal And Cultural Norms Of Finland: 
From the viewpoint of culture, Fins are a very sophisticated and modest nation. The people of Finland are polite, helpful, and of friendly nature. 
The citizens of Finland have the best communication skills. You may find a Fin rude or dry when meeting the first time.
We advise you to spend a little more time with them. After that, you would conclude that Fins carry a friendly conversation. 
As a foreigner in Finland, you will observe that Fins have good English language skills. And they have a good language-culture relationship. 
3. Fins Are The Happiest: 
The global surveys have indexed Finland as the happiest country in the world. This ranking is not for a single year, but the last five years fins are the happiest nation. 
This national happiness is the result of healthy policies made by the government. A peaceful state produces a peaceful nation. 
4. English Language Serving The Economy Of Finland:
As we have stated earlier, the economy of Finland is strong and industrialized. A variety of industries play the majority role in the economy are many.
The main ones are pharmaceutical, machinery, automotive, and paper. 
These industries play a major role in exports and revenue generation. But, for international dealings, Fins have to speak English. And, this is not a big problem for them anymore. 
Conclusion:
English is a global language. Where there is life, there is English. The same is the case with Finland. 70% of Fins out of 5.64 million can speak English.
So, not only that they speak or understand English, but they carry out a proper conversation.
History says that the English language entered Finland before world war I. Many factors play an important role in the presence of English speakers in the country. 
At the same time, Fins speak English but not as their mother or first language. Finnish and Swedish are the official languages of Finland.
English is spoken in Finland but as a second and Foreign language. Like always, we added a section of frequently asked questions for better understanding. 
Frequently Asked Questions – FAQs 
Let's go these questions and have a microscopic view of the topic.
Q1. Does The Police Of Finland Speak English? 
Answer: Yes, the police of Finland speak English. Generally, Fins are multilingual. So, the police of Finland also communicate in various languages. 
Q2. Can I Survive In Finland With English Only?
Answer: Yes, you can live in Finland knowing only the English language. As language experts, we advise you to get basic Finnish knowledge. This will help you in settling into society better.
Q3. Is English Widely Spoken In Helsinki?
Answer: Yes, English is widely spoken in Helsinki. The capital of Finland is Helsinki. A lot of national and international business happens here. So, the majority of Fins speak good English in Helsinki.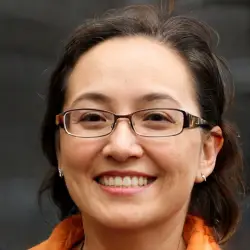 Latest posts by Elizabeth Williams
(see all)