Bulgarians have preserved their culture for a long time. So, if you ever wonder, do people speak English in Bulgaria? The answer is yes, but as a second language.
Bulgaria is one of the oldest European countries. Yet English is surprisingly not that widely spoken in Bulgaria. So let us look at some major aspects.
Do People Speak English In Bulgaria?
Bulgaria is in Southeast Europe. Romania borders it to the north, Serbia to the west, Greece and Turkey to the south and the Black Sea to the east.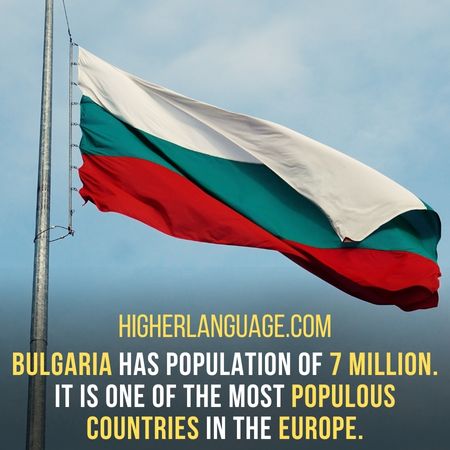 With a population of over 7 million, Bulgaria is one of the most populous countries in the European Union.
Overall, people in Bulgaria do speak English. Hence, you will have no problem communicating in English in Bulgaria.
There might be some situations where speaking English is not possible or advisable.
For example, it is best to speak in Bulgarian when dealing with authorities.
In addition, English is less widely spoken in rural areas or small towns than in cities. In these cases, knowing some basic phrases in Bulgarian is helpful.
How

Widely

Spoken Is English in Bulgaria?
While English is not the most widely spoken in Bulgaria, it is still possible to find people who speak it.
For example, in big cities like Sofia, you will have no problem finding someone to help you with your English.
Besides, many young people in Bulgaria study English in school.
Most youngsters are eager to practice their skills. So, if you strike up a conversation with a student, they will be able to understand and respond to you in English.
Overall, you should be fine communicating in English in Bulgaria. With a little effort, you can get by in most situations.
However, speaking the native language shows respect and is highly appreciated by locals.
What Percentage Of Bulgarians Can Speak English?
It is challenging to give a definitive answer to this question. That is because it can vary depending on your region and city.
However, according to a recent study, around 12.25% of Bulgarians aged 15-29 can converse in English. That is less than a quarter of the total population.
According to English proficiency Index, Bulgaria ranks 25th out of 88 non-English-speaking countries worldwide.
Furthermore, it ranks 25th out of 77 European countries.
You may sometimes run into someone who doesn't speak English. Chances are that most people will be able to understand and communicate with you just fine.
Official Language Of Bulgaria
Bulgarian is an Indo-European language spoken in the Balkans. 
Bulgarian is also spoken in Kosovo, Romania, Moldova, North Macedonia, Serbia, and Montenegro. There are about 9 million speakers of Bulgarian.
The Bulgarian alphabet is Cyrillic and consists of 30 letters. The earliest known writing in Bulgarian dates back to the 9th century AD.
Bulgarian has been written in several different scripts over the centuries. That includes the Glagolitic, Cyrillic, and Latin.
Bulgarian belongs to the Slavic group of languages, including Russian, Ukrainian, and Polish.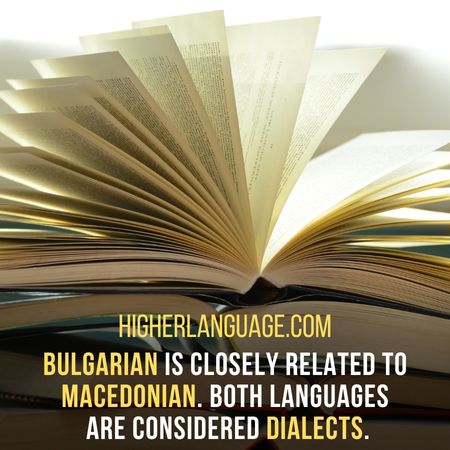 In addition, Bulgarian is closely related to Macedonian. Hence, both languages are sometimes considered dialects.
The official language of Bulgaria is Bulgarian, which most of the population speaks.
However, English is also widely spoken in Bulgaria, especially among younger people.
Other Languages Spoken In Bulgaria
Bulgaria is a linguistically diverse country. There are several languages spoken here, the most common being Bulgarian.
Smaller groups also speak several minority languages within the population.
Aside from minority languages, some foreign languages are spoken in places.
Some of these minority and foreign languages are as follows:
1. Minority languages:
In addition to Bulgarian, there are several minority languages spoken in Bulgaria. These include Turkish, Romani, Russian and Armenian.
Turkish is the largest minority language in Bulgaria. It is only spoken by about 9% of the population. Around 4% of people speak Romani in Bulgaria.
A small community that speaks Armenian in Bulgaria. There are also some speakers of Greek, Hebrew, and Sign Language.
2. Foreign Languages:
Foreign languages spoken in Bulgaria include German, French, Spanish, and Russian.
These languages are mostly spoken by people who have studied them at schools.
Russian gets spoken in Bulgaria because it used to be a Soviet state.
Many people in the older generation still speak Russian. However, they might not be able to speak English.
8 Factors Why English Is Not So

Widely

Spoken In Bulgaria
Besides, Bulgaria was a part of the Soviet Union in the past. Other factors explain why English is not as widely spoken as in some European countries.
These factors are why English is less widely spoken in Bulgaria. Let us look at those factors:
1. Cultural Influence Of The Uk And US Is Low:
One reason English isn't as widely spoken in Bulgaria is the low cultural influence of the UK and the US.
In other words, Bulgarians consume fewer English-language movies, TV shows, and music. That is if you compare it to other countries.
Because of this lack of exposure, fewer people get to learn English.
2. English And Bulgarian Are Different From One Another:
The English and Bulgarian languages are quite different from one another. That can make it difficult for Bulgarians to learn English.
For instance, the alphabet is different, as are many words. That makes it difficult for Bulgarians to understand English speakers and vice versa.
There are some key differences between Bulgarian and English.
Bulgarian has six different cases, compared to just two in English. This means words can change form depending on their role in a sentence.
Additionally, there are no definite or indefinite articles in Bulgarian ("the" and "a"). This can make it tricky to know how to use nouns correctly.
Finally, stress is very important in Bulgarian. It can completely change the meaning of a word if placed on the wrong syllable.
Given all these challenges, it's no wonder English is not widely spoken in Bulgaria.
Most people in urban areas will have at least some level of English, and many will be fluent. In more rural areas, however, English may be less common.
English isn't widely spoken in Bulgaria because most Bulgarians watch TV and movies.
3. Russian Was More Prevaland Language In The Past:
The Russian language used to be more prevalent in Bulgaria than now.
However, due to the fall of the Soviet Union in the early 1990s, the use of Russian has declined.
Nowadays, English is the most widely spoken foreign language in Bulgaria.
However, this doesn't mean that everyone in the country speaks it fluently.
4. English Is Only Taught As A Second Language:
Another reason is that English gets taught in schools in high school.
That means many people start learning English when they're teenagers or adults. It can be more difficult to learn a new language by that time.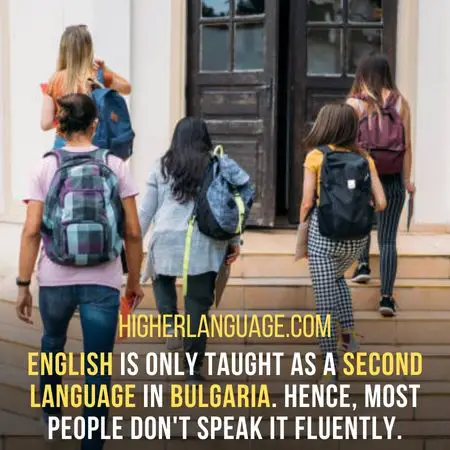 In Bulgaria, English is only taught as a second language. That means that most people in the country don't speak it fluently.
However, this is fine if you only want to get by. The vast majority of people in Bulgaria will be able to understand basic English and can help you out if you need it.
5. Most Businesses Use Bulgarian:
English is the most common language for business in Bulgaria. You may still need to learn some Bulgarian language to do business there.
That is because many businesses are local and deal with other Bulgarian businesses. As such, there's no need for them to use English.
6. Lack Of Travel Opportunities:
Another reason English isn't widely spoken in Bulgaria is the lack of travel opportunities.
For many Bulgarians, traveling overseas is too expensive. Plus, they don't have the opportunity to practice their English with native speakers.
In addition, Bulgaria is a relatively developing country. Many people cannot afford to travel overseas where they would practice their English.
7. Bulgaria Was Never Colonized:
One of the things that makes Bulgaria unique is that it was never colonized. That means the country has always maintained its own culture and language.
Even though it is in a region where foreign powers have conquered many other countries.
Consequently, Bulgarian is the only Slavic language not written in Cyrillic script.
That also means English is less widely spoken in Bulgaria. That is if compared to some European countries.
However, you'll still find that many people in the major cities can communicate in English.
8. There Are Only A Few English-Speaking Residents In Bulgaria:
Finally, there are only a few English-speaking residents in Bulgaria. That means there are few opportunities for people to practice their English daily.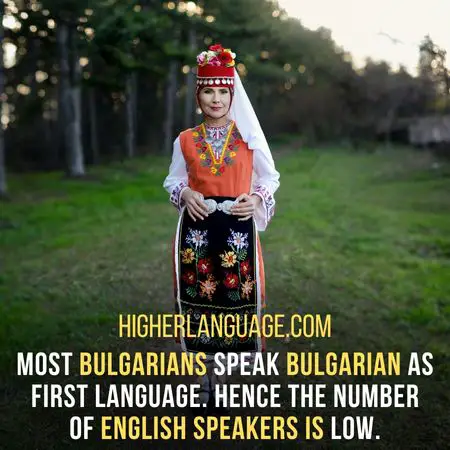 It's important to remember that the number of English-speaking residents is quite low. That is because most people only speak Bulgarian as their first language.
As a result, finding someone who can speak English fluently is difficult.
You'll have a hard time looking for a conversation partner. Or if you need help with something specific.
If you need help, rely on something other than English speakers to be able to help you out.
That is because they likely won't be able to understand your problem. Or they won't be able to communicate effectively with you.
So it's always best to try and find someone who speaks Bulgarian instead.
What Cities In Bulgaria Have Most English Speakers?
Some cities in Bulgaria have a more English-speaking population compared to others.
These include the capital city of Sofia and Plovdiv, Varna, and Burgas.
Sofia is the capital city of Bulgaria. Hence it has the highest concentration of English speakers.
In Sofia, you'll find that many people in the tourism industry speak English quite well.
That is also true in larger cities such as Plovdiv, Varna, and Burgas.
However, even in these cities, you'll still come across plenty of people who cannot speak English.
Can You Travel To Bulgaria, Knowing Only English?
Yes, you can travel to Bulgaria knowing only English. However, you may need help communicating with locals if they speak English themselves.
That is especially true in rural areas where few people speak the language.
In these situations, it's always best to learn some basic phrases in Bulgarian before you go. This way, you can at least get by and ask for help when needed.
Can You Live In Bulgaria, Knowing Only English?
Knowing some Bulgarian If you plan to move to Bulgaria is important. You might be able to get by speaking only English in the more tourist-friendly areas.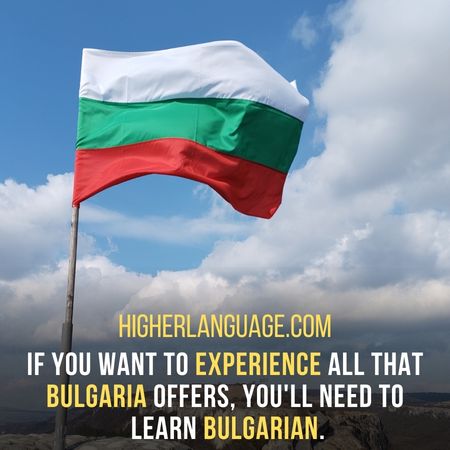 If you want to experience all that Bulgaria offers, you'll need to learn the language.
Don't worry, though – Bulgarian isn't as difficult as it looks. With a little effort, you'll be able to pick up enough basics to get by in everyday conversation.
And who knows, you might even start enjoying speaking Bulgarian!
Final Thoughts:
So, do people speak English in Bulgaria? The answer is yes – but not as much as you might think.
You'll be able to get by speaking only English in some areas. But to experience everything Bulgaria offers, it's worth learning some Bulgarian.
With a little effort, it'll be surprising to see how quickly you can pick up the basics of the language.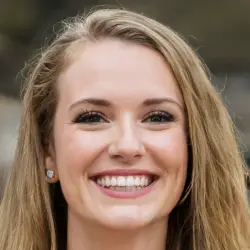 Latest posts by Sylvia Simpson
(see all)