Spanish slang words for a friends are an essential component of Latin American culture. If you are in Spain, Mexico, or Argentina, learning some slang words can help you make friends quickly.
You can call your friends "amigos" or "Cuate" in Spanish. Learning these words and using them when talking with each other is fun. Try using some of them today!
11 Most Common Spanish Slang Words For A Friend!
In the Spanish language, there are a plethora of slang words and phrases to describe your amigos, compañeros, and other friendly relations.
These Spanish slang words for a friend range from the more common "amigo" or "compadre" to the more informal "pana" or "parcero."
Each word carries its unique connotation and can vary depending on your region and culture.
Learning Spanish slang terms can help you showcase your language proficiency and have a deeper cultural immersion experience.
Expanding your vocabulary or impressing your Spanish-speaking friends can be achieved through this.
So, grab a cup of café con leche, sit back, and prepare to learn some of the most popular Spanish slang words for a friend.
1. ¿Qué Onda?: A Phrase Used Between Friends To Ask What's Up:
When communicating with friends in Spanish, there are plenty of slang words and sayings you won't find in a textbook. One of the most common and casual phrases you might hear is "¿qué onda?"
This rough translation of "What's up?" or "What's going on?" is an informal way to greet a friend and inquire about their current state of affairs.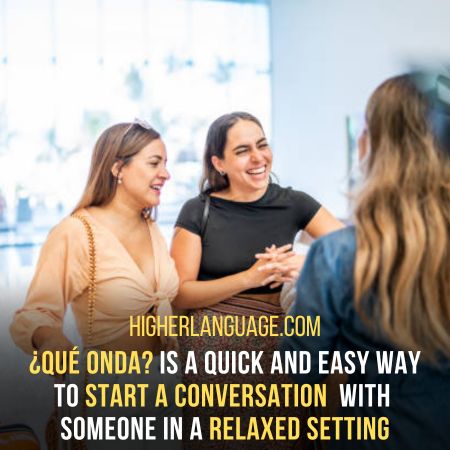 It's a quick and easy way to start a conversation and catch up with someone in a relaxed setting.
Using Spanish slang words for a friend is an excellent way of expressing your friendliness, whether you're socializing in person or talking on the phone. This establishes a stronger personal bond.
2. Amigo/Amiga/Amigos: Friend Or Group Of Friends:
Looking to brush up on your Spanish slang? Look no further than amigo/amiga/amigos, the go-to words for describing your pals in Spanish-speaking countries.
Whether it's a casual acquaintance or a tight-knit group of buddies, these words can cover any type of friendship.
Don't be afraid to throw out these colloquial terms to impress your Spanish-speaking friends or show off your language knowledge.
After all, making new amigos is always a great way to connect with people from different cultures and backgrounds.
So next time you're chatting it up with some Spanish speakers, don't forget to drop the "amigo" bomb!
3. Compay/Compañera: Close Friend Or Group Of Close Friends:
In Spanish-speaking cultures, one of the most important values is friendship. Spanish slang words for a friend include 'compay,' 'compañera,' and 'compañeros.'
These terms not only refer to close friends but also indicate a sense of warmth and closeness.
A 'compay' or 'compañera' is someone you can trust and rely on, like a family member. On the other hand, 'compañeros' can refer to a group of close friends with a strong bond.
The use of these slang words highlights the significance of friendship in Spanish-speaking cultures and the emphasis placed on building strong, long-lasting relationships.
4. Cuate/Cuata/Cuates : Friend From The Same Hometown:
If you are traveling in a Spanish-speaking country and you meet someone from your hometown, you may refer to them as your "cuate" or "cuata" during your conversation.
Here are some of the most frequently used Spanish slang terms to refer to a friend from the same hometown, region, or city. Additionally, there are more slang words available!
If you're talking about two friends from the same place, they're your cuates.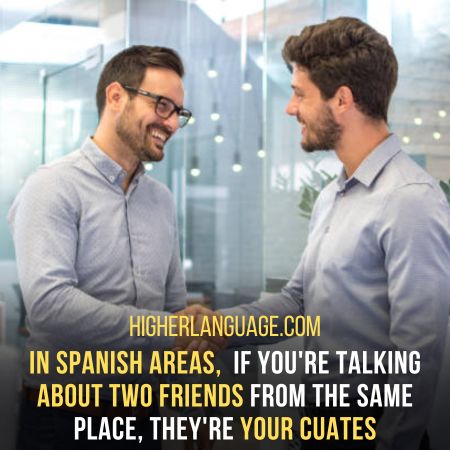 It's always interesting to explore the nuances of language and how words take on different meanings depending on the cultural and social contexts in which we use them.
5. Colega /Colegas : Friend From Work Or School:
Have you ever heard the term "colega" or "colegas"? These words are commonly used in Spanish slang to refer to friends from work or school.
The word "colega" comes from "colegio," meaning school, and "amigo/a" meaning friend. So essentially, "colega" means a friend from school.
However, it is also used to refer to friends from work. It implies a certain level of camaraderie and familiarity developed from spending time with someone in a shared environment.
So the next time you want to call a friend from work or school in Spain, consider using the slang term "colega" or "colegas" to sound more natural and casual.
6. Chavo/Chava – A Person You Are Friendly With:
In Spanish slang, multiple words refer to a friend, but "chavo" or "chava" are among the most frequently used.
The term refers to a person with whom you have a positive relationship and a strong connection.
This term is a commonly used casual and informal way of addressing a friend within a similar age group or peer group.
The term "Chavo" can also be used to refer to a circle of friends, which fosters a feeling of closeness and companionship.
Next time you have a conversation with your friends, try using this enjoyable and amiable term to refer to one another.
7. Compa/Compita – Someone Who Is Like Family:
In Spanish culture, the meaning of family goes beyond blood relations. For example, the words "compa" or "compita" are often used to refer to someone who is like family.
These slang words are commonly used among friends to show endearment and signify a close bond.
In Spanish, "compa" or "compita" are commonly used as a form of endearment towards a trusted and valued companion who is not a family member.
This is similar to how people refer to their close friends as brothers or sisters. These words are a testament to the strength of friendships in Spanish culture, often built to last a lifetime.
8. Güey – A Term Of Endearment Among Friends:
In the world of Spanish slang, "güey" is a term of endearment that is often used among friends.
The word can have different meanings based on the situation. For example, it can be used to refer to someone as "dude", "friend", or "mate".
Although it originated in Mexico, it has become popular in many Spanish-speaking countries.
It's a word often used with fondness and camaraderie and is a way for friends to show affection and closeness familiarly and informally.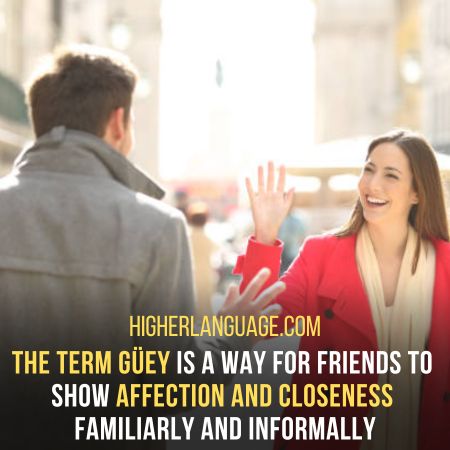 Next time you're with your Spanish-speaking friends, consider using "güey" as a term for endearment and see how it adds to your conversations!
9. Flaco/Flaca – A Close Friend Or Someone Special:
Flaco and Flaca are Spanish slang words used to refer to a close friend or someone special in your life.
These terms of endearment are often used within Hispanic communities and are a way to express a deep level of affection towards someone.
In Spanish, the words "Flaco" and "Flaca" mean "skinny" in English. But they are usually used when two people like each other.
It is a way to show that they care about each other, not about their body size.
So, the next time you hear someone using these words to refer to their friend or loved one, know that it's a sign of their strong bond and affection.
10. Amigx – Friend (Non-Binary Friendly):
Over the years, more and more people have advocated for using gender-neutral and inclusive language.
This has led to the emergence of new Spanish slang words for a friend that are non-binary friendly, such as "amigx."
This term acknowledges the existence of individuals who do not identify strictly as male or female and promotes a culture of inclusivity and respect.
The use of gender-neutral language has a significant impact on our perception of the world and its inhabitants. It is a simple but crucial action that can help us create a more inclusive society.
11. La Raza – The Group Of Friends:
You may have heard the term "la raza" thrown around when talking about close-knit groups of friends.
This Spanish slang expression refers to a tight-knit group of friends who share a common bond, whether cultural, regional, or personal.
Within the La Raza community, there are specific terms used to describe the different roles played by each friend.
For example, "el pana" refers to the buddy you can always count on, while "la carnala" refers to the sisterly figure in the group.
No matter what words are used, being part of la Raza means being surrounded by a community of people who will consistently support you and have your best interests at heart.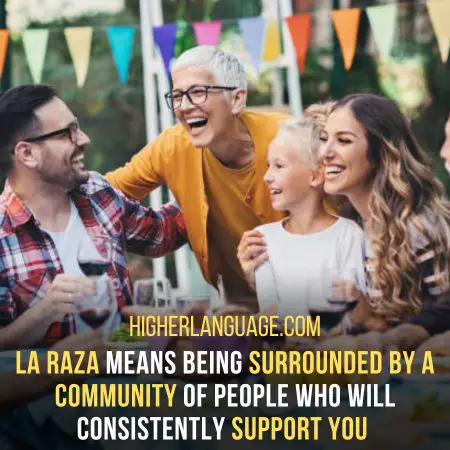 It also entails a strong sense of loyalty and camaraderie among members.
Conclusion:
Spanish is spoken in numerous countries, from the northern tip of Mexico to the southernmost point of Chile.
Every region, city, and individual has a way of expressing themselves, sometimes seen in the terms they use for their friends.
There are a variety of Spanish slang words for a friend that also differ with familiarity level.
So the next time you're among your cuates, compays, or amigos, get active and drop some slang to lighten the atmosphere!
You never know what fun experiences you'll have when communicating with people from different backgrounds and cultures!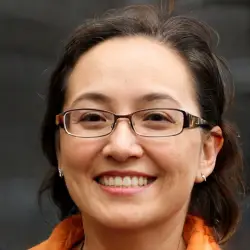 Latest posts by Elizabeth Williams
(see all)