We often overlook our teeth until something goes wrong, yet they are a remarkable and critical element of our anatomy. But did you know that there are many slang words for teeth? 
Using slang words can be fun. But it is important to take care of our teeth. So today, you will learn some unique and interesting slang words for teeth.
11 Slang Words For Teeth That Most People Don't Know!
Slang words for teeth are a unique aspect of our everyday language. It's amazing how people can come up with many names for these pearly whites.
From "pearlies" to "fangs," slang words capture each individual's personality. Some people go as far as naming their teeth as if they were their children!
The slang words used for teeth often reflect one's culture, upbringing, and social status.
Regardless of what we call them, our teeth serve an important purpose in our daily lives – allowing us to chew our food and produce the perfect smile.
With this newfound knowledge, the next time you hear someone mention "chompers" or "Ivories," don't be perplexed—you'll know they're referring to their teeth.
To expand your vocabulary even more, here are a few additional terms!
1. Grillz – A Term Used To Describe Expensive Dental Work:
Grillz – the term used to describe flashy and often expensive dental work – has been a trend for decades.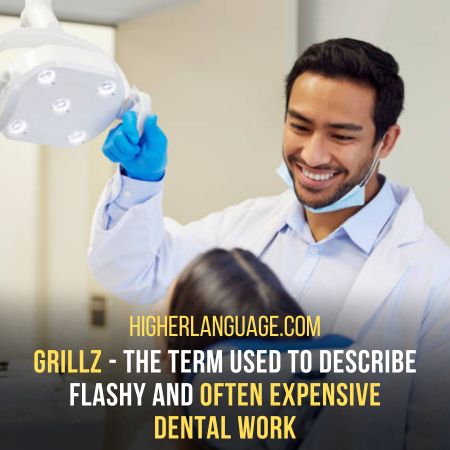 Accessories are things people wear or carry. They can cost from a small amount to a lot of money. Sometimes they have diamonds and gemstones in them.
People flaunt their finery to demonstrate their affluence and prestige.
While some view grillz as a symbol of success and extravagance, others criticize the trend as excessive and harmful to dental health.
Regardless of personal opinions, it's clear that grillz have made a lasting impact on popular culture, with countless celebrities and musicians sporting these dazzling dental accessories.
2. Gnashers – British Slang For Teeth:
Gnashers might be unfamiliar to some, but for the British, it's a slang term they use for teeth.
It's quite amusing how certain words can mean something completely different depending on which corner of the globe you are in.
But, when it comes to gnashers, it's clear that the British have perfectly captured the essence of the word.
Seeing someone flash a set of perfect gnashers is a sight to behold, and it's no wonder that Brits take pride in their pearly whites.
Whether you're a local or a tourist passing through, you'll find that the word gnashers is a fitting addition to the colorful world of British slang.
3. Toothache – An Informal Expression Used To Describe Pain In The Teeth Or Gums:
Few things are as unpleasant as experiencing a toothache. This informal expression is often used to refer to the pain that originates in the teeth or gums.
Whether it is a dull ache that lingers throughout the day or a sharp stabbing sensation that strikes suddenly, toothaches can be debilitating and affect our daily lives.
Various factors, such as tooth decay, gum disease, or an injury, can cause dental issues.
If you're experiencing tooth pain, it's essential to seek the help of a dental professional who can diagnose and address the underlying issue.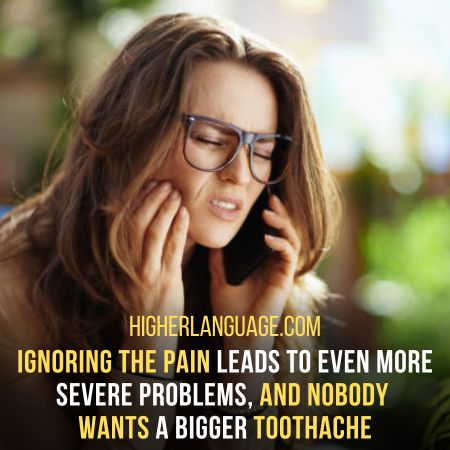 Ignoring the pain can lead to even more severe problems, and nobody wants a bigger toothache.
4. Pearly Whites – A Fun Way To Refer To Someone's Bright White Teeth:
A smile is often the first thing people notice about somebody, and there's nothing like a set of pearly whites to make a great impression.
Described as fun and playful, "pearly whites" has become a common phrase to refer to teeth that are dazzlingly bright and white.
Whether it be a celebrity, or an ordinary person, having a dazzling smile can dramatically improve their self-assurance and physical appearance.
Whether through regular dental check-ups or at-home whitening treatments, achieving and maintaining a flawless smile is easier than ever. Flaunt your dazzling smile with pride today!
5. Cavity Creeps – A Humorous Term For The Bacteria That Cause Cavities:
Have you ever heard of the Cavity Creeps? They may sound like a group of mischievous monsters from a children's book, but they are the culprits behind tooth decay.
These tiny bacteria love to feast on the sugars and starches in our food, eventually forming a sticky, acidic film on our teeth.
This acid slowly erodes the protective enamel, creating tiny holes or "cavities" in our teeth.
While the thought of these Cavity Creeps may not be very humorous to those who suffer from frequent cavities, it's hard not to chuckle at their playful name.
Luckily, with proper dental care and regular check-ups, we can keep these pesky bacteria at bay and avoid becoming the next victim of the Cavity Creeps.
6. Chompers – Slang For Teeth:
Chompers, a slang term for teeth, is a lighthearted and playful way of referring to this essential part of our anatomy.
We use chompers daily to bite into food, enunciate our words clearly, and form a smile that conveys warmth and friendliness.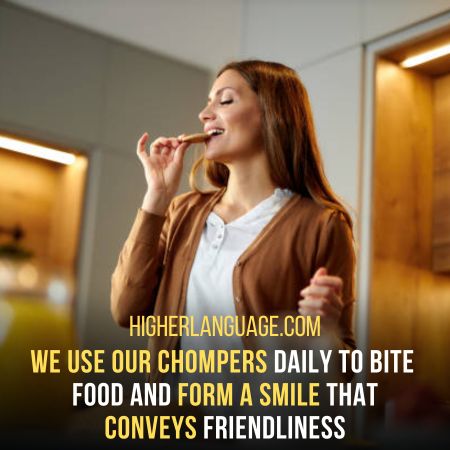 It's no wonder that we've given them such an endearing nickname.
We should all be proud of our pearly whites and the joy they bring us, from devouring delightful dishes to tickling tastebuds with a good chuckle.
Let's proudly show off our chompers and give ourselves something worth smiling about!
7. Cheese Grater – Refers To Someone With Crooked Teeth:
We all know someone with the nickname "Cheese Grater" – the lighthearted term assigned to those with crooked teeth.
While it might sound harsh at first, it's become a term of endearment for those who embrace their unique smile.
In a world where perfect teeth are often seen as the ideal, it takes courage and confidence to rock a smile that doesn't conform to social norms.
So, to all the Cheese Graters out there, wear your grin proudly because there's nothing more beautiful than being true to who you are – gaps, overlaps, and all.
8. Sweet Tooth – Someone Who Has A Particular Craving For Sweet Foods:
Do you consider yourself a "sweet tooth"? Do you daydream about the perfect chocolate cake or a fresh batch of cookies?
You're not alone – having a particular craving for sweet foods is common among many.
It's almost as if sugar has a magical power over our taste buds, leaving us wanting more and more. But why do we crave sweets so much?
Some experts believe that our love for sugar is a survival mechanism, as humans in the past needed to seek out high-calorie foods like sugar to ensure survival.
Whatever the reason, it's clear that our love for sweet treats isn't going away anytime soon. So treat yourself to something sweet today, and embrace your sweet inner tooth.
9. Shark Teeth – When The Upper And Lower Teeth Don't Line Up Properly:
Sharks are fascinating creatures, and their teeth are one of the many things that intrigue them. But did you know that some sharks' upper and lower teeth don't align properly?
This misalignment can happen for a few reasons, but it doesn't seem to impact their ability to hunt and eat prey.
Some experts believe that having crooked teeth might even make them better hunters!
Sharks have very sharp teeth to help them catch their food. As a result, people think of sharks as scary, even if their teeth aren't perfectly straight.
10. Crooked Smiles – When Your Smile Is Uneven Or Irregular:
A smooth, sparkling smile is what we all strive for. But unfortunately, not everyone is blessed with perfectly aligned teeth.
If you have teeth that are not straight, it can make you feel bad about your smile. You might not want to show your teeth or hang out with others because you are embarrassed.
However, there are plenty of solutions available that can help you achieve a straighter smile. From traditional braces to clear aligners, there is a treatment option that can fit your needs and lifestyle.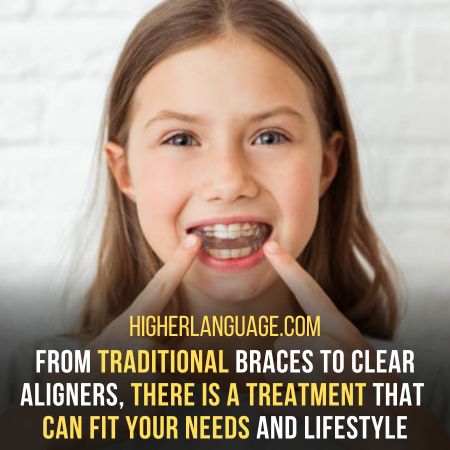 Don't let crooked teeth hold you back from living your best life – with a little help; you can smile confidently and proudly!
11. Grill Master – Someone Who Takes Extra Care Of Their Teeth And Smiles:
Being a grill master involves cooking delicious meals and caring for dental hygiene.
A true grill master understands the importance of a healthy and bright smile. So while flipping burgers and basting ribs, they know their pearly whites are on full display.
That's why they are extra for their teeth, ensuring they are always sparkling clean and ready to shine.
With a confident smile, the grill master can proudly present their culinary creations to the crowd, knowing they look as good as they taste.
A grill master's dedication to their teeth is just as impressive as their cooking skills.
Conclusion

:
We all have and need them and give them names – our teeth! From pearly whites to chompers to roofers, slang words for teeth are as diverse as the people who use them.
Perhaps it's because our teeth are such a crucial part of our daily lives that nicknaming them is a way of taking ownership of them.
Each stage of dental development has slang terms, from baby to wisdom teeth.
Whether you call them gnashers or fangs, choppers, or bicuspids, one thing is for sure – our teeth deserve recognition for all they do.
So, let's celebrate the many names we give our teeth and keep smiling!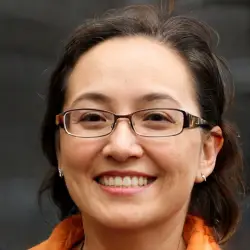 Latest posts by Elizabeth Williams
(see all)