As vaping has become more prevalent, new slang words for vape have emerged, adding to the lexicon of the already colorful English language.
Whether you are a vaper or simply an interested observer, understanding slang words for vape can give you greater insight into the nuances of this growing phenomenon.
12 Important Slang Words For Vape!
Vaping has become a popular habit among many people worldwide, and with it comes its own language.
The terminology used to refer to vape constantly evolves, making it hard to keep up with the latest slang words.
Vaping has a language, with words like "chucking clouds" and "dripping" describing the activity. As vaping becomes more popular, new expressions arise regularly.
Some words are straightforward, while others are more complex and require context to understand their meaning fully.
Vaping has its own special words and phrases. People who vape like to know the newest words. They stay up-to-date with all the latest expressions.
1. Vape Pen – Used To Describe Any Vape Mod Or Device:
The vaping world can be confusing, especially regarding the variety of devices available. One term often used to describe them all is "vape pen."
This catch-all phrase encompasses any vape mod or device, from slim, discreet pens to robust, multi-functional mods.
Interestingly, the origins of the term "vape pen" can be traced back to the first generation of portable vaporizers, which resembled large writing implements.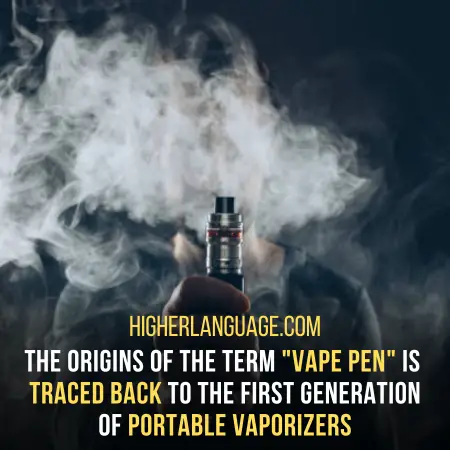 However, today's "vape pens" have evolved into a diverse category of devices, offering vapers something for every taste and style.
Whether you're a beginner or an experienced vaper, there's a vape pen out there for you.
2. Vape Juice – Another Name For E-Liquid Or E-Juice:
Vape juice, commonly known as e-liquid or e-juice, is responsible for the smooth taste and rich flavor experienced in vaping.
As vaping continues becoming a healthier substitute for smoking, the demand for vape juice has increased dramatically.
This preferred type of juice comprises several components, including vegetable glycerin, propylene glycol, and flavorings.
Vegetable glycerin produces vapor, while propylene glycol carries the flavorings.
With a wide range of flavors and nicotine strengths, vape juice is the perfect choice for anyone looking to join the vaping community or indulge in a new flavor experience.
3. Puffing – Inhaling From An Electronic Cigarette:
Puffing and inhaling from an electronic cigarette has become a popular alternative to traditional smoking.
This modern method allows individuals to experience the sensation of smoking without the toxins and chemicals associated with tobacco products.
Using an electronic cigarette or e-cigarette involves heating a liquid solution to create an inhaled vapor.
With a variety of flavors to choose from, including classic tobacco, fruity, and minty, the e-cigarette industry has grown exponentially in recent years.
Despite the controversy surrounding the long-term effects of e-cigarette use, many smokers have succeeded in using them to quit traditional cigarettes.
4. Dripping – Dripping Liquid Directly Onto The Coil Before Vaping:
If you're looking for a way to enhance your vaping experience, dripping liquid directly onto the coil might be a game-changer.
The process, known as dripping, involves manually applying e-liquid onto the coil before you take a puff.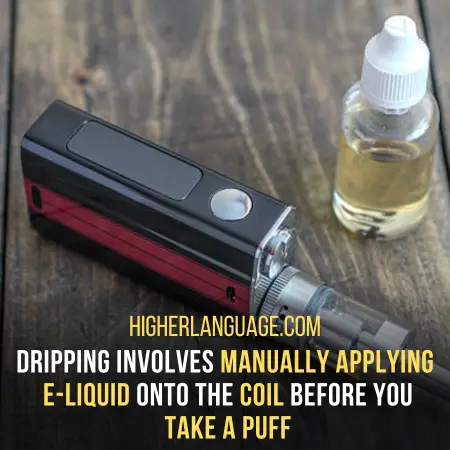 Dripping heats the liquid quickly. This makes it taste better and makes more clouds. You can also try different flavors without replacing the liquid in your tank.
However, dripping requires more maintenance and attention than traditional vaping methods, as the coil needs to be frequently re-dripped.
Despite this, many vapers swear by dripping to achieve the ultimate vaping experience.
5. Dab – As In "Dabbing" Or Taking A Hit From A Vape Pen:
In recent years, dabbing has become a widely used approach to consuming cannabis concentrates, otherwise known as "dabs".
This trend has largely been fueled by the rise of vape pens, which offer a discreet and convenient way to take a hit of your preferred concentrate.
Dabbing involves heating the concentrate with a specialized dab rig and inhaling the vapor through a dab tool.
While some may be hesitant to try dabbing, it's important to note that cannabis concentrates can be a relatively potent and efficient way to consume THC or CBD.
As with any cannabis consumption, taking things slow and being mindful of your consumption is important to avoid overdoing it.
6. Cloud Chaser – Someone Who Enjoys Building Huge Clouds When They Vape:
For some individuals, vaping has become more than just a way to quit smoking cigarettes.
In fact, a new subculture has emerged within the vaping community that takes pleasure in creating massive clouds of vapor when they inhale.
Cloud Chasers are people who like to make big clouds. They try different vaping devices, e-liquids, and techniques to try and make the biggest clouds they can.
Becoming a successful Cloud Chaser takes skill, knowledge, and patience. For those who have mastered the art, the satisfaction of producing a giant plume of vapor is immeasurable.
7. Vapester – A Person Devoted To Vaping As A Hobby Or Lifestyle:
Vapester is more than just an enthusiast; they're devoted to the art of vaping. It's not just a hobby for them; it's a lifestyle.
From finding the perfect device that fits their style to experimenting with different flavors, vaping has become a personal passion.
They thrive on the community that surrounds vaping and the culture that has developed around it.
Vapester wants to share their knowledge and passion, helping newbies navigate the vast vaping world and encouraging others to join the community.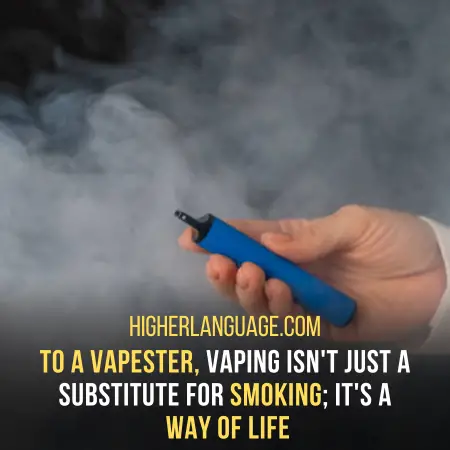 To a Vapester, vaping isn't just a substitute for smoking; it's a way of life.
8. Dripper – A Type Of Vape Mod With A Rebuildable Atomizer:
The dripper is a must-have for those serious about vaping in their vape mod collection.
This innovative device takes vaping to the next level with its rebuildable atomizer, allowing users to customize their experience to their liking.
The dripper provides a stronger and more flavorful hit, making it a favorite among seasoned vapers.
By building their coils, users have greater control over the amount of vapor, the intensity of the flavor, and the overall experience.
So, if you're looking for an upgrade in your vaping game, try the dripper and experience the difference for yourself.
9. Vaporizer – Also Known As A Vape Or An E-Cig:
As the trend of smoking cigarettes continues to decrease, more and more individuals are turning to vaporizers, also known as vapes or e-cigs, as a healthier alternative.
These devices use an electronic heating element to vaporize a liquid solution, often nicotine, into a smoke-like substance that can be inhaled.
Not only do vaporizers eliminate the harmful chemicals found in traditional tobacco products, but they also offer a variety of flavors and customization options.
A vaporizer may be the perfect solution, whether you're looking for a discreet option to smoke indoors or simply trying to kick a bad habit.
10. Juice-Boxer – Someone Who Uses A Box Mod To Produce The Biggest Clouds:
Juicing has taken a new form with the Juice-Boxer trend, where vapers use a box mod to produce the biggest clouds possible.
Vaping fans yearn for the ideal experience – one that allows them to create exquisite, fog-like puffs of vapor.
Becoming a Juice-Boxer takes skill and patience, as the mod needs to be adjusted perfectly to ensure the best vapor production.
But once mastered, the clouds created are both mesmerizing and satisfying. With the Juice-Boxer trend growing, it's clear that this form of vaping is here to stay.
Join the ever-growing crowd of Juice-Boxers today and get your mod!
11. Stealth Vaping – Vaping Discreetly Without Producing Smoke Or Vapor:
With the rise in the popularity of vaping, some people have been looking for ways to vape discreetly in public places without drawing unwanted attention.
Stealth vaping solves this problem by allowing vapers to create vapor without producing any visible smoke or vapor.
This can be accomplished using certain vaping devices, such as pod or closed systems, that produce very little vapor.
Additionally, vapers can exhale their vapor into their clothing or blankets to minimize any visible vapor.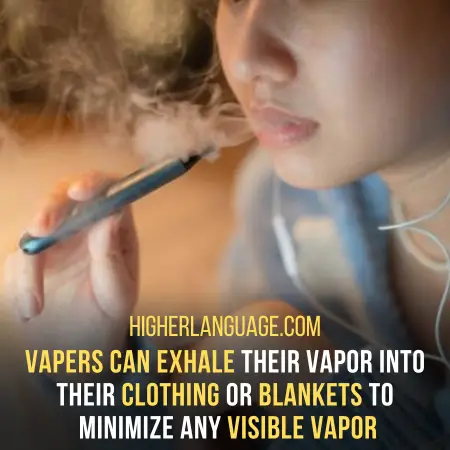 Stealth vaping allows vapers to enjoy their favorite flavors and nicotine without worrying about being confronted by non-vapers or law enforcement.
12. Sub Ohm Vaper – Someone Who Vapes With A Sub Ohm Tank Or Rebuildable Atomizer:
In the vaping world, sub-ohm vaping is a widely sought-after experience and its enthusiasts are referred to as sub-ohm vapers.
These individuals use sub-ohm tanks or rebuildable atomizers to enjoy a more intense vaping experience.
The lower resistance coils in these devices produce more vapor and stronger hits than traditional vaping methods.
Sub-ohm vaping allows for various flavor combinations and customized settings, making it a preferred choice for experienced vapers.
However, sub-ohm vaping requires advanced knowledge and caution. Therefore, it's important to research and understands the potential risks before diving into this exciting realm of vaping.
Conclusion:
Vaping has become quite the trend in recent years, with more and more people opting for e-cigarettes instead of traditional cigarettes.
However, vaping culture has brought a new set of slang words that can leave outsiders scratching their heads.
Terms like "cloud chasing," "dripping," and "modding" have all become part of the vaping lexicon.
And with new devices and techniques emerging all the time, it's safe to say that this list of slang words for vape is far from complete.
Whether you're a seasoned vaper or just curious about the culture, staying up-to-date on the latest vaping lingo can help you easily navigate this rapidly growing industry.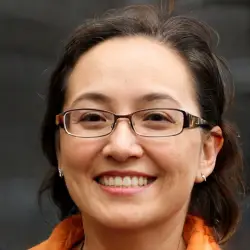 Latest posts by Elizabeth Williams
(see all)