If you're a gym regular, you might have noticed some slang words for the gym being thrown around.
In this article, you'll learn common slang words for the gym. These can help you better understand the language used in the gym.
Slang Words For The Gym
Working out in the gym can be a great way to stay fit and healthy while having fun.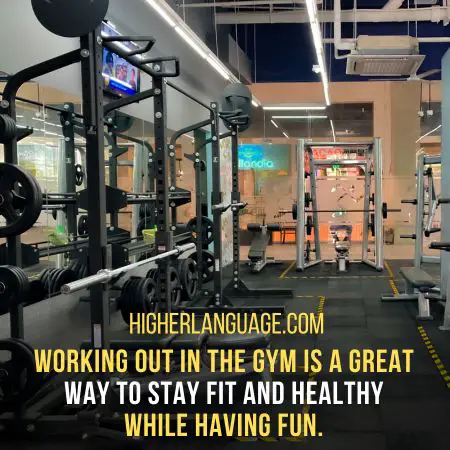 To make it even more enjoyable, there is an entire language of slang words for the gym.
They are used to describe different exercises and experiences.
Here is a look at some of the most common slang words for the gym.
1. Reps:
The term "reps" is short for repetitions. This refers to the number of times a specific exercise should be repeated to achieve desired results.
For example, if you are doing bicep curls with a weight, you may be instructed to do three sets of 10 reps each.
2. Pumped:
When you feel strong after an intense workout, that feeling is called "pumped."
This results from the body releasing endorphins, which boost energy and make you feel great.
3. PR:
PR stands for Personal Record. It describes when you have improved your best score or time for a particular workout.
For example, if you did five pull-ups in your last gym session and now you can do six, that would be considered a PR.
4. Superset:
A superset is when you perform two or more exercises back-to-back without any rest in between. This pushes your muscles to their limit.
It can help you maximize your workout time by burning more calories in less time.
It can target different muscle groups or work on the same muscles with different exercises.
5. DOMS:
DOMS stands for Delayed Onset Muscle Soreness. It is the pain and stiffness you experience after a particularly strenuous workout.
This usually occurs 12-24 hours after exercise and can last up to three days.
While uncomfortable, it is a sign that your muscles are repairing and rebuilding to become stronger.
6. Drop Set:
A drop set is when you exercise at a high weight or intensity. Then, immediately reduce the weight and keep going without taking a break.
This can help you push your muscles to their limit and build strength and endurance. It's also useful for getting a good pump and feeling the burn.
7. Active Rest Days:
Active rest days are when you still exercise but at a lower intensity or duration than usual.
This allows your body to recover from workouts without taking a break from physical activity.
Active rest days can include activities such as yoga, stretching, or light jogging. They are a great way to keep your body moving while allowing it time to recover.
8. For Time:
Time is a type of workout where you aim to complete a certain amount of exercise in the fastest possible time.
This style of working out can help test your speed, strength, and endurance, as well as measure progress over time.
It is an excellent way to keep your workouts interesting and challenging.
9. Core Work:
Core work is any exercise that targets the muscles in your midsection, such as planks or crunches.
Core exercises help improve posture and balance and reduce back pain. It can even make everyday activities easier.
Adding core work into your routine can help ensure you work all body parts for optimal fitness.
10. EMOM:
EMOM stands for Every Minute On the Minute. It is a type of workout where you aim to complete a certain exercise within a minute.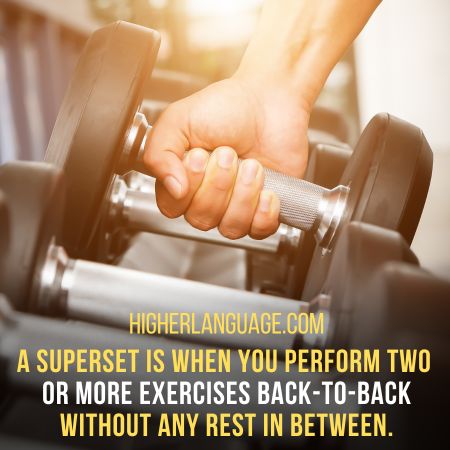 This style of interval training can help push your muscles to their limits. Make sure you're getting the most out of every minute of your workout.
It is also a great way to measure progress over time and add intensity to your workouts.
11. AMRAP:
AMRAP stands for As Many Rounds/Reps As Possible. It is when you aim to complete a certain exercise as often as possible within a set period.
This style of training can help increase strength, endurance, and speed.
It challenges you to push your limits. It's also an excellent way to measure progress and keep your workouts interesting.
12. Superset:
Supersets are when two exercises are done back-to-back with no rest in between. This style of training allows you to get more done in less time.
It can be effective for increasing muscle endurance, strength, and size. It also helps to keep your workouts varied and exciting and gives you a good cardio workout.
13. TRX Training:
TRX stands for Total Body Resistance Exercise. It is an exercise system that uses suspension straps.
These help to increase strength and balance while engaging many muscles simultaneously.
This type of training can help improve body composition by maximizing calorie burn. It increases muscle tone in a short amount of time.
It's also an excellent way to challenge yourself with new exercises. It targets different muscles than typical weight-training routines.
14. Plyometrics:
Plyometrics involve explosive, powerful movements such as jumping and hopping.
This type of training focuses on increasing speed, agility, power, and coordination. It is done by using your body weight for resistance.
Plyometric exercises can be intense but are great for developing strength and getting an intense cardiovascular workout.
15. Circuit Training:
Circuit training is when you alternate between different exercises with minimal rest between sets.
This training improves muscle endurance, burns fat, and builds strength.
Circuit training helps keep your workouts varied and exciting as you switch up the exercises each time.
16. HIIT:
HIIT stands for High-Intensity Interval Training. It involves alternating between short periods of intense exercise.
This exercise is followed by a period of rest or low-intensity exercise. This type of training is great for burning fat quickly.
It helps in increasing cardiovascular endurance in a short amount of time.
It's also an excellent way to challenge yourself as you push your body to its limits during each interval.
17. Bodyweight Training:
Bodyweight training is exactly what it sounds like. It is done by using your body weight as resistance while performing exercises.
This type of training is great for building core strength, improving flexibility, and working on balance.
Plus, you don't need any special equipment, so it can easily be done at home or in the gym.
18. Core Training:
Core training involves exercises that target your abdominal muscles. It also targets other stabilizer muscles in your back and hips.
Core training is great for improving posture, balance, and stability. It helps in strengthening the abdominal muscles.
It's also an important part of any fitness program since it helps to protect your lower back from injury.
19. Tabata Training:
Tabata training consists of 20 seconds of intense exercise and 10 seconds of rest. This is repeated eight times for a total of 4 minutes.
Tabata training is great if you're short on time and want a quick burst of exercise when you don't have much time to spare.
It also helps to increase muscle endurance and burn calories quickly.
Conclusion:
No matter what kind of gym you go to, it's important to have proper etiquette and respect the space.
That means listening to experts' advice, refraining from giving out bad advice and following the gym's rules and regulations.
It's also important to be mindful of others in the gym by not using too much space or being overly loud.
By adhering to these basic guidelines, everyone can have a safe and enjoyable time at the gym.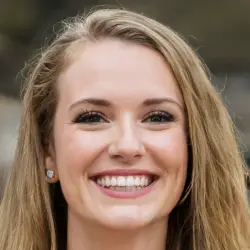 Latest posts by Sylvia Simpson
(see all)