Slang words for houses are used among people to refer to the place where they live. The place can be either a tiny apartment or a large castle. It depends on your preference.
In this article, you'll learn basic slang words for houses. You can use them to show your knowledge of slang words and their usage.
Slang Words For Houses – 15 Most Common
House slang isn't for real estate agents. It's a way to make any conversation about a house more interesting.
From gaff and crib to casa and pad, there are so many fun ways to refer to the place you live. There are 80s slang words and phrases we use in our daily conversation.
Here's a look at some of the most popular slang words for houses around the world:
1. Gaff:
In Britain, people often refer to their house as a "gaff". A "gaff" is an informal word for home or house.
Gaff is one of the slang words for houses that are often used in the United Kingdom.
It can refer to any dwelling, from flats and apartments to mansions and estates. The origin of the word is uncertain.
It is thought to have been derived from "gofer," an old English dialect word for a cottage or small home.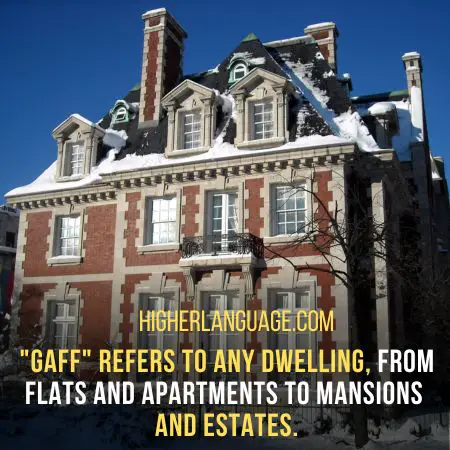 Gaff is also used to describe where people go to parties or socialize.
So if you hear someone say they're headed out to the gaff, they're going to a friend's house.
2. Crib:
When it comes to slang words for houses, the most popular one is "crib".
This term has been around for years and is used by many people when discussing where they live.
It can be used in a variety of ways. For example, it can refer to someone's residence, a place of rest, or the home environment.
The crib is often used as a synonym for home. If you're looking for an alternative way to refer to your house, that's always an option.
Sometimes, it can be associated with luxury or sophistication. You can use this term to make your living situation sound extra fancy.
3. Casa:
In Spain and Mexico, people say "casa," meaning "house." Many slang words for houses might arise when speaking about houses.
A popular slang word for house is "casa," which originates from Spanish and Italian.
Casa refers to a house or dwelling place but can also be used as a metaphor for safety, comfort, and security.
As such, it has become an important term within the Latinx community.
Other slang words for the house include pad, crib, digs, joint, spot, abode, and domicile.
Slang terms vary by region and may change over time. Staying updated on the latest slang words for houses is always good.
4. Spot:
Are you looking for a spot to crash? Well, if you're in the know, then you know that 'spot' is one of the most popular slang words for houses.
From coast to coast, this term is used by all ages and walks of life.
Using the word 'spot' implies that a place to stay is important no matter where you go.
So whether you're looking for a comfy new spot or want to show off some savvy slang knowledge, bring your A-game and claim your spot.
5. Pad:
In Australia and New Zealand, they often call their house a "pad." The term is derived from the word "paddock," originally an area used for grazing animals.
It's one of the slang words for houses and commonly refers to a smaller residence, such as an apartment or condo.
These words are not always appropriate in more professional settings. Phrases like "my pad" are often seen as casual and cool among friends and family.
Slang words make conversations between people who share a language easy and interesting. Plenty of other slang words could be used when talking about houses.
From crib to castle, shack to shelter – whatever you want to call your home, there's probably a slang term for it.
So next time you need to talk about your home in casual conversation, pull out those slang words and have some fun.
6. Cottage:
Cottage is one of the most commonly used slang words for houses. It often describes a small, cozy, and comfortable home.
The word has been around since at least the late 19th century. It is derived from the Old English cote, meaning "small house" or "shelter".
The cottage is an accepted term almost synonymous with a quaint and inviting home. A cottage is designed in a traditional style, with white walls and beamed ceilings.
Although no specific definition of a cottage exists, they are associated with rural dwellings or vacation homes in scenic areas.
7. Dig:
In America, people refer to their house as a "dig." The word "digs" is one of the slang words for houses.
When you hear someone talking about 'digs', they're probably referring to a house. Slang terms for houses are used in casual conversation to refer to a person's dwelling place.
It can be used for both rented properties and owned residences. For example, you might say, "I've been living at my digs for the past two years".
Even if you don't own the property, it's still your 'dig'. The origin of this slang term is unclear. It has become widely accepted as an informal way of referring to one's home.
So next time someone asks you where your digs are, you'll know exactly what they mean.
8. Adobe:
Abode is one of the popular slang words for houses. It is often used to refer to someone's home.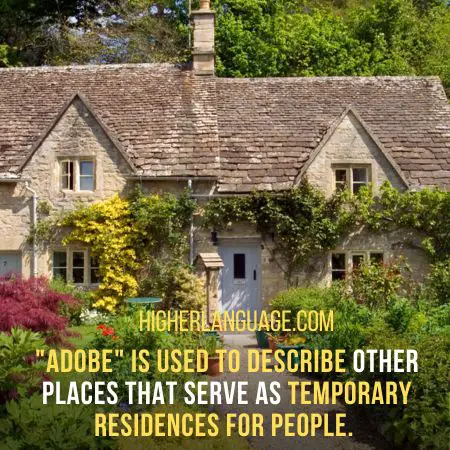 It can be used to describe other places that serve as temporary residences for people. It refers to houses like vacation homes or dorms.
Other slang words for houses include pad, crib, and joint. These words are commonly used in casual conversation to refer to a place of stay.
Knowing them can help make your conversations sound more natural and up-to-date. So next time you talk about where someone lives, use "adobe".
9. Residence:
The residence is one of the famous slang words for houses. It's the perfect term to sound cool or be more casual when talking about your dwelling place.
It can be used interchangeably with words like crib, pad, domicile, and abode. All of which means the same thing.
The residence may refer to an apartment building with many units instead of one single home.
Regardless of the property type you call home, residence can make it sound much more exciting.
So next time you're discussing your humble abode, why not go ahead and drop the word "residence"?
10. Joint:
You're not alone if you think of "joint" when referring to a house. It's one of the most popular used slang words for houses.
Whether it's your abode or someone else's, using joint to refer to a house is an easy way to communicate its presence.
Other words often used as slang for a house include crib, pad, and domicile.
So if you ever hear someone talking about their joint, they refer to where they live.
11. Apartment:
Sometimes, "apartment" is used as a slang word for house. This term can refer to any house or dwelling, big or small.
It's a way of speaking that is often used in informal conversations and among others.
For example, you might hear someone say, "I'm gonna head back to my apartment," when they mean they're going home.
They may also use the phrase "Let's meet my apartment," even if it refers to their house instead.
While the term does have an official, it has become increasingly popular as slang for houses.
12. Cabin:
If you're looking for a new home, don't be surprised if someone calls it a "cabin." This slang word often refers to any house – from small mobile homes to sprawling mansions.
In some cases, this word might even relate to age – an older house could be referred to as a cabin compared with a newer home.
No matter what kind of dwelling you live in, there's no denying that everyone needs a place they can call their cabin.
Nowadays, having your cabin is more than a roof over your head. It's also about having your private space and a haven to call home.
So, whether you're looking for a cabin or any other type of house, ensure it's the right fit for you.
13. Domicile:
Domicile is one of the commonly used slang words for houses. It's an easy way to talk about your house without getting into further details.
You could say, "I'm heading back to my domicile," Everyone would know you mean you're going home. It can be used by real estate agents more often.
They use this word when discussing properties with clients they can purchase or rent.
The term has many different applications. No matter how you use it, domicile will make conversations interesting and casual.
14. Castle:
It's so common to hear people refer to their home as a castle.
We often call houses castles, whether tiny apartments or majestic mansions. This is because they're a place of comfort and security.
A place where we can relax after a long day and spend time with family and friends.
So if someone asks what kind of castle you live in, they're just talking about your lovely house. One day your castle will become a real-life one too.
No matter where you live, slang words for houses will liven up any conversation about homes.
You can use them to describe your place of living. These words can vary from region to region.
15. Farmhouse:
Farmhouses are one of the most popular slang words for houses. While there is no official definition, a farmhouse is very large.
This is situated in rural areas and includes land for farming or raising animals. The term has become associated with many different types of houses.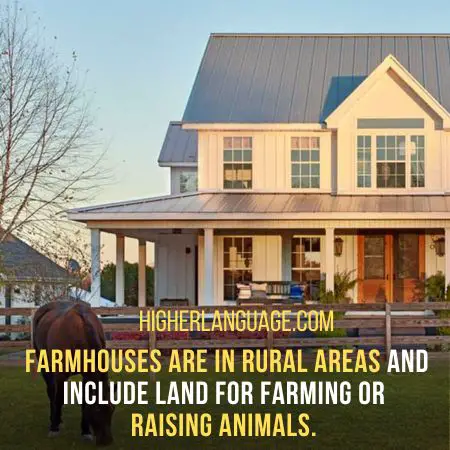 It includes those with vast acres to more modest dwellings with enough room for gardening.
Farmhouses evoke feelings of nostalgia, comfort, and affiliation with simpler times.
If you want to purchase or build a farmhouse, these homes offer many benefits for homeowners.
These are best for those who want a little country living without leaving the city limits.
Farmhouses are the perfect relaxing place, from classic charm to modern amenities.
Conclusion:
There's no shortage of slang words for houses when talking about our homes.
From the classic "pad" to the more modern "digs," these terms are used by people worldwide to refer to their houses.
Some may even be unique to certain regions or cultures. Different regions use their own slang words when referring to their houses.
It's better to know slang words according to their culture to use them where you are.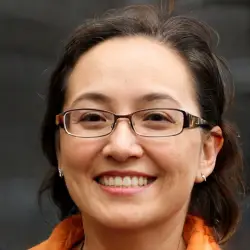 Latest posts by Elizabeth Williams
(see all)