Slang words for being in love sure can be fun, but there's one thing we shouldn't forget – finding someone to fall in love with is what really matters.
So, look for someone who makes you happy and feel excited. Then, make unforgettable memories by spending quality time with your loved one, and use some cute slang as a cheery on the cake!
12 Slang Words For Being In Love To Impress Your Lover!
When it comes to love, language has a way of evolving to suit how we feel.
Sure, we've all heard the standard "I love you", but what about when you're really head-over-heels for someone? That's when you need to break out the slang words for being in love.
If you have strong romantic feelings that are persistent and intense, some words describe that feeling, such as "smitten," "enamored," or "obsessed."
So go ahead, embrace your inner linguist, and get ready to pepper your speech with all kinds of sweet and sassy expressions of affection.
Who knows, you might just end up starting a whole new trend!
1. Snuggled Up – To Be Close And Cuddly With Someone:
Nothing beats the feeling of snuggling up with someone you love. It's like being wrapped up in a warm blanket on a chilly night, but instead of a blanket, it's their arms around you.
When you're snuggled up, all the day's stresses melt away, leaving you with nothing but pure contentment. It's the ultimate cozy feeling.
Some might even say it's "all up in your feels," or you're "whipped" for your snuggle buddy, but who cares? Keep snuggling away as long as you're both happy and feeling the love.
2. Head Over Heels – Totally In Love And Obsessed:
When you're head over heels for someone, it's like you've been hit by a freight train of love. You can't help but be obsessed with them – their smile, their scent, the way they laugh.
It's like they're the only thing that matters in the world. So you start using cheesy slang words for being in love, and your friends might tease you, but who cares?
When you're that infatuated, nothing else matters. It's a crazy feeling, but it's also pretty damn awesome.
3. Lovestruck – When You Can't Help But Stare Into Their Eyes:
When you meet that special someone and find yourself lovestruck, it's hard not to feel like you're on top of the world.
You may act like a total goofball or get butterflies in your stomach every time they walk into a room, but that's all part of being head over heels.
From being smitten to catching the feels, there's no denying the slang words we use to describe the emotions of being in love.
So go ahead, stare into their eyes, and feel those warm fuzzies in your heart – being lovestruck is a wild ride worth every jittery moment.
4. Butterflies In Your Stomach – When You're Too Excited To Sit Still:
Ever had that feeling of butterflies in your stomach? When you're so excited that you can't keep still? It's a pretty common feeling, especially when you've got a crush on someone.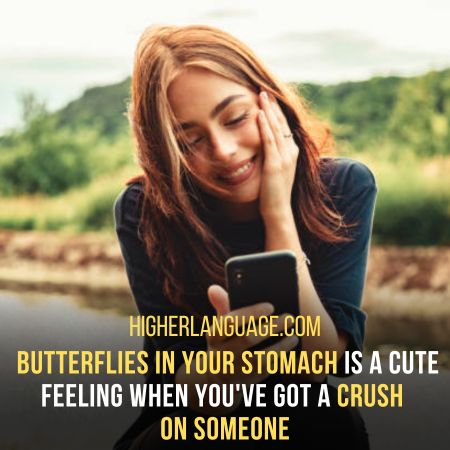 Some might call it head over heels, googly-eyed, or even plain smitten. But, whatever you call it, there's no denying the giddy feeling that comes with it.
You're on cloud nine, and nothing can bring you down. Sure, it's a little corny, but sometimes you just can't help the warm and fuzzy feelings that come with being in love.
So go ahead and embrace those butterflies – they're a sign that something good might just be around the corner.
5. Puppy Love – That Feeling Of First Love:
Remember when you had a crush on someone, and your heart felt like it would burst? Yeah, that's what we call puppy love!
It's real when you like someone. You feel excited and happy like your heart is going to explode. You tell your friends how much you like them.
Looking back, we were such rookies in the game of love. Those feelings of infatuation were nothing short of real.
It's funny how even the small things, like a shared glance or brief touch, would send us into a frenzy. Ah, the simplicity of adolescent love.
6. Ride Or Die – Being Loyal And Committed To One Another:
So you found your ride or die, huh? Congratulations, homie! Nothing is sweeter than finding someone who's always got your back through thick and thin.
Being in love is a trip, bro. It's like you speak your own language on the same wavelength. You finish each other's sentences and anticipate each other's moves.
That's real love, baby. Ride or die type of love. And when you find it, you hang on tight.
Because let's be real, finding someone who's down for you like that ain't easy, playa. So cherish it, embrace it, and ride it 'til the wheels fall off.
7. Snuggle Bunny – Expressing Deep Love And Affection:
When you're in love, it's like your heart has grown bunny ears that just can't stop wiggling with excitement. The feeling is indescribable, but we all know it's real.
You want to snuggle up with your Snuggle Bunny and never let go. Suddenly, the world is brighter, and your heart is overflowing with warm and fuzzy feelings.
You're on cloud nine, head over heels, smitten, and completely lovestruck. It's a beautiful feeling; when you have a Snuggle Bunny to share it with, life feels more complete.
8. Soulmate – Feeling A Unique Connection With Someone Special:
Damn, have you ever met someone and just felt like they were your soulmate? Like, everything just clicks between you two. It's like they just get you in a way no one else ever has.
You start catching feelings, butterflies in your stomach, daydreaming about them, the whole nine yards. It's the most dope feeling ever.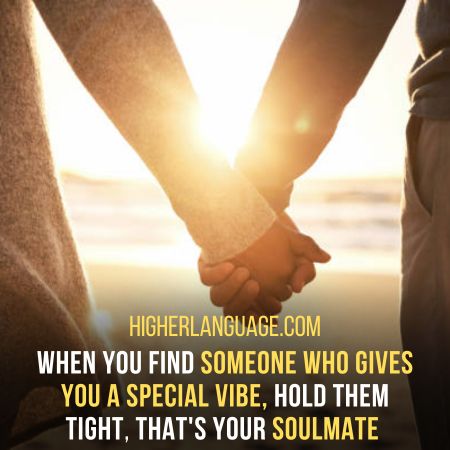 And the crazy thing is, you can't even explain it. It's just a vibe. But when you find someone who gives you that vibe, man, hold onto them tight. That's your soulmate right there.
9. In The Clouds – Being In A State Of Euphoria And Bliss:
When you're in the clouds, it's like nothing else matters. You're on top of the world, living on love and fresh air.
When you really like someone, your heart beats b, and your hand's sweat. That means you are in love! You cannot get away from it.
You're floating on a cloud of euphoria and bliss and never want to come down to earth. So when you find yourself in that sky-high state of mind, enjoy the ride – it's beautiful.
10. Lovebug – Someone Who Is Feeling Deeply In Love And Content:
When the love bug strikes you, keeping it to yourself is impossible. You just want to shout it from the rooftops and tell everyone how you feel. And who could blame you, really?
Being in love is like living on cloud nine, with a constant buzz of happiness and contentment. So go ahead, call yourself a lovesick puppy, a smitten kitten, or any other slang word for being in love.
Embrace the fact that you're feeling deeply and let it shine through in everything you do. After all, love is contagious, and the world could use a bit more of it.
11. Honey Bunny – A Term For Someone You're Smitten With:
"Honey bunny" might sound like something straight out of a cartoon, but it's a term of endearment for that special someone you're head over heels for.
We all have our go-to slang words for being in love, but there's something about calling your significant other a "honey bunny" that makes them feel warm and fuzzy inside.
Whether it's said with a smirk or a shy smile, this playful term is a lighthearted way to show affection for your boo. So embrace the sweetness, and sprinkle some "honey bunny" into your love language.
12. All Heart – When Your Entire Being Is Devoted To Another Person:
When you're all heart for someone, all the other noise fades away, and they become your entire world.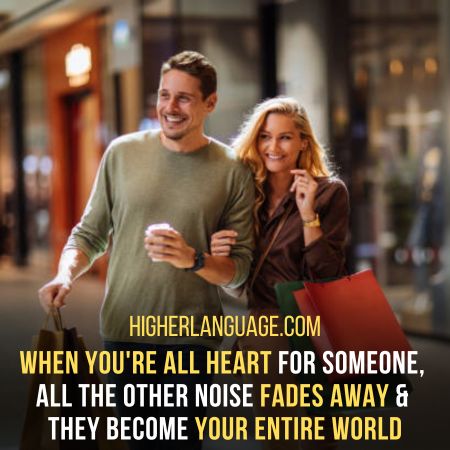 You know what I'm talking about – that feeling where you're head over heels, or as some might say, you're totally obsessed or even lovestruck.
It's like you can't get them out of your head, and your heart beats a little faster when they're around.
It's an amazing feeling, one that makes all the trouble and heartache that often comes with love worth it. When you're all heart for someone, nothing else quite compares.
Conclusion:
Romance often comes with its language, which can be difficult to understand even for the most experienced lovebirds.
We've highlighted some of the most popular slang words for being in love, ranging from snuggled up to ride or die.
Every couple has their secret in-jokes and terms of endearment that make them truly unique, but these provide a solid foundation to express your feelings on Valentine's Day!
Whether you shower your significant other with a giant teddy bear and chocolates or craft an original poem, these phrases will surely make your loved one feel special any day of the year.
So why not take a moment and show your partner just how much they mean to you?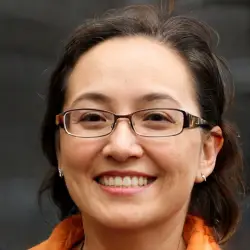 Latest posts by Elizabeth Williams
(see all)