Do you know what the hardest languages to learn are? It depends on your native language or what languages you already speak.
Every language has its difficulties. These are real mind-bending challenges. Down below is a list of some of the hardest languages to learn.
Enjoy, and plan to take on the challenge of learning one of these problematic languages. Go for it!
Top 10 Hardest Languages To Learn
Let us discuss the 10 hardest languages to learn. At the end of the article, you will surely know which hardest language you want to begin with.
1. Mandarin- One Of The Hardest Languages To Learn:
Why is it so hard? It may be the most spoken language globally. Mandarin is a tonal language. You also can have a completely different meaning of a word by changing your tone.
1.5 billion people speak this language. It uses many idioms. They are popular phrases that do not always have a direct translation.
Also, use subtle homophones, which are the words that sound the same but are different in meaning.
Literacy also necessitates the acquisition of thousands of characters. It has four tones and a neutral tone.
The main issue is with the writing system. You will also need to learn Chinese characters if you are serious about the language.
For instance, mai with a falling tone means "sell" (mài卖), but mai with a falling and rising tone means "buy" (măi买).
2. Japanese Language:
There are three different writing systems in the Japanese language. They are: hiragana, katakana, and kanji. Japanese students must first learn thousands of other characters. This is important before they begin writing.
Once you have mastered the writing system, Japanese pronunciation is simple. The grammar is only 'medium'.Much more difficult is Kanji, a character-based system based on Chinese characters. Each has its alphabet. Learning thousands of characters is the need before being able to write.
It is not tonal, and much of the grammar is relatively simple to learn in the grand scheme of things.
Studies show that Japanese is the language that takes time to learn for English speakers. All the characters in Japanese may be unfamiliar to Chinese speakers. They are the Chinese loanwords of fifteenth-century.
Learning Mandarin is always a challenge worth accepting. It gives you access to millions of people you might not have met otherwise.
3. One Of The Hardest Languages To Learn-Hungarian:
Hungary's official language is Hungarian. Hungarian grammar, in essence, is what kills English speakers. It has a total of 26 different cases.
Suffix determines tense and possession rather than word order. This is how most European languages approach the problem.
It may be the most difficult language in the world for an English speaker to learn. For it has a variety of grammar, spelling, and pronunciation reasons.
It has many similarities to Estonian and Finnish. Approximately 13 million people speak Hungarian.
Hungarian is agglutinative. It alters the meaning and grammatical function of a word by using various affixes. You can say primarily suffixes, but also some prefixes and a circumfix.
4. Korean Language:
Korean is another isolated language unrelated to any other language family. Hold on! There are some more features to discuss.
Korean has seven distinct speech levels. Native speakers alternate them depending on the formality. It is, in fact, one of the ideal writing systems ever devised.
You can learn it with in hours, making reading and writing Korean an effortless thing to do. The word order of Korean can be particularly difficult to grasp for speakers of English.
The same goes for some European languages. It has a distinct word order complex grammar. It also has its own alphabets and many other challenges.
5. Arabic Language:
Arabic may appear incomprehensible for a beginner because of its exotic script. It remains as the most challenging language to learn. First, when writing, vowels are not included.Arabs write most Arabic letters in different ways. The Arabic language challenges English speakers. Most letters are in 4 different forms depending on the position in a word.
Arabic grammar is difficult to grasp. Some of the sounds will must practice as well. There are also numerous dialects of Arabic. For example, Egyptian Arabic differs from Arabic speaking in Saudi Arabia.
6. Finnish Language:
Finnish, like Hungarian, is a Finno-Ugric language with extremely complicated grammar. When you think you have figured out how to translate Finnish to English, you will discover new things.
Modern Finnish speakers also have their separate way of expressing emotions. These differ from the traditional translation!
Furthermore, there is what you might call classical or old-fashioned Finnish. Then there is the way that contemporary Finns express themselves. They are different. So, get ready to navigate a grammar maze!
It may appear not easy with its verb conjugation. The same goes for the case system, consonant gradation, and clitics. Yet, the difficulty of the language is heavily dependent on your point of view.
7. The Polish Language:
Polish is a West Slavic language, in the Latin script. People in Poland speak this language. It is the native language of Poles. The complexity of the Polish language has two categories.
First, let us talk about pronunciation. Even saying 'hello' (cze) is a nightmare for new learners. As the 'c' and 's' are different in pronunciation from in English.The other is that the Polish has seven different grammatical cases. The gender affected them. There are seventeen different numbers cases as well.
Yes! There are seventeen different ways to say "ten." After all, it has seven cases! But, at the very least, it employs a familiar alphabet. In fact, it has less sound, particularly for vowels, than English.
8. Is Vietnamese one of The Hardest Languages To Learn?
Vietnamese is an Austroasiatic language. It originates in Vietnam and is the country's national and official language. Over 70 million people speak Vietnamese as their first language.
Tonal languages are difficult for English speakers. That does not mean it is not easy to do. It is just an uphill battle! Vietnamese has more vowels than English.
It also has several dialects that are dissimilar enough to cause problems. Someone traveling in both the north and south of Vietnam can have this difficulty. Learning Vietnamese is neither difficult nor easy.
This is more accurate to describe it as "an easy language" rather than "a difficult language." One aspect of Vietnamese, however, is quite tricky to pronounce.
9. Basque Language:
Linguists believe that Basque is the oldest language of Europe. It is a "pre-Indo-European" language, which evolved during prehistoric times.
Basque is yet another language that bears no resemblance to any other language. It has borrowed some vocabulary from romance languages, so it is not as difficult as Korean.
On the other hand, Basque in the written and spoken form is distinct from that of any different language. Oh, and there are at least five particular dialects to add to the difficulty.
Basque words do not correspond to words in other languages. Learning it will cause memorizing a new vocabulary. A small number of people in the Basque region speak this language.
Navajo is a verb-centered language from North America. This means that descriptions are in the form of verbs. Most English adjectives have no direct translation into Navajo.
It also sounds very different, and there are many sounds in the language. These do not appear at all in English. Their pronunciation particularly is difficult.
The Navajo language is also a phonemic language with unusual consonants in English. It is a three-toned tonal language.
In terms of broad morphological typology, Navajo is difficult to classify. It relies heavily on affixes—mostly prefixes—like agglutinative languages.
When joined in unpredictable, overlapping ways, these affixes make them difficult to segment. This is a feature of fusional languages.
Conclusion:
Several factors contribute to the difficulty and perplexity of learning any language. Learning grammar structure, pronunciation, definitions, and language rules is difficult.
The same is true for any non-native speaker who is learning a new language. Language origins and other factors contribute to how difficult learning will be.
What matters is your ability to learn the fundamental rules and your willingness to do so. On top of that, learning any new language is difficult.
As, so much depends on your native language and its similarity to your target language.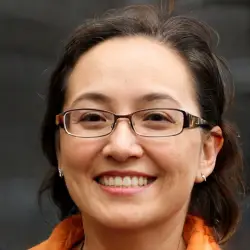 Latest posts by Elizabeth Williams
(see all)