Tennessee has a unique dialect that sounds like a foreign language to outsiders. There are Tennessee slang words and phrases for practically every situation.
Don't expect anyone from Tennessee to say "thank you" the way people say it elsewhere. Instead, they are more likely to say something like "shore do!" to show gratitude.
Tennessee Slang Words And Phrases – 12 Slangs!
Tennessee is known for its unique culture shaped by geographical features, history, and local customs.
From its diverse music and flavorsome cuisine to the art of Tennessee, Tennesseans also have their very own language packed full of slang terms and phrases.
This unique dialect plays an integral role in comprehending the incredible culture within this state!
From "fixin' tuh" to "ain't nuthin' tuh hit a ain't nuthin'," these expressions capture the flavor and lifestyle of traditional Tennessean living while seeking acceptance into the English vocabulary.
Though some sayings may be unfamiliar to outsiders, learning these words can connect one to the unique spirit of Tennessee.
1. Y'all – Means "You All":
Y'all is the catch-all phrase for any situation you encounter in Tennessee.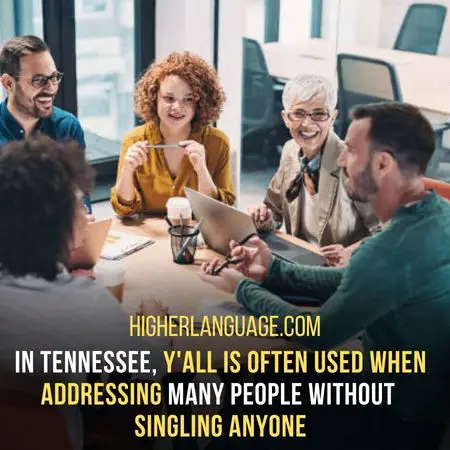 It's a term to use when addressing multiple people without singling anyone out and can be heard all over the state, from chatting with friends on street corners to public addresses at large events.
Y'all is just one example of the many dynamic slang words and phrases unique to the Tennessee dialect.
Other favorites include "fixin' to" (preparing to do something) and "ain't none of yer bizness" (it's none of your business).
With so many colorful words, it adds an interesting texture when chatting with locals in Tennessee!
2. Hot Chicken – Chicken Coated In A Spicy Breading And Fried:
Hot chicken is a Nashville specialty that has become increasingly popular over the last few years.
Made with chicken coated in a spicy breading and fried to perfection, this dish should certainly tingle your taste buds!
It's often served atop white bread with a large pickle slice and doused in special hot sauce.
People in the United States usually call this dish "hot chicken." But people from Tennessee call it "Nashville-style" or "Nashville Hot" because it comes from Nashville.
Whether you like your food mild, medium, or fire-in-the-hole hot, hot chicken is sure to satisfy!
3. Goo Goo Cluster – Candy Made With Marshmallows And Peanuts:
There's no candy quite like the iconic Goo Goo Clusters in Tennessee.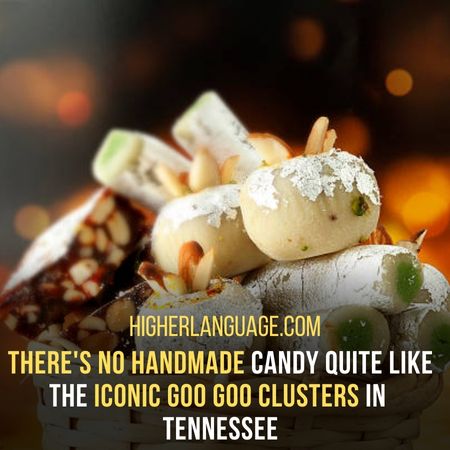 Handmade in Nashville, they combine marshmallows and peanuts, shaped into delightful cluster shapes, and covered with chocolate and taffy.
What truly sets it apart is the southern flair – Tennessee slang words and phrases adorn the colorful packaging, which keeps people coming back for more.
Spectacularly sweet and chewy, every mouthful contains an interesting blend of ingredients that make it impossible to forget. So indulge your taste buds with a Goo Goo Cluster today!
4. Fixin' To – Means "About To" Or "Going To":
Fixin' To is a Tennessee slang phrase about to or going to do something.
The phrase was likely borne from the Tennessee accent, mainly in rural areas, where people have a tendency to drag out vowel sounds and draw out syllables.
This phrase is used in parts of Tennessee, especially in the mid-south region, as part of everyday speech by both young and old.
This classic phrase from Tennessee has been passed down through generations. It is still an important part of Tennessee's cultural identity today, even though it is simple.
5. Yee-Haw! – An Expression Of Excitement Or Joy:
"Yee-Haw!" is a popular Tennessee slang phrase that expresses excitement or joy.
With its long-standing history, the exact origin of this term remains a mystery – with numerous hypotheses existing to explain it.
It's widely accepted that the theatrical roots of the modern-day theatre started in Tennessee carnival tents during the 1800s, with various performance troupes.
This expression has become iconic over the years and continues to be used today as an exclamation of joy or enthusiasm.
"Yee-Haw!" is a tennessee slang word that truly stands the test of time.
6. Bless Your Heart – Expression To Say Something About Someone:
In Tennessee, 'bless your heart' is one of the most popular slang words and phrases. Although this expression may sound nice, it doesn't necessarily mean the speaker means it.
Instead, it's usually used to soften the blow of not-so-nice words or to indicate sarcasm.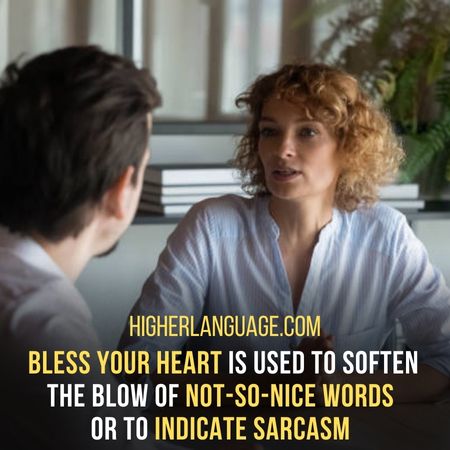 So use caution when someone bestows you with a 'bless your heart' because they may be trying to tiptoe their way around harshly, pointing out something negative about you.
7. I'm Reckoning – This Phrase Is Used When You're Not Sure About Something:
"I'm reckonin'" is a phrase that has been around for quite a while, predominantly used in Tennessee and other states in the South.
This Tennessee slang phrase is often utilized whenever someone isn't sure about something or doesn't know what to do or say.
Rather than answering definitively one way or another, "I'm reckonin'" leaves room for doubt – which can work to our advantage if we want to appear indecisive and keep our options open.
It's a great phrase to become familiar with as Tennessee slang words and phrases continue to be widely used.
8. Backwoods – Undeveloped Place:
If you're ever in Tennessee, you'll hear the phrase "Backwoods" tossed around describing particular areas.
It's one of the slang words and phrases Tennesseans use to refer to rural and undeveloped places away from major metropolitan or heavily populated areas.
Think of visiting a small town off the beaten path that time has seemingly forgotten; this is what locals mean when they talk about a place being backwoods.
So if you find yourself in an area with dirt roads, old barns, and few inhabitants, you can safely say you've arrived in the backwoods!
9. Hog Wild – If Someone Is Hog Wild About Something, They Are Excited About It:
Tennessee slang has several words and phrases to express enthusiasm and excitement. "Hog Wild" is one such phrase that describes someone eager or excited about something.
It implies a level of wildness or abandons that encourages people to act out of the ordinary due to their strong excitement.
The phrase originated in Southern Tennessee but is now commonly used in other regions across the United States and worldwide.
Regardless, it remains a fun phrase for expressing unparalleled enthusiasm or obsession over someone or something.
10. Tennessee Squire – An Honorary Title:
A Tennessee Squire is a title of prestige bestowed upon those who make meaningful contributions to their state.
To earn the distinction of being a Tennessee Squire, one must demonstrate exceptional leadership, initiative, and hard work that positively impacts their community.
As esteemed members of this select group, they are widely celebrated and greatly admired by their acquaintances.
They even have Tennessee-specific titles bestowed upon them, like "Tennessee Rumbler" or "Knoxville Kingpin". So it's no wonder why they're beloved!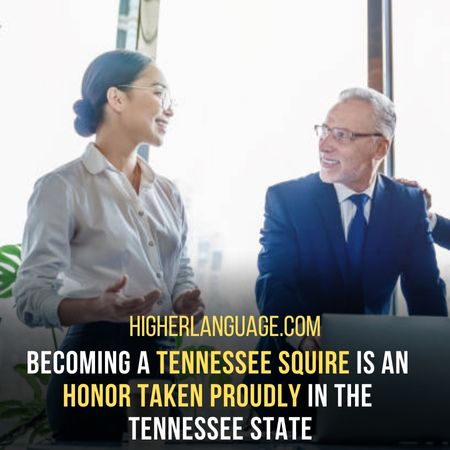 Becoming a Tennessee Squire is an honor and privilege taken seriously in the Volunteer State.
11. Bigfoot – Something You Can't Easily Explain Or Find:
Bigfoot is a popular term for describing things difficult to explain or locate. This phrase is often used humorously to indicate someone who has made an unexpected or random appearance.
This term originated from Tennessee slang words and phrases, although its exact origins are uncertain.
Over the last few decades, as far back as mid 20th century, this phrase has been printed in books, music, and media like newspapers and magazines of Appalachia.
It seems that it is a popular saying amongst locals, which Appalachian residents coined. Today, it still serves as both an amusing way to describe strange happenings and a tool for difficult conversations.
12. Blessed Are The Meek – Means "God Blesses Those Who Are Humble And Gentle In Spirit":
In Tennessee, "Blessed are the meek" refers to those who maintain a peaceful and humble attitude even in trying times.
By embodying kindness and tolerating adversity, we often show our true strength.
This phrase reminds us that, no matter what life throws our way, if we stay true to our moral character, God will bless us, and we'll be able to live with peace of mind.
Being meek doesn't mean weakness; it's a sign of strength and courage in standing up for oneself while also respecting the rights of others. It's important not just to say these words but also to embody them.
Conclusion:
Tennessee slang is an important part of the state's identity. Its phrases and words give locals a way to express themselves, reflecting their culture and history.
Nevertheless, comprehending Tennessee slang may prove difficult for people who aren't natives of the state.
If you're from out-of-state and want to blend in with Tennesseans by mastering their terminology, you must try to diversify your vocabulary.
Knowing Tennessee slang will make any visit or residency more enjoyable for everyone involved!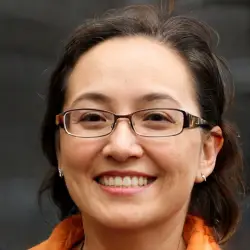 Latest posts by Elizabeth Williams
(see all)