Slang words for womanizer are used to describe someone promiscuous with women. These will show your knowledge of the terminologies.
In this article, you'll learn about the commonly used slang words for womanizer. You can use these in public when referring to a womanizer.
Slang Words For Womanizer
A womanizer engages in the practice of having many sexual relationships simultaneously.
It's a derogatory term, but some people use it to describe themselves or their partners. Womanizers don't have malicious intentions.
They can cause hurt feelings and emotional turmoil for those involved.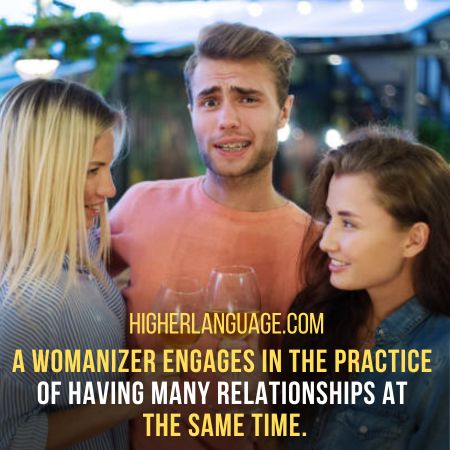 When it comes to describing someone who is a womanizer, there are many slang terms often used.
Below, we'll look at some of the most common to help you understand their meanings and usage.
1. Player:
The term "player" is another word used to describe someone who tends to date, multiple women.
This person is known for their charm, charisma, and seduction skills. They are usually quite attractive and adept at getting the attention of the opposite sex.
They often play the game of love with no intention of settling down. Some consider them to be unrepentant womanizers.
2. Ladies' Man:
A "ladies' man" describes someone who loves interacting with and dating multiple women.
This type of man has abundant charm, charisma, and good looks. It makes them quite attractive in the eyes of many.
They have a reputation for being a smooth talker and a player. They often leave behind a wake of broken hearts in their search for love.
3. Philanderer:
There are many slang words for womanizer. They can be used in different places when referring to a womanizer.
This term is used to describe someone who engages with many women.
This slang word describes someone who has superficial relationships with a woman.
4. Charmer:
The term "charmer" describes someone with an irresistible ability to attract women with good looks and smooth talking.
This type of person is confident to pursue any attractive woman without hesitation.
They often have a natural charm that can make them irresistible in the eyes of many. They are also known for having quite an ego and a penchant for getting into trouble.
5. Casanova:
The term "Casanova" describes someone considered a master of seducing women.
This type of person is often known for their good looks and charming personality. They can sweep women off their feet.
They have a reputation for being flirtatious. They enjoy different women's company at once. They may be considered attractive by some.
This type of person is typically seen as irresponsible and unreliable regarding relationships.
6. Romeo:
The term "Romeo" is often used to describe someone quite romantic. This person typically has a natural gift for wooing and seducing the opposite sex.
They often have quite a poetic way of expressing their feelings. They have an unshakeable faith in true love that can make them both endearing and infuriating.
This type of person is often considered quite romantic. They are known for being unreliable when staying committed in relationships.
7. Lothario:
The term "Lothario" describes someone with an eye for romantic conquests. They often have numerous affairs with different partners.
This type of person tends to be bold and daring in pursuing love and engaging in risky behavior. It includes such as cheating on significant others.
They have an unquenchable thirst for romantic adventure. They are often willing to go to extreme lengths to keep the flame alive.
This type of person may appear exciting and passionate. These men often lack the emotional depth necessary for true intimacy.
8. Don Juan:
The term "Don Juan" describes someone who is a master of seduction and manipulation.
This type of person is typically known for their ability to use flattery and charm to win the hearts of many women.
They often make grandiose promises that they can rarely keep. Their relationships are usually short-lived.
They may captivate many people with their wit and smooth talk. They usually need more capability to form meaningful connections.
9. Love Rat:
"Love rat" is a commonly used slang word for womanizer. A love rat is someone who cheats on their partner.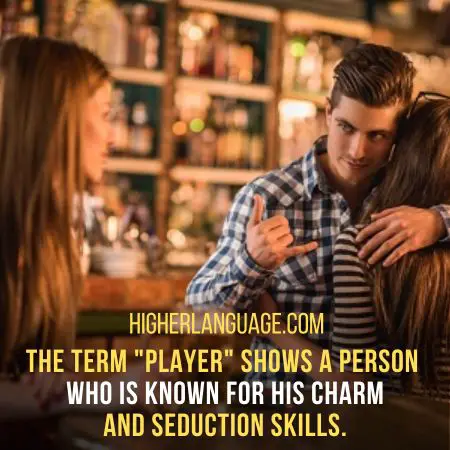 It describes someone who has multiple relationships going at once. They can also be referred to as "heartbreakers".
10. Heartbreaker:
Heartbreaker is another used slang word to describe womanizer.
A heartbreaker is an individual who intentionally causes emotional pain in women.
It helps them to get what they want from women. This kind of person often leaves a trail of broken hearts behind them.
11. Slick Operator:
A slick operator uses charm and charisma to manipulate women into giving them what they want.
This is also used among people to describe a womanizer. They are often viewed as untrustworthy and manipulative.
All these slang terms have similar connotations. It is important to understand their meanings and implications before using them.
For example, a "player" is someone who dates many women. A "Lothario" suggests someone who manipulates and takes advantage of women.
Ways To Deal With A Womanizer
When it comes to dealing with a womanizer, there are some important things you should know.
It isn't easy to handle the situation as these people often have a certain charm and charisma. It makes them attractive but also dangerous.
Here are some tips on how to deal with someone who is exhibiting this type of behavior.
1. Establish Boundaries:
The first and most important thing you can do is to establish boundaries. Ensure they know their behavior is unacceptable and will not be tolerated.
This includes setting limits on communication, interactions, and physical contact.
Don't hesitate to speak up if someone crosses the line or makes you uncomfortable. Assert yourself so they can avoid flirting with you.
2. Be Confident:
It's important to be confident when dealing with a womanizer. Present yourself as someone who is sure of themselves and will not put up with any disrespectful behavior.
Being confident can help you stand your ground in uncomfortable situations. Try to show the person that their advances are unwanted.
3. Avoid Giving Mixed Signals:
Another thing you can do is to be careful about giving mixed signals.
If someone is flirting with you, ensure they know you are not interested in anything more than a platonic relationship.
It's important to be clear about your intentions. In that way, the person does not get confused and continues their behavior.
4. Seek Professional Help:
If the situation becomes too difficult, seeking professional help is best. Talking to a counselor or therapist can be beneficial.
They will help in helping you deal with the situation and move forward. It can also help you better understand the person you are dealing with and their motivations.
5. Have An Open Conversation:
Having an open conversation with the womanizer about their behavior is important.
While it might be difficult initially, addressing the situation head-on is important.
That way, they will know how you feel and why it is inappropriate. Be sure to do this respectfully and be assertive about your stance and what you expect from them.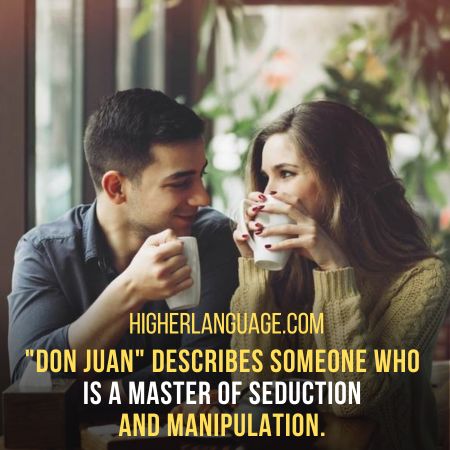 By following these tips, you can deal with someone who exhibits womanizing behavior.
Remember to stay confident and assertive, and don't let anyone take advantage of you!
With the right approach, you can maintain a healthy relationship with this person while respecting your boundaries.
Conclusion:
Remember that all have negative connotations, no matter which term you choose to describe a womanizer.
These terms should be used with caution. Using these terms can quickly become offensive, so avoiding them in most contexts is best.
If you use any slang words for womanizer, ensure you understand the implications.
We can better recognize womanizers by understanding the true meanings behind these terms.
Using these words, you can address womanizers in our society. Only by doing so can we truly work towards creating a safer and more equitable world for everyone.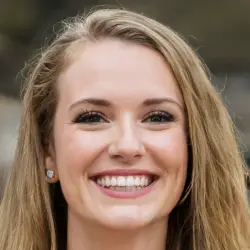 Latest posts by Sylvia Simpson
(see all)