Slang words for sneakers have gained popularity in recent years. They have been used all around the world for common conversations about sneakers.
This article will help you to learn basic slang words for sneakers. There are various funny slang words for sneakers to make conversation fun.
Slang Words For Sneakers
Sneakers have long been an essential part of fashion and culture. They are a great way to make a statement without saying a word.
Due to their popularity, there is no shortage of slang words for sneakers. From "kicks" to "creps," here are some of the most popular slang terms for sneakers:
1. Kicks:
This is the most widely used slang term for sneakers. It can be used in many different contexts.
It refers to any sneaker, from classic high tops to sleek running shoes. Kicks are the ultimate fashion statement.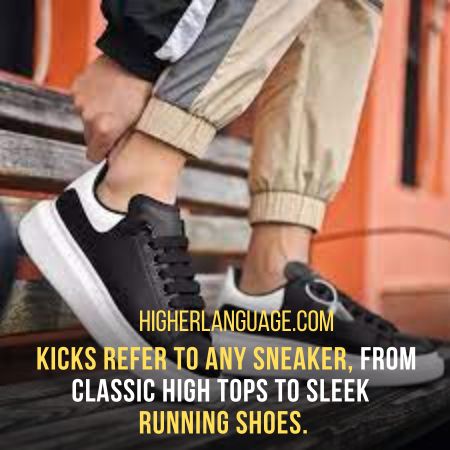 They come in all shapes, sizes, and colors to fit every personality and style. Having a great pair of kicks is sure to turn heads.
They look great and can also be comfortable and support any activities you may be doing. You'll have plenty to choose from with so many options out there.
2. Creps:
A variation on "kicks" that originated in the UK. Creps are slang words for sneakers, and they can mean a lot of different kinds of shoes.
From your classic Converse to the latest Nike designs, you can call it creps if it's got laces. It doesn't matter what kind or style of sneaker you have.
If you love wearing them, you know how special creps can be. They look cool and provide comfort and protection when walking around.
So next time you're looking for a new pair of shoes, check out the latest creps to hit the streets.
3. Skids:
Skid is an abbreviation of "skidder sneakers". It is a term used to describe the trend of wearing oversized sneakers.
Skids are slang words for sneakers. They're a great way to show off your style. Skids come in all shapes and sizes.
They range from high-tops to low-tops and can be used as part of an outfit to complete any look.
With so many options, finding the perfect pair of skids that fits your look is easy. So get out there and grab some new kicks today.
4. Jays:
This term is an abbreviation of "Air Jordans", referring to any sneaker made by the popular Nike brand. Jays have become a staple of street-style sneakers.
The term "Jay" was first used by the youth culture of New York City. It was used to refer to sneakers and has since spread across the country.
Fashion lovers are seen pairing their Jays with whatever outfit they decide on for the day. These shoes are fashionable.
They are comfortable enough for everyday use. So when you want to look your best and feel good, you can't go wrong with a pair of Jays.
5. Heat:
This is another way of referring to sneakers. Sneakers that are in style or desirable due to their design or limited edition release.
Regarding the sneaker culture, there are plenty of slang words to get familiar with.
Heat is often used when referring to sneakers that many people want and desire.
It could be an exclusive drop from a popular brand or a highly sought-after style. Either way, they're considered "heat."
This term isn't only used in the sneaker community; many fashion enthusiasts also use it.
So if you hear someone talking about getting their hands on some heat, chances are they mean shoes.
6. Biscuits:
Biscuits is a slang term for sneakers that has existed since the 1990s. It refers to any sneaker, from retro Air Jordans to new high-tech running shoes.
The origin of the term is unclear. Some believe it derives from the idea that sneakers look like round biscuits.
Whatever its roots, biscuits are a popular and widely used slang word for sneakers today.
If you hear someone talking about pair of biscuits, they're referring to the newest shoes.
7. Reseller:
The term "reseller" is a slang word for sneakers. It describes someone who buys, sells, and trades shoes for profit.
Reselling sneakers has become popular in the last few years as it can be very profitable. Both supply and demand drive the reseller market.
Certain limited-edition or hard-to-get shoes tend to fetch higher prices. One must have an eye for trends to make money from sneaker resale.
You must be able to spot potential investments before anyone else does. Many websites offer insider knowledge about upcoming releases.
These help resellers stay ahead of the game.
8. Runners:
Runners are slang words for sneakers, and they have been around for a long time. They've become a daily language for many young or old people.
Runners have been a part of our culture for decades. Runners can be used in any situation, from casual to formal affairs.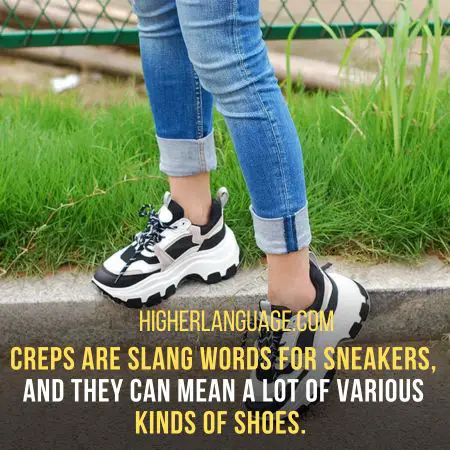 Make sure your soles are fresh if you're headed somewhere special.
With so many styles, finding the perfect pair of sneakers to fit your style is easy. So don't hesitate – grab some runners today and show off your swag.
9. Shoothing:
Shoothing is a slang term for sneakers, referring to any shoe. It's used by many people worldwide and has been popular since at least the early 2000s.
Shoothing is often used interchangeably with "kicks" or "creps." Shoothing can describe any pair of shoes, from athletic trainers to designer heels.
No matter your style preference, you can find shoothing that will fit your needs.
Whether you're into high or low tops, there's a shoothing option for everyone to enjoy.
Get ready to take on the streets in style with some stylish shootings.
10. Silhouette:
If you're into sneakers, you'll know the term 'silhouette.' It's a slang word for any sneaker, regardless of style or brand.
Whether it's a pair of high-tops or low-tops, runners or trainers – if it's a shoe with laces, it's a silhouette.
The silhouette is an iconic look that has existed since the dawn of the sneaker age. Its popularity continues to this day.
Everyone from Kanye West to Pharrell Williams has incorporated silhouettes into their collections.
So grab some statement silhouettes and add serious swag to your wardrobe.
11. Uppies:
Uppies have become one of the go-to slang words for sneakers in recent years. This can be attributed to their widespread popularity and versatility.
Uppies has worn by people of all ages and styles. Uppies come in various colors, designs, and materials.
It makes them perfect for any occasion. Whether you're hitting a party or chilling on the weekend, there's likely an uppy perfect for your outfit.
Uppies are also comfortable. It allows you to rock them all day without feeling weighed down or restricted.
So if you want to keep up with the latest trends while maintaining comfort, get some Uppies. They may just become your new favorite footwear.
12. Wookies:
Wookies are slang words used to describe sneakers. This term originated from the word "stylish", as Wookies have a unique and sleek style.
The term is primarily used in the urban culture and fashion industry but can also pop up elsewhere.
Whether you're a sneakerhead or just someone looking for an edgy new look, Wookies can provide that and more.
With their distinct aesthetic, they are sure to make any outfit stand out. Get your pair of Wookies today.
You won't regret it when you step out in such stylish shoes.
A great pair of sneakers will always be essential to fashion and culture. Check out your favorite stores for the latest trends and hottest kicks.
13. Sneakerhead:
If you're a fan of all things sneakers, you know what it means to be a sneakerhead.
This slang term is used for anyone with an intense passion and knowledge of sneakers.
The person who often collects them as a hobby. Sneakerheads can recognize the various brands, models, and styles just by looking.
They don't need any labels or descriptions. They also keep up with the latest trends in sneaker culture, so they never miss out on any must-have kicks.
Being a sneakerhead isn't about collecting shoes. It's about having a keen eye for detail and style.
If you've got an impressive collection of sneakers, you can consider yourself a proud sneakerhead.
Funny Slang Words For Sneakers
Sneakers have their language filled with some funny slang words! We all know the basics kicks, creps, and heat. But there are some other funny slang words for sneakers. Here are a few of them:
1. Chukkas: This term is derived from a type of boot called "chukka boots". Naturally, it was adopted to mean any short-cut sneaker.
2. Foamposites: It gets its name from the foam material used in the shoe's upper part.
3. Waffles: This refers to the sneakers having a construction of crisscross lines on the bottom. They are often referred to as waffles.
4. Whips: Used to refer to expensive and luxury sneakers. This term is also used to describe exclusive and high-end sneakers.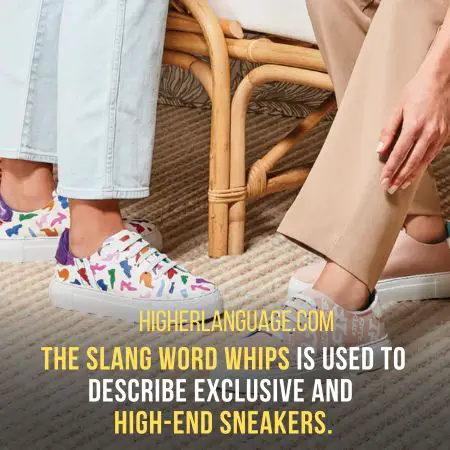 5. Chuckers: This term is an inside joke amongst sneaker enthusiasts. It refers specifically to Nike's Air Jordan 1 shoe. Now it can be used for any shoe you chuck (or throw) at someone else.
6. Shell Toes: This refers to the Adidas Superstars with its iconic rubber shell toe design on the front of the shoe.
7. Fire: This term describes any sneaker that looks good enough to be considered "on fire" or a hot commodity.
So the next time you talk about your favorite sneakers, you can use these funny slang words for sneakers.
Conclusion:
Sneakers have been one of the most popular fashion items for decades. This leads to the creation of a whole language around them.
Due to this, slang words for sneakers have been introduced in the English language.
Understanding the terminology will help you get in on all the conversations, whether you're a true sneakerhead or new to the scene.
So if you want to know what people mean when they say their kicks are "fresh," make sure you brush up on your sneaker slang.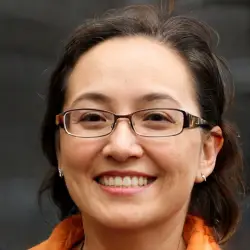 Latest posts by Elizabeth Williams
(see all)