Knowing the commonly used slang words for retirement can help you formally discuss it. There are various words available in English vocabulary.
In this article, you'll learn about the retirement slang words. These can help you when talking to a person about their retirement.
Slang Words For Retirement
Retirement is a time of freedom, relaxation, and opportunity. To get the most out of your golden years, it helps to understand some common slang words for retirement.
This guide will explain some expressions and how they relate to retirement.
1. Retiree:
A retiree is a person who has stopped working and is now living in retirement.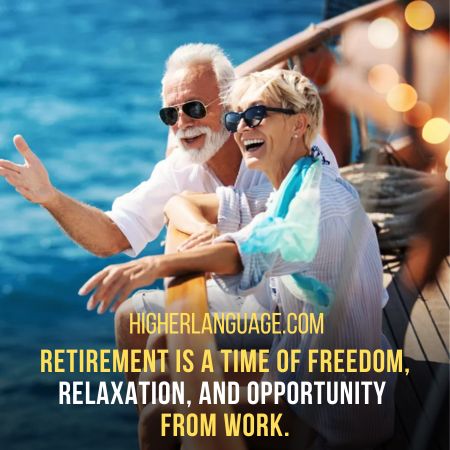 This term refers to any retired individual, regardless of how long they have been retired or their current lifestyle.
2. Pension:
Pension is a regular payment. An employer or government agency makes it to someone who has retired. This payment is made every month.
It can be used to supplement any other retirement income or investment.
3. Windfall:
A windfall is a sudden or unexpected large amount of money. It can be earned in retirement, like an inheritance or lottery winnings.
This money can increase investment income and pay for travel expenses. It provides for a comfortable lifestyle during retirement.
4. Bucket List:
A bucket list is a list of things you want to do before retiring. It can include travel, hobbies, or activities. It also includes other experiences that are important to you.
The idea is to make the most of your retirement years by doing what you have always wanted.
5. Cushion:
Cushion is a financial term used to describe the extra money. It is the money that someone has saved up for retirement. This cushion can be used for unexpected expenses.
It can be used to supplement other types of retirement income. Having a cushion is important to maintain a comfortable lifestyle during retirement.
6. Retired AF:
This funny expression is used to describe someone who is happily retired. The person is enjoying a life of leisure.
It conveys that they are taking full advantage of their newfound freedom. They are embracing retirement with all its perks.
7. Gramps/Granny Life:
Younger generations opt for some adorable nicknames as a slang word for retirement. This phrase has become especially popular on social media.
It is for a growing number of senior citizens to join the online world and share their adventures with the world.
8. Nest Egg:
A nest egg is an accumulation of savings and investments. These are set aside for use during retirement.
This money can be used to pay for living expenses, medical bills, or other costs that arise in retirement.
Having a nest egg is important to maintain financial security during retirement years.
9. Freedom 55:
The term "Freedom 55" refers to retiring by age 55 to enjoy life without having to work. This concept has become more popular in recent years.
People strive to take advantage of the benefits of early retirement. Freedom 55 describes the goal of financial freedom and independence during retirement.
10. Third Act:
The third act refers to the period after retirement when one can pursue other activities. It includes volunteering, spending time with family, or traveling.
This period is seen as a new beginning that offers the freedom to explore. Through these, they can pursue passions without the constraints of a career.
The third act can be a liberating time for retirees looking to make the most of their golden years.
11. Last Hurrah:
The term "Last Hurrah" describes the period before retirement when one can take a break and enjoy life. They don't have to worry about work.
This is used as an opportunity to travel and spend time with family. They can use this to pursue other activities that may not have been possible while working.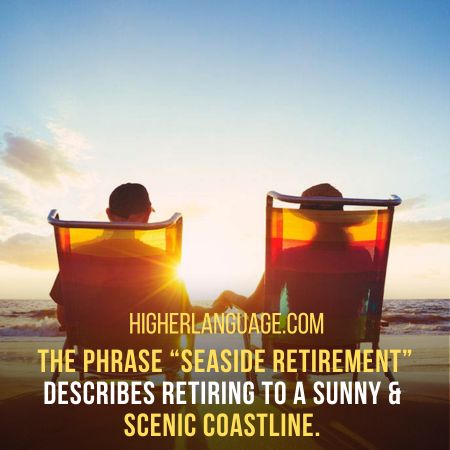 The last hurrah is a chance for retirees to make lasting memories before settling into their retirement years.
12. Seaside Retirement:
The phrase "Seaside Retirement" describes retiring to a sunny and scenic coastline.
This is a popular choice for retirees who want to enjoy the benefits of warm weather and beautiful views. A seaside retirement can be a great way to enjoy freedom and relaxation.
13. Graying Out:
The term "graying out" describes slowly transitioning into retirement. This involves reducing responsibilities and workloads before fully retiring.
It allows one to become accustomed to a life without working. Graying out can be seen as a way to ease into retirement by slowly preparing for the lifestyle change.
14. Golden Years:
The phrase "Golden Years" is used to describe retirement in general. This expression recognizes all that comes with retirement.
It includes increased freedom and leisure activities to spending time with loved ones. The golden years are seen as a well-deserved break from the hustle and bustle of everyday life.
It allows retirees to make the most out of their newfound freedom.
15. Retirement Nest Egg:
"Retirement Nest Egg" describes the savings one accumulates when preparing for retirement. This includes 401Ks, IRAs, investments, and other savings accounts.
They are used to ensure financial security during retirement. Preparing a retirement nest egg is essential for maintaining the lifestyle one had before retiring.
16. Retirement:
The term "Retirement" is an interesting twist on the word retirement. It implies that retirement is more than not working. It's a time for exploration, discovery, and meaningful experiences.
Retirement is used to celebrate the many opportunities of being retired, from taking up a new hobby or traveling the world.
17. Senior Citizen:
The phrase "Senior Citizen" is often used as a respectful way of referring to retired people. It implies that retirees are still an active member of society despite their age.
Senior citizens are wise and experienced individuals. They can offer invaluable advice about life and making the most of it.
18. Retirement Planning:
The phrase "Retirement Planning" describes the process of preparing for retirement. This includes setting financial goals, creating a budget, and determining an optimal retirement age.
It helps to make sure one's finances are in order. Retirement planning is important for having a worry-free retirement.
Places To Celebrate Your Retirement with Family
Retirement is a time for celebration and new beginnings.
Whether it's a destination getaway or a relaxing staycation, spending these special moments with your loved ones can be incredibly rewarding.
Here are some of our favorite places to enjoy retirement with family:
1. Beach Vacation:
A beach vacation is the perfect way to celebrate retirement with your family.
From stretches of sand to beach towns, there are plenty of options for finding that perfect spot.
Spend your days lounging in the sun or walking along the shoreline. Try to explore local sights and attractions.
This getaway can be a great opportunity to reconnect with loved ones in a peaceful setting.
2. Mountain Retreat:
For those looking to escape the hustle and bustle, a mountain retreat can be an ideal way to celebrate retirement with family.
From cozy cabins in the woods to glamping spots with spectacular views, there are many options for making your mountain getaway special. Spend your time exploring nearby trails.
Try to relax in the great outdoors and admire the stunning scenery.
3. Cultural Cities:
For an adventure-filled way to celebrate retirement with your family, exploring a cultural city could be what you need.
Visit vibrant cities around the world and soak up their unique cultures. Spend your days taking in the local art and music.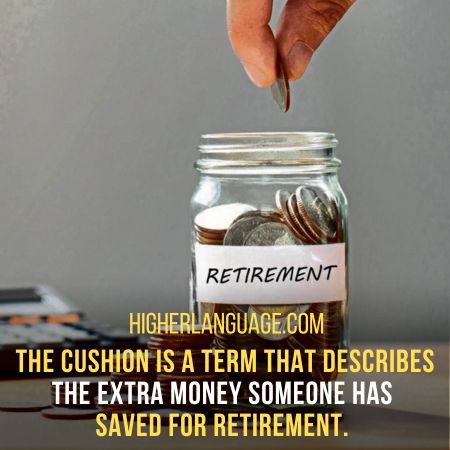 Tour historic sites and enjoy delicious cuisine. Whatever city you choose, you'll surely have an unforgettable experience.
No matter how you celebrate retirement with your family, these moments will last a lifetime.
You'll surely have an amazing time at the beach or in the mountains. You'll make lasting memories together. Enjoy every moment and savor the experience of this special occasion.
Conclusion:
Retirement planning is critical to preparing for a comfortable future.
It would help to consider your income needs, lifestyle goals, and investment choices when deciding how much money you need to save for retirement.
It's never too early to start planning for retirement. The earlier you begin, the more time you have to save and invest in your future.
With careful research, you can better choose how to manage your retirement.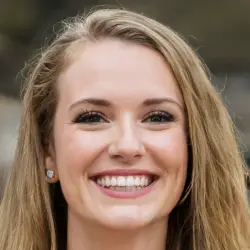 Latest posts by Sylvia Simpson
(see all)