Slang words for psycho describe a person with mental health issues. These terms vary greatly depending on the context.
In this article, you'll learn about the common slang words for psycho. You can use these words when referring to a psycho person in public.
Slang Words For Psycho
Psycho is a term used throughout the years to describe someone who exhibits erratic or dangerous behavior.
It can be used as an insult, but it can also be used more seriously to describe those with mental health issues.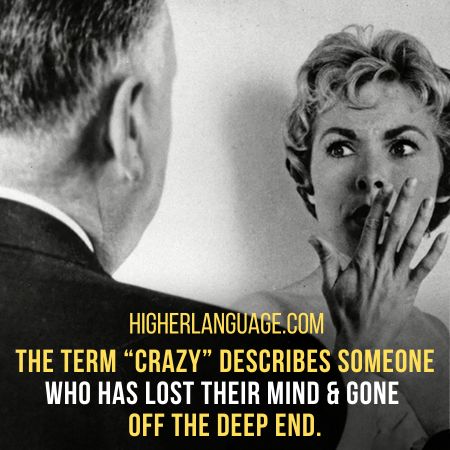 When talking about psychos, it is important to know the slang words that are commonly used.
Here, we will look at some of the most popular psycho slang and what they mean. It will help you to understand better conversations related to this topic.
1. Psycho or Psychopath:
The term "psychopath" is also used to describe someone mentally unstable.
In general, a psychopath will have aggressive and unpredictable behavior. This can be dangerous to those around them.
This term should not be taken lightly. It carries implications of extreme mental instability.
2. Loony bin/Nut House:
The terms "loony bin" and "nut house" refer to a mental health institution, such as an asylum. This slang term is often used humorously.
It carries connotations of someone who is mentally ill and has been institutionalized.
3. Mental Case:
Slang words for psycho help to point back to a mental health issue that someone may be struggling with.
The term 'mental case' refers to someone with a mental illness. That person may be dangerous or unpredictable.
This term can also be used in a joking way.
4. Wacko or Loony:
The terms "wacko" and "loony" are typically used to describe someone who is not quite right in the head.
This slang term is usually used sarcastically or humorously. It implies that someone is strange or out of touch with reality.
5. Wild Card:
The term "wild card" refers to someone unpredictable and hard to contain. A wild card is considered mentally unstable.
They often act recklessly without considering the consequences of their actions. This term should be used carefully.
It could imply that someone is mentally unstable or dangerous.
6. Nuts or Cuckoo:
The terms "nuts" and "cuckoo" are one of the slang words for psycho. Both of them usually have humorous connotations.
These phrases typically describe someone acting silly or out of character.
While these terms may be used lightly, they can also have serious implications if taken incorrectly.
7. Crazy or Insane:
The terms "crazy" and "insane" are two other slang words for psycho that are often used jokingly.
However, these terms should not be taken lightly. They imply mental instability or illness.
It is important to be aware of how others may interpret these words. These should be used carefully to avoid offense or hurt feelings.
8. Loco:
One widely used phrase is "loco", which means crazy or insane. This phrase has Spanish origins.
It can be used as an insult, but it can also be a way to express sympathy for someone who may suffer from a mental illness.
9. Nutjob:
The term 'nutjob' is another slang word for psycho that can be used in serious and humorous contexts.
It refers to a person with mental issues, and it can also refer to someone who behaves eccentrically.
10. Crackpot:
Another phrase that is often used is "crackpot". It refers to someone who has a lot of strange ideas or behavior.
This phrase can also be used more seriously and refer to those with mental health issues.
11. Madman/Madwoman:
The term 'madman' or 'madwoman' is one of the many slang words for psycho.
They describe someone with a mental disorder who may be prone to violent outbursts. This term can also be used humorously.
12. Loony Bin:
Another term commonly used for those with mental illness is "loony bin".
It refers to an institution or facility where the mentally ill are housed.
This phrase is generally used in a derogatory way and might evoke feelings of fear or pity in those who hear it.
13. Head Case:
One of the slang words for psycho is "head case". It is commonly used to describe someone who may have mental health issues.
This phrase suggests instability or irrational behavior. This term can be seen as an insult.
Using these slang words for psycho conveys a dismissive or derogatory attitude towards the individual in question.
It is important to remember that these terms are often used as insults and have little to no basis in reality.
Therefore, they should be avoided when possible. It's best to discuss mental health in a respectful and informed manner.
Symptoms Of A Psycho
Psycho is an umbrella term for a person suffering from mental illness.
These individuals show emotional instability, dissociative behavior, and erratic thoughts and actions.
It's important to recognize the signs of psycho so that proper treatment can be sought.
1. Emotional Instability:
One sign of psycho is emotional instability. These individuals may experience sudden outbursts of anger or sadness.
They are not able to explain why. They may become agitated, and their moods can change dramatically from one moment to the next.
2. Dissociative Behavior:
Another common sign of psycho is dissociative behavior. This includes an inability to remember important information.
They have felt disconnected from reality and have altered perceptions of time. They may also suffer from paranoia or delusions.
These can further impair their ability to interact with others meaningfully.
3. Erratic Thoughts And Actions:
The thoughts and actions of a psycho individual may be unpredictable.
The person may engage in impulsive behavior and have difficulty controlling their emotions.
In some cases, they may even act in ways that are considered dangerous or irresponsible.
It's important to be aware of these signs and seek professional help if you notice them in a loved one.
Early diagnosis and treatment can make a big difference in the lives of those struggling with psycho issues.
With proper care and support, individuals can often lead more fulfilling lives.
Strategies For Dealing With A Psycho
No one wants to deal with a psycho, but sometimes it's necessary.
You can use certain strategies to protect yourself when faced with this situation.
1. Prepare Your Mindset:
The first step in dealing with a psycho is to prepare your mindset for the encounter.
Remind yourself that you control your emotions and reactions. Take a few deep breaths to help relax.
It's important to stay calm and level-headed during this situation. Any emotional outburst can escalate things quickly.
2. Enforce Your Boundaries:
When dealing with someone exhibiting psychoses, it's important to set boundaries.
Speak clearly and firmly about acceptable behavior for the person. Let them know that any aggression or inappropriate language will not be tolerated.
If they become hostile or uncooperative, end the conversation and distance yourself from the situation.
3. Seek Professional Help:
If you feel the situation is getting out of hand, seeking professional help is important.
A trained mental health expert can provide proper guidance for both parties involved.
Remember that psychosis can be treated, so seeking treatment immediately is a good idea.
4. Keep Yourself Informed:
It's also a good idea to do some research on psychoses. In that way, you can better understand the person's condition.
Knowing more about psychoses and their symptoms helps to better empathize with the person.
You can be prepared for any potential outbursts or difficult conversations.
Staying informed on available treatment options may be beneficial in helping the person to seek professional help if needed.
5. Build a Support System:
Another important step when dealing with a psycho is to build a support system.
Having people around you who can provide emotional support can be beneficial. This will help to manage the situation.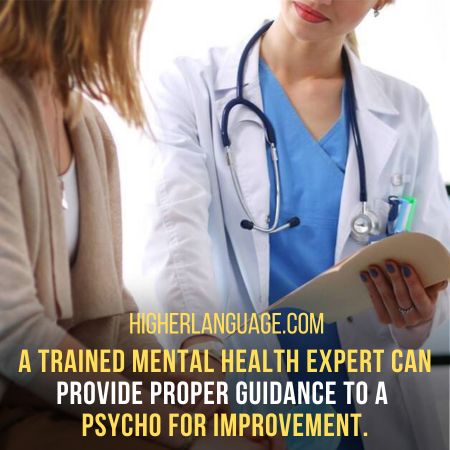 Having someone who can talk through any issues or concerns can help you stay calm and grounded during the experience.
Taking these proactive steps can prepare you to handle a psycho.
It's important to remain patient and firm when dealing with someone exhibiting psychoses. This will help protect both parties involved.
Taking these steps can ensure that everyone stays safe in the situation.
Conclusion:
Slang words for psycho are often used without much thought. It is important to consider how others may interpret these terms.
Some slang terms have humorous connotations. Some terms may imply mental illness or dangerous behavior.
Careful consideration should be taken when using these terms. This will help to ensure that no offense or distress is caused.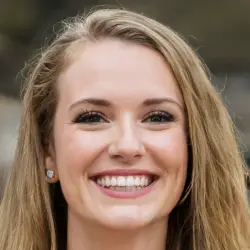 Latest posts by Sylvia Simpson
(see all)