Makeup has become an integral part of a modern woman's daily life. There are various slang words for makeup when referring to makeup.
In this article, you'll learn the slang words for makeup. Knowing these words can make you understand the makeup world better.
Slang Words For Makeup
Many people are not familiar with the language of makeup and beauty. There is a whole world of slang words for makeup.
These can be used to talk about different products and trends in cosmetics.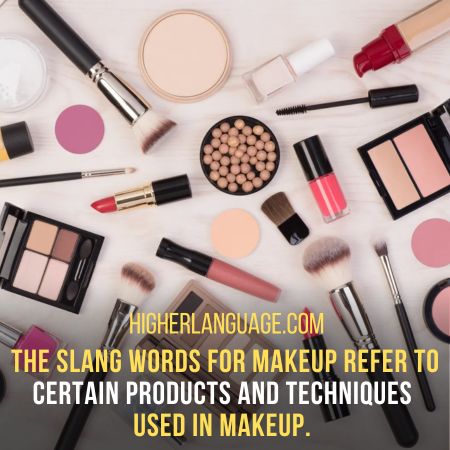 Here's a look at some of the most commonly used slang terms regarding makeup.
1. Highlighting:
The term "highlighting" is very popular in cosmetics. When you highlight, you use lighter makeup to bring attention to certain areas of your face.
You can also contour with a darker shade of makeup, which helps to define your facial features.
2. Baking:
Baking is a term often used by beauty enthusiasts. It is used to refer to letting powder makeup sit on your face for several minutes.
This helps to create an extra smooth and long-lasting finish. It allows the heat from your skin to set the product better.
3. Strobing:
Strobing is one of the slang words for makeup. Strobing is used to describe a makeup look that uses lots of shimmer.
This technique involves applying a highlighter on areas of the face where the light hits. You can apply it on the cheekbones, bridge of the nose, and cupid's bow.
4. Cut Crease:
The cut crease look is very popular amongst makeup enthusiasts. This is one of the slang words for makeup.
This technique involves applying a darker shade of eyeshadow in the crease.
Then using a lighter shade to create an angled line, or "cut", above it. This creates a more dramatic look that can be worn day or night.
5. Smokey Eye:
The smokey eye is used to describe a makeup look created using darker shades of eyeshadow.
Depending on the shades used, this technique can range from a subtle and light smokey eye to a bold and dramatic one.
6. Winging It:
"Winging it" is another term often used in the beauty world. This refers to applying eyeliner along your upper lash line and then "winging it out" at the outer corner of your eye.
This technique helps to create a more dramatic look, perfect for nighttime makeup.
7. Snatching Edges:
"Snatching edges" is a term used to describe a sharp arch in the brows. You need to use a brow product such as a pencil or pomade to achieve this look.
It helps to create an arch that is higher and more defined than your natural brow shape. This look helps to add structure to the face, framing it in a flattering way.
8. Contouring:
Contouring is one of the most popular terms used in makeup these days.
This technique involves using darker shades of products to create shadows on the face and light shades to add definition.
This helps sculpt your face's features, making it appear more angular and defined.
9. Glitter Bombing:
The term "glitter bombing" describes an eyeshadow loot. In this look, glitter creates a dramatic and eye-catching effect.
This look is perfect for adding extra sparkle to your makeup, especially on special occasions.
10. Sharp Wing:
This is one of the slang words for makeup. The term "sharp wing" describes an eyeliner technique.
This involves creating an angled line extending from the outer corner of the eye.
This look helps to create a more defined shape for the eyes and is perfect for making your eyes look bigger.
11. Glossy vs Matte:
When discussing makeup, you might hear someone use terms like glossy and matte.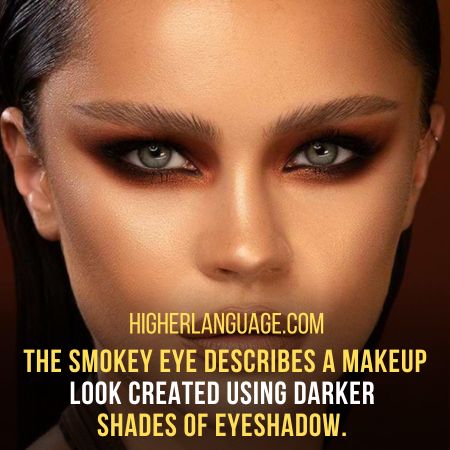 Glossy describes a finish with lots of shine or shimmer, while matte refers to items with no shine.
Knowing these two finishes' differences can help you find the perfect look for your skin tone.
12. Beat:
Beat is a term used to describe the process of applying makeup. It can also refer to the results of putting on a full face of makeup, such as how flawless and beautiful it looks.
If you want to master the beat, practice your skills every chance!
13. Slay:
Slay is slang for looking or performing incredibly well. This term is usually used in makeup.
When someone puts on a full face of makeup and looks stunning, they can be said to have slayed!
14. Sculpting:
When someone uses makeup to enhance their facial features to look more defined, they are said to be "sculpting" with their makeup.
This involves using highlighting and contouring products. Also, various brushes and sponges are used to apply the makeup.
15. K-Beauty:
K-Beauty (Korean Beauty) describes the makeup and skincare trends that originated in South Korea.
This style of makeup focuses on creating a natural look with subtle enhancement.
It often involves brightening the complexion and enhancing the eyes. It includes steps like using essences, sheet masks, and ampoules in a skincare routine.
16. Euphoria Makeup:
This is a term used to describe makeup looks that can be seen on the HBO television series "Euphoria".
This style of makeup is highly creative. It can range from subtle to bold, with looks often featuring a mix of colors and textures.
The goal is to create a statement look that stands out. Brightly-colored eyeshadows, glitter, gemstones, and rhinestones often characterize euphoria makeup.
17. No-Makeup Makeup:
This style of makeup involves using different products. These help to enhance your natural features without looking overly done.
This is a popular look among those who prefer a more minimalistic approach to makeup.
It typically involves sheer or light coverage foundations, subtle contouring, and neutral eyeshadows.
The goal is to create an effortless look that appears naturally flawless.
Glossary Of Slang Words For Makeup
The main things used in makeup are known for their famous names.
Here are the common slang words for makeup glossary:
1. Concealer:
Concealer is a type of makeup accessory. It is designed to hide dark circles, blemishes, and other imperfections on the face.
It has more coverage than foundation and is usually applied with a brush or finger.
2. Powder:
The powder is used to set liquid and cream makeup and absorb excess oils on the skin.
It can be either pressed or loose, and it's typically applied with a brush.
3. Bronzer:
Bronzer is a powder that gives the skin a warm, sun-kissed glow.
It's usually applied to the cheeks, forehead, and chin and can be either matte or shimmery.
4. Blush:
Blush is a powder or cream that adds a natural-looking flush of color to the cheeks.
Cream blush is typically applied with a finger or sponge, while powder blush is best applied with a brush.
5. Highlighter:
Highlighter is a product that gives the skin an extra glow and luminosity. It can be either cream, liquid, or powder.
It is typically applied to the high points of the face, such as the cheekbones, bridge of the nose, and cupid's bow.
6. Contour:
Contour is a makeup technique that creates depth and shape on the face. It is done by applying darker powder or cream to areas.
It includes the sides of the forehead, cheekbones, and jawline. It's then blended out for a natural-looking finish.
7. Eyeshadow:
Eyeshadow is a type of makeup that adds color to the lids and creases.
It can be either powder or cream, typically applied with an eyeshadow brush.
8. Eyeliner:
Eyeliner is a product used to create definition on the eyes.
It can be either pencil, liquid, or gel and is typically applied close to the lash line.
9. Mascara:
Mascara is a product used to darken, lengthen and thicken the eyelashes.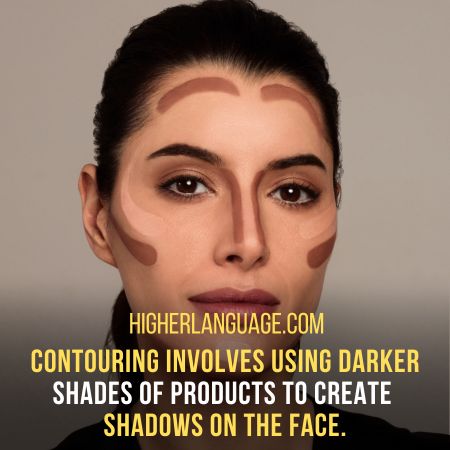 It's applied with a wand or brush. It comes in various formulas, including waterproof, curling, and volumizing.
10. Lipstick:
Lipstick is a product used to add color to the lips. It can be matte or glossy and comes in various shades and formulas.
It's typically applied with a lip brush for even coverage and long-lasting wear.
11. Lip gloss:
Lip gloss is a product used to add shine and moisture to the lips.
It's typically applied with a wand or brush for an even, non-sticky finish. Lip gloss can also be layer over lipstick for added shine and dimension.
12. Brow pencil:
The brow pencil is a product that fills and shapes the eyebrows.
It's typically applied with a slanted brow pencil for a more precise application.
13. Foundation:
The foundation is the base layer applied to the face before any other makeup.
It is used to even out skin tone and create a smooth surface. It's usually applied with either a brush or sponge.
Conclusion:
Slang words for makeup are the words or expressions used in informal language. These are used to refer to certain products and techniques in the field of cosmetics.
Slang terms are often derived from popular culture references and personal experiences.
Being aware of colloquialisms is important to communicate confidently with your peers.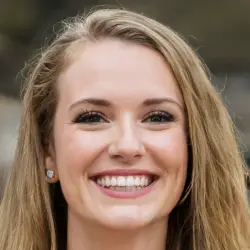 Latest posts by Sylvia Simpson
(see all)