Slang words for rap are words that are commonly used in the lyrics of songs. You must know the basic slang words for rap to increase your vocabulary.
In this article, you'll learn the slang words for ra. You'll also know about famous rappers of different times.
Slang Words For Rap
Rap music is full of slang terms, from words that describe the genre to words used by rappers in their lyrics.
Understanding this terminology can help you appreciate and better understand rap music.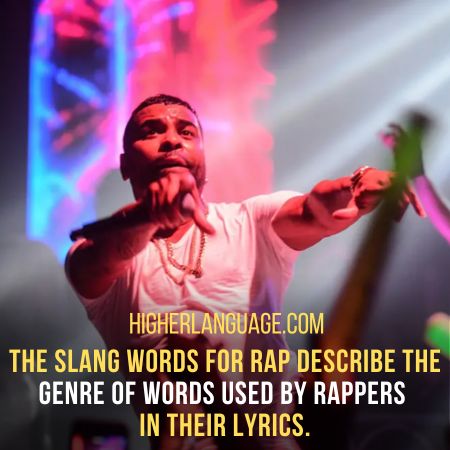 Here's a quick guide to some of the most common slang words for rap.
1. Verse:
A verse is one section of a rap song, usually limited to one 16-bar section of lyrics.
Each verse in a rap song typically follows an AABB rhyme scheme and may contain a hook or chorus.
2. Hook:
A hook is a catchy refrain that repeats throughout a rap song.
Hooks are used to draw listeners in and leave them with something memorable.
Often, the hook is sung or chanted rather than rapped.
3. Bars:
Bar is one of the commonly used slang words for rap. Bars refer to a rapper's lyrics and are typically four beats long.
A bar can consist of one line or multiple lines, depending on the individual artist.
4. Flip:
The term "flip" refers to a rapper taking another artist's beat and reworking it into their style.
This is often done by keeping the same melody but switching up the lyrics or adding new sound effects.
5. Diss Tracks:
In rap, a diss track is an aggressive song that negatively references another artist.
Diss tracks are used as part of feuds between rival rappers. It contains insults and accusations about the other artist's career or lifestyle.
Diss tracks are among the oldest forms of rap battle. They are often considered an important part of the culture.
6. Similes:
Similes are a figurative language that compares two things using the words "like" or "as."
Rap often uses This type of comparison to emphasize a point or add an emotional punch to a line.
Similes can create a vivid image of something or make an abstract idea easier to understand.
For example, in the song "Lose Yourself" by Eminem, he uses the line, "Life is like a dice game, never know your luck".
This line is used to describe how unpredictable life can be.
7. Punches:
When it comes to rap, punches are quick, powerful lines. These are significantly impacting the audience.
Similes or metaphors need some explanation for the listener. Punches can be instantly understood and make an immediate impression.
Punches contain clever wordplay or sound effects. These come together to create a memorable line.
For example, the rapper Busta Rhymes has a signature punch he often uses in his songs, "Gimme the loot!"
8. Bragging Rights:
Bragging rights allow rappers to show off their skills and achievements without appearing boastful.
This type of rap is often used in battle raps or during live performances when an audience is present.
It's fun to show off and tell the crowd who the best rapper is. Bragging rights typically involve exaggeratedly bragging about one's skills, accomplishments, or possessions.
9. Rhyme Scheme:
A rhyme scheme is a pattern of rhymes used in a song or poem. The most common type of rhyme scheme is AABB.
The first and second lines rhyme with each other, and the third and fourth lines rhyme with each other.
Rap songs have more complex rhyme schemes that involve internal and end rhymes.
Rhyme schemes are important to rap because they help create a smooth flow and structure the song.
10. Spitting:
Spitting is a term used to refer to rapping in general. It also has specific meanings within the rap community.
It can refer to someone good at rapping or performing especially well at that moment.
It can also refer to someone who's particularly creative or clever with their lyrics. Spitting is an important part of rap and can be seen as a sign of respect among rappers.
11. Bragging Rights:
Bragging rights is an expression used in rap. It refers to a rapper's ability to talk about themselves without seeming arrogant.
Bragging rights are an important part of rap culture. They allow rappers to show off their skills and strengths in a way that doesn't come across as disrespectful.
Rappers often use bragging rights to assert dominance over other industry rappers.
12. Freestyle:
Freestyle is when a rapper improvises their lyrics on the spot.
Freestyling can showcase a rapper's natural talent and ability to think independently.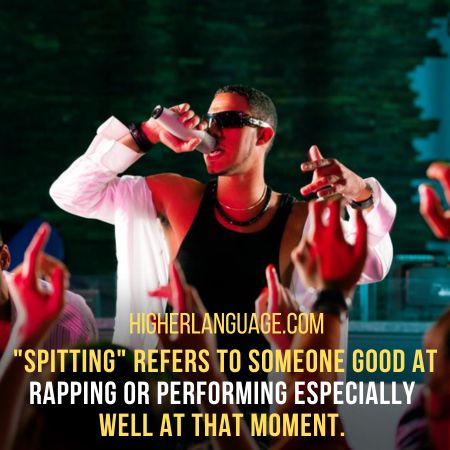 It is also a great way for rappers to practice and hone their skills, as they are forced to develop creative ideas.
Freestyle is an important part of rap culture. Many famous rappers have used it to demonstrate their skill level.
13. Lyrical Content:
Lyrical content refers to the message or story a rapper tries to tell through their lyrics. Lyrics are an important part of rap.
They can convey powerful messages that resonate with listeners.
Rappers use their lyrics to tell stories about their lives, express emotions, or discuss social issues.
For a rapper's lyrics to be successful, they must have strong lyrical content.
14. Flow:
Flow is how a rapper delivers their lyrics and the rhythm of their rhyme schemes. A rapper's flow is important.
It allows them to control the pace of their song and keep listeners engaged.
Rappers can use different flows to emphasize certain words or create a more dynamic sound. A rapper must have a good flow for their lyrics and songs to succeed.
15. Wordplay:
Wordplay is when a rapper uses words in creative or clever ways to convey a message.
Wordplay allows rappers to express themselves and their thoughts uniquely and interestingly.
The rapper can use puns, rhymes, and double entendres to show off their lyrical skills.
Wordplay is an important part of rap culture. It allows rappers to add depth to their lyrics and create powerful messages.
By familiarizing yourself with these slang words for rap, you can better understand this popular genre of music.
Whether you're a fan or an aspiring rapper, understanding rap slang can help you make the most of your experience.
Rap: The Evolution of a Genre
Rap music has rapidly evolved since its initial inception in the late 1970s.
It has become one of the world's most popular genres, with an influence that spreads across cultures.
In this article, we look at some of rap's most influential players who have made their mark on history.
1. Afrika Bambaataa:
Afrika Bambaataa is an iconic rap figure widely credited with creating the genre as we know it today.
He was born in the Bronx and grew up listening to DJ Kool Herc. DJ popularized the idea of mixing tracks to create new compositions.
His lasting influence on rap is evident in how rappers still blend many sounds to create original pieces.
2. Grandmaster Flash:
Grandmaster Flash is also based in the Bronx. He was a major innovator of early hip-hop culture and rap music.
He incorporated funk and soul elements into his beats. He also uses innovative DJ tricks to cut multiple records together.
He was the first DJ to manipulate vinyl records on two turntables. He managed to make them sound as if they were one song.
The techniques he developed are still used by DJs in clubs worldwide.
3. KRS-One:
KRS-One is short for Knowledge Reigns Supreme Over Nearly Everyone. He was one of the most important figures in the early days of rap.
He is credited with pioneering a battle-rap style. It has since been adopted and adapted by countless rappers across the globe.
His lyricism and social consciousness set him apart from other rappers of his time.
He is an example for those looking to make powerful music with meaningful messages.
4. Jay-Z:
Jay-Z is one of the most successful and influential rappers of all time.
After emerging from a tough childhood in Brooklyn, he became an iconic figure in hip-hop culture.
He has released numerous chart-topping albums. These have changed the course of rap history and become some of the best-selling rap albums ever.
His innovative production style has seen him blend multiple genres. It creates unique and timeless pieces of music. He is a major influence in the current rap scene.
5. Lil Wayne:
Lil Wayne emerged from New Orleans in the early 2000s. He quickly established himself as one of the most popular rappers in the world.
His distinct flow and prolific lyricism have made him an enduring figure in rap culture. He has released numerous highly influential albums.
These have pushed rap music in new directions. It served as a major influence on the current generation of rappers.
In recent years, he has continued collaborating with some of the biggest names in rap music.
6. Kanye West:
Kanye West is one of the most successful and influential rappers of the modern era.
He first appeared on the scene as a producer for Jay-Z before launching his successful solo career.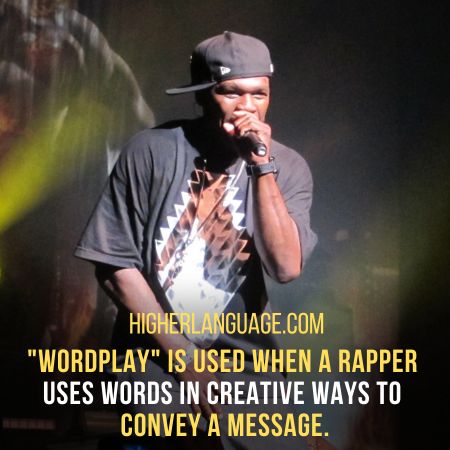 His unique production style and intricate lyricism have seen him push the boundaries of rap music to create some iconic soundscapes.
His work has transcended genres. It allows him to collaborate with artists from all walks of life.
He is one of the most recognized figures in the world of hip-hop. His influence on modern rap music is sure to continue for many years to come.
Conclusion:
If you're a rap fan, understanding the slang words for rap can help you get more out of your experience.
By familiarizing yourself with keywords, you can better appreciate the artistry behind rap music.
Knowing these slang words can help you become a more effective rapper. It can help you hone your skills and delivery.
So, take some time to learn the language of rap today!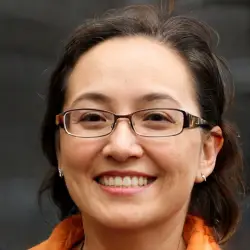 Latest posts by Elizabeth Williams
(see all)