Slang words for girl best friend are used to show affection and love for each other. Different regions have different slang words to show their bond.
In this article, you'll learn common slang words for girl best friends.
11 Slang Words For Girl Best Friend
When it comes to girl best friends, there are lots of fun and unique 80's slang words and phrases you can refer to them.
From "ride or die" to "BFF", plenty of terms show how close your relationship is. Here are some common slang words for girl best friends:
1. Ride or Die:
Ride or die are words often used to describe a girl's best friend. There's something special about having a ride-or-die type of best friend in your corner.
Having someone who looks out for you no matter the situation. Friends who are always there to pick you up when you fall make life much easier and more enjoyable.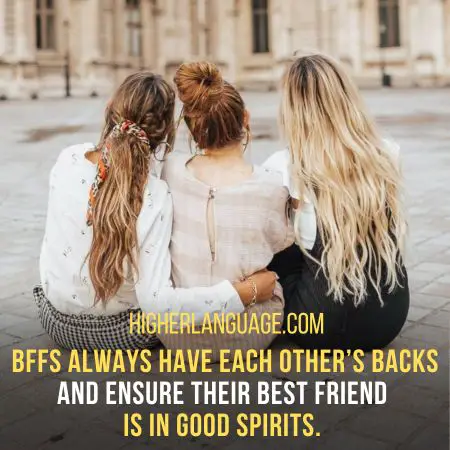 A ride-or-die best friend stands by your side through thick and thin. They celebrate all your wins with you and support you even in the toughest times.
They never judge and always know how to make you feel better. Having a girl best friend like this is truly something special.
This slang word means that no matter what, you'll always be there for each other.
2. BFFs:
BFFs are the ultimate squad goals. They have each other's backs no matter what and always ensure their best friend is in good spirits.
From staying up late to talk about crushes to going on shopping sprees, BFFs know how to make every moment count.
It doesn't hurt that they also provide some of the best advice. With a BFF, you never feel alone and can count on them for anything.
No one understands you as your girl best friend does. BFF – Best Friends Forever. You two have a special bond that will never break.
3. Homegirls:
Homegirls are the best kind of friend. They're always there for you when things get tough.
They never judge no matter what you do and know how to make you laugh even in the worst moods. Homegirls are like having a sister by your side at all times.
A friend who knows everything about you and loves you anyway. No other type of friendship can compare to the bond between two homegirls.
It's something special that only they understand. So don't forget to show your appreciation for your homegirl every day.
4. Soulmates:
Soulmates are more than just best friends. They are your closest confidante, the friend to whom you can tell anything.
These special people have seen you through life's biggest moments—the good, the bad, and the ugly. They know your heart better than anyone else.
They will always be there to celebrate your successes and pick you up when you feel down.
Having a soulmate is a blessing, as these special friendships can last a lifetime.
Whether it's an inside joke that only the two of you understand or an unspoken bond shared between you, there is no doubt that soulmates are one-of-a-kind.
So if you're lucky enough to call someone your soulmate, cherish them. Make sure to let them know how much they mean to you.
They may be your 'bestie', but they're much more than that and deserve to be treated as such.
5. Better Half:
When it comes to having a girl best friend, there's no one better than your "better half". This slang term has been used for years.
It refers to someone who knows and understands you better than anyone else.
From sharing secrets to looking out for each other, your "better half" is the person you can always count on.
Your better half will be there if you're celebrating life's milestones or need a shoulder to cry on. A relationship like this is invaluable and should never be taken for granted.
'Better Half' – these two words perfectly capture the special bond between two girls. Every girl needs a best friend who accepts her flaws and loves her despite them.
No matter what slang words you use to describe your girl best friend, there's no denying that she's someone special.
6. Ride Or Dye:
Ride or Dye is a perfect slang phrase for girl best friends. It is a term for when two best friends do everything together and never leave each other's side.
It's all about embracing your differences and never giving up on each other, no matter what.
When life throws you a curveball, you can always rely on your Ride or Dye friend to have your back.
They will be there most when you need them. They offer unconditional love and emotional support.
Whether it's an emotional rollercoaster ride or a fun road trip adventure, you can always count on that special someone to be by your side.
To celebrate the strong bond between two female besties, use this timeless phrase – Ride or Dye.
7. Sis:
Having a sis is like having a best friend who has your back no matter what. You can always rely on a sis for sound advice or to have someone to laugh with.
They're the ones who know how to make you smile even in the toughest of times. She will always be there for you when you need them most.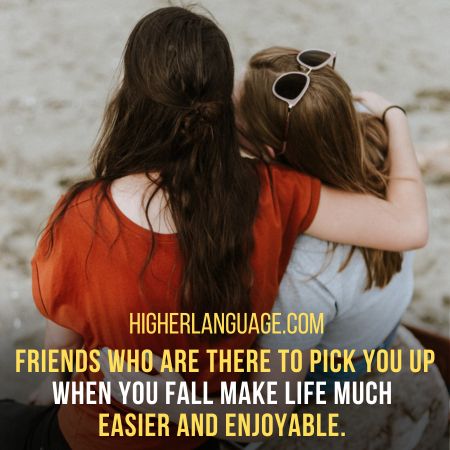 So if you have a sis, consider yourself lucky. You've got an amazing friend that will stick by your side through thick and thin.
Having a sis is one of the best things you can have in life. The memories and laughs you'll share will be priceless.
8. Boo-Thangs:
It's not uncommon for friends to give each other nicknames. A girl's best friend is called a "boo-thang" in African American Vernacular English.
This term has existed since the early 2000s and is still used today. It implies that your best friend has your back like a significant other.
You both have an inseparable bond. The best thing about having a boo-thang is knowing they'll always be there for you regardless of the situation.
So whether it's getting through tough times or celebrating life's wins, you can count on your boo-thang to have your back.
9. Lady love:
Lady love is a slang phrase used to refer to a girl's best friend. It has been around for centuries. It was used the same way we use it today.
It is an affectionate way of referring to someone close to you. In modern times, "lady love" can be an endearment between friends or romantic partners.
Many pop culture figures have adopted this phrase. It makes it an even more popular phrase among young people.
If you want to show them some extra affection, calling them your "lady love" will make their day.
10. Amiga:
When referring to a girl's best friend, the word "amiga" is often used as slang. This word originated in Spanish language and Portuguese, meaning "friend" or "female friend".
In English-speaking countries, it has become an accepted term of endearment for a girl's closest confidante.
The slang term is used among young women and teenage girls. They use this slang word to express their strong bond with their female friends in a fun way.
It can refer to any group of close girlfriends who are inseparable. Whether talking about a single person or a whole group, using "amiga" is a great way to show affection.
It's a term that represents sisters in spirit and can be used to remind each other of how much you mean to one another.
11. Wingwoman:
Having a wing woman is like always having a best friend with you. She's the one who will back you up and help boost your confidence when it comes to social situations.
Wingwoman is someone who helps you break the ice with someone new. She is advising about how to look your best for a date.
She will be there for moral support. Having a wing woman can make all the difference in any situation.
Plus, she can be just as much fun as your best friend.
From late-night giggles and gossiping to weekend adventures, having a wing woman can take your relationship to a new level.
11 Funny Slang Words For Girl Best Friend
Are you looking for hilarious slang words to call your girl's best friend?
Here are some of the funniest and cutest nicknames that you can use to show your friendship:
1. BFFF: Stands for Best Friend Forever and For Life.
2. Sister from another mister: The ultimate term of endearment.
3. Gal Pal: A classic.
4. Swomie: Short for "soulmates". Perfect for a close bond.
5. Coco Puff: For those sweet treats, always have your back.
6. Home Skillet: A fun twist on the classic phrase, "homie".
7. Bae-be: A goofy way to call your girl best friend.
8. Crazy Cat Lady: The one who loves cats has a million and can't get enough of them.
9. Shopping Buddy: She's the one you call when it's time to hit the mall. Whether you want to find those perfect shoes or must-have dresses.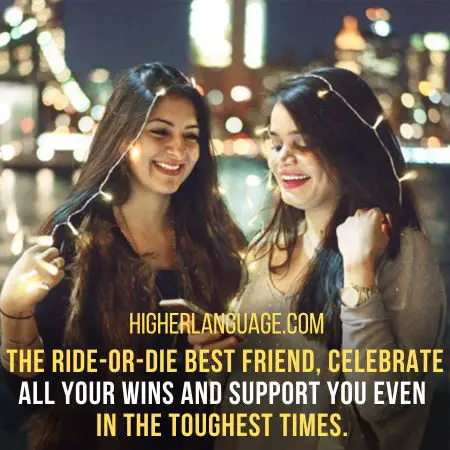 10. Partner in Snark: When someone says something stupid, you need someone to give them an eye roll. She's your go-to gal.
11. Road Trip Pal: The one who makes every car ride an adventure with her outrageous stories. She might have the best music choices.
Whether you're looking for something cute or funny, these slang words for girl best friends will make you smile. Show your true friendship with any of these nicknames.
Conclusion:
Having a girl best friend is one of the best things ever, and plenty of slang words exist to express it.
Someone who understands her as no one else can, someone with whom she can share all of life's highs and lows.
So if you have an amazing girl best friend that is your better half, don't forget to show her how much she means to you.
Whether you call them your BFF, ride-or-die, or better half – these are all great ways to show affection for and bond.
Plus, using slang can be fun and make conversations more interesting.
No matter what term you use for your special someone, they'll know you care deeply about them.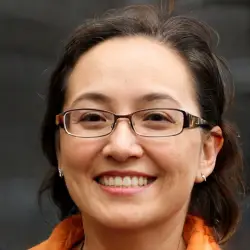 Latest posts by Elizabeth Williams
(see all)